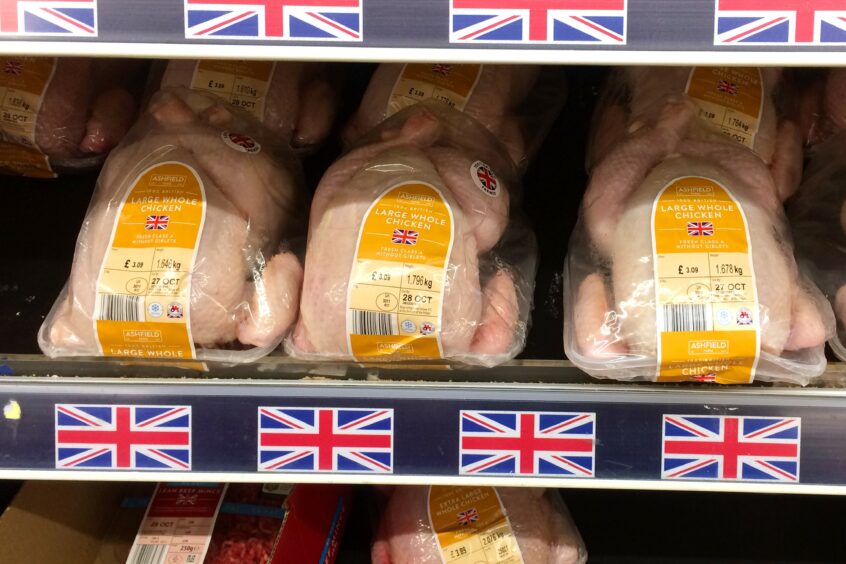 Ten of the UK's largest supermarket chains have been accused of engaging in greenwashing marketing tactics while continuing to promote unsustainable animal products. 
Feedback Global has studied the marketing practices of 10 UK retailers, creating a 'greenwash profile' of each.

By boasting of minor environmental initiatives, supermarkets are distracting consumers from the significant impact of animal products.
With their influence over the UK's consumption, supermarkets could play a critical role in encouraging dietary change.
Feedback Global, an environmental organisation promoting the transition to sustainable food systems, has accused 10 UK retailers of engaging in greenwashing marketing tactics. According to its report, the country's largest supermarkets are distracting consumers with minor green initiatives while continuously promoting an unsustainable level of meat and dairy consumption. 
"Greenwashing is rife across the industry," said Jessica Sinclair Taylor, head of Feedback's policy department. "It's clear from our findings that retailers are still focused on boosting meat sales despite setting net zero targets." 
The problem with meat and dairy
Animal agriculture, including both the rearing of livestock and the cultivation of feed, accounts for around 57% of the greenhouse gas emissions associated with global food production. On its current trajectory, livestock farming is set to consume almost half of the emissions budget that would keep the world on track to avoid the most catastrophic levels of climate change. 
Beyond its associated emissions, livestock farming is destroying natural ecosystems. Indeed, intensive industrial agriculture has been linked to deforestation, biodiversity loss, waste, resource scarcity and various forms of pollution. 
Unsurprisingly, climate scientists have reached the consensus that the consumption of meat and dairy must be greatly reduced. Such dietary changes are included within UN recommendations and Planet Tracker's roadmap for the reduction of food system emissions. Under its most ambitious scenario, the UK Government's advising Committee has recommended that meat and dairy consumption ought to be halved by 2050. 
Greenwashing tactics are obscuring the problem
According to Feedback Global, the UK's supermarkets are standing in the way of widespread dietary change. Tesco (LSE:TSCO), Morrisons, Asda and Sainsbury's (LSE:SBRY) are all among the accused, as well as Aldi, Lidl and Iceland. Co-op was also included, alongside upmarket grocers Waitrose and M&S (LSE:MKS). 
Drawing from publicly available information and a series of in-store visits, Feedback has assessed each company against 12 greenwash indicators divided into three different categories. Having analysed their data disclosure, marketing gimmicks and promotion of meat and dairy, it has created a 'greenwash profile' for each of the firms. 
All 10 of the retailers studied were found to be engaging in greenwashing marketing tactics, presenting a sustainable façade while doing little to address the impact of their most harmful products. The most common practice identified was 'Selective Disclosure', with supermarkets boasting the sustainability of minor initiatives as a means of distracting consumers from their overall impact. 
Feedback's report highlights the example of Aldi's claim to have been carbon neutral since 2019. After some digging, it was found that this claim did not include the Scope 3 emissions of its supply chain, despite their accounting for more than 99% of its footprint. Another example was Tesco's communications around its use of electric delivery vehicles, which were presented as the ultimate green solution while representing less than 0.1% of its total emissions. 
In several cases, the retailers were found to be delaying their adoption of immediate solutions in favour of unproven technological fixes that promised to deliver their benefit at a later date. In Morrisons' case, this was exemplified by its reliance on sustainable 'blueprint beef farms', despite the fact that its pilot project is yet to meet expectations. 
Although each of the supermarkets was promoting plant-based ranges, none of them had plans to reduce their sale of animal products. While this may seem like an obvious balance, research has shown that increasing the purchase of vegan foods does not necessarily translate into fewer sales of meat. 
This suggests that supermarkets ought to be complementing their marketing of plant-based alternatives with active measures to discourage the sale of meat and dairy. According to Feedback's research, they are instead doing quite the opposite.  
Of the 10 retailers studied, seven had amended the packaging of animal products to make some sort of claim as to its environmental advantage. Rather than reflecting the impact of the meat they contained, packaging was frequently labelled as being recyclable or plastic-free.  
Although waste reduction is always commendable, Feedback argues that this could create the false perception that certain products are more sustainable than is truly the case. Conscious consumers may then be persuaded to buy what they think is a friendlier option, oblivious to its destructive reality. 
Most of the retailers were also offering deals on animal products. At the time of Feedback's visits, eight of them were using multibuy promotions to incentivise sales, and all of them were displaying meat and dairy in prominent advertisement spaces. 
While they were happy to promote meat and dairy, none of the retailers had published regular information on the number of their sales or the amount of emissions associated. Lidl and Sainsbury's were the only two supermarkets to have disclosed the supply chain emissions of each of their products, revealing that animal products were responsible for around a third of their overall footprint. Notably, these figures had not been updated since 2020. 
"Retailers are committed to supporting their customers live sustainable, lower-carbon lifestyles, for example by expanding plant-based ranges or improving the recyclability of products and packaging," says Sophie De Salis, sustainability policy adviser at the British Retail Consortium (BRC), on behalf of the targeted supermarkets.  
De Salis goes on to explain that more than 80 consortium members have signed onto a pledge to transition the retail sector to net zero by 2040. "The Roadmap gives retailers the tools to communicate the health and environmental benefits of more sustainable diets to their customers and help guide their choices," she concludes. 
Calling for dramatic improvement
On the back of its findings, Feedback has launched a new campaign against 'Greenwash Grocers'. Its petition will be sent to the chief executives of the 10 studied retailers, demanding that they pull up their socks. 
Broadly speaking, Feedback is asking for greater transparency around the impact of animal products. More specifically, it is calling for public disclosure of sales volumes and their contribution to the company's footprint. It also suggests that retailers should set targets for reducing the sale of meat and dairy, as this would help them to start making genuine progress towards their net zero commitments. 
Given their role in choosing which products to sell and deciding how items are priced or promoted, supermarkets have an enormous amount of influence over the foods we consume. If this power can be harnessed effectively, retailers could be critical in encouraging dietary change. 
SGV Take 
Feedback's report highlights the various risks of greenwashing, not only to businesses and the wider economy but also to the planet itself.  
For companies, greenwashing can result in reputational damage, regulatory action and untold losses in brand value. As stakeholders' trust is repeatedly broken, investors may be sceptical of genuine environmental initiatives and consumers may struggle to make the most of their purchasing power. 
Ultimately, greenwashing can lead to the misallocation of capital and the perpetuation of unsustainable practices. In doing so, it threatens our ability to create a fair and sustainable future.