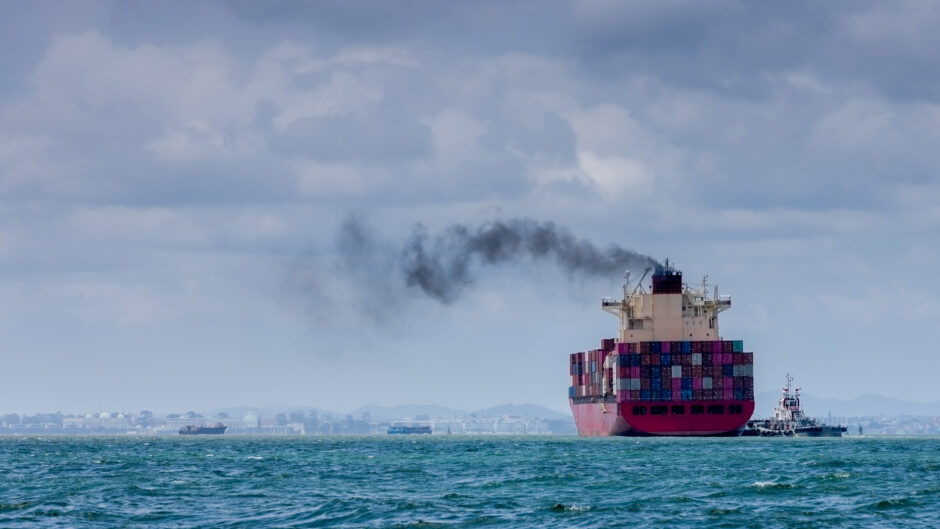 A recent assessment of US retailers suggests that an enormous source of greenhouse gas emissions is, as yet, being largely ignored. 
Major US retailers have been exposed for their lack of commitment to net zero shipping.

Shipping accounts for almost 3% of global emissions, but most major retailers are yet to acknowledge its contribution to their overall footprint.

The private sector has a unique role to play in creating the demand for sustainable shipping solutions.
The Ship It Zero campaign has released its Shipping Decarbonization Report Card, ranking several major retailers on their efforts to encourage the transition to net zero shipping. Its damning results suggest that little is being done to address one of the world's most destructive activities. 
"While the globe is burning, retailers and cargo carriers are doing little to address emissions from shipping their goods," said Eric Leveridge, Ship It Zero Lead, Pacific Environment. "Addressing the climate crisis is urgent and we have no time to waste."   
Major retailers are yet to take action on shipping
Since 2021, the Ship It Zero campaign has been calling on major corporations to drive the shift towards net zero shipping. Led by an alliance of organisations including STAND.earth, Climate Resolve and Pacific Environment, its research highlights the scope of the issue. 
Its latest release is based on a previous report, exploring the current practices and commitments of 18 retailers and ten shipping carriers. From its initial findings, it was clear that the issue could not be ignored. Together, the retailers' imports had been directly responsible for 3.5 million metric tons of greenhouse gas emissions over the course of 2021. 
As well as CO2, these emissions included substantial amounts of methane and nitrogen oxide. Though they may not be discussed quite as often, each of these gases is extremely harmful in its own way. Methane is particularly potent within the first 20 years of release, while nitrogen oxide is associated with severe health conditions such as asthma or cancer. 
According to the report, these impacts are unevenly distributed among vulnerable coastal communities. Local populations tend to be working class, with disproportionate representation of ethnic minorities or indigenous peoples. 
The report also revealed that certain retailers may be far worse than others. Walmart (NYSE:WMT) was named as the worst of the bunch, with its imports being linked to 788,000 metric tons of CO2 emissions during that year alone. It was also the largest emitter of methane, with 14.9 metric tons.  
Recognising the need to hold individual companies to account for their contribution to a far wider problem, Ship It Zero has created its scorecard. Each of the companies included in its initial research was assessed on their relevant reports and releases before being graded from A to F.  
Scores were based on three different measures of engagement with net zero shipping. First, the companies were assessed on the steps they were taking to reduce the pollution of ports. Next, they were evaluated on their efforts to encourage the use of low-carbon fuels. Last but by no means least, they were scored on their development of a long-term strategy for the complete decarbonisation of their maritime shipping. 
IKEA came out on top with an overall rating of 'B+'. Unfortunately, this was about as good as things got. H&M (STO:HMB), Amazon (NASDAQ:AMZN) and Nike (NYSE:NKE) were each awarded a 'D', while the remaining 13 companies were tarnished with an unforgivable 'F'. 
Walmart was joined by Target (NYSE:TGT) and Costco (NYSE:COST), as well as Adidas (ETR:1ADS), Home Depot (NYSE:HD) and Lowe's (NYSE:LOW). Samsung (LSE:SMSN) and Dell (NYSE:DELL) were among the technology firms represented, with equally abysmal scores. All were contacted for comment.
Notably, few of the retailers had actually quantified the Scope 3 emissions of their supply chain. Of those that did, only three had included a broken-down figure of how much was coming from shipping. Without a clear understanding of current emissions, it is difficult to see how effective actions could ever be put into place.  
The elephant in the room, or the whale in the sea?
With around 90% of traded goods being transported over sea, the impacts of shipping stretch far beyond the imports of the 18 retailers studied. In total, it accounts for approximately 2.9% of global emissions. Unless drastic action is taken, these emissions are forecast to treble by 2050. 
Recognising the scale of the issue, the International Maritime Organization (IMO) has recently passed its Revised Greenhouse Gas strategy, setting more ambitious targets for the reduction of shipping emissions. Now, the sector is expected to lower its footprint by 30% within the next seven years, rising to 80% by 2040. 
According to the International Energy Agency, the revised targets are now suitably aligned with net zero. Still, their achievement is hardly the simplest of tasks. The sector's emissions will have to fall by almost 15% per year until 2030, yet the most promising solutions are far from being adopted at scale. 
The uptake of alternative fuels such as methanol or ammonia has been somewhat constrained by high costs and a lack of suitable infrastructure. The adoption of biofuels, meanwhile, has been limited by the scarcity of suitable feedstocks and the competing demand for road transportation and aviation. They also vary significantly in their decarbonisation potential, with certain feedstocks being associated with unsustainable changes in land use. 
Currently, these fuels are perceived as being the ultimate yet distant solution. The IMO considers them to be the most viable option for achieving its targets, while also accepting that they will not be widely available for the foreseeable future. 
In the meantime, improvements in operational efficiency have helped to reduce the intensity of shipping emissions but the overall total has continued to climb. Liquefied natural gas (LNG) has been posed as a potential solution, with several carriers adopting its use as a low carbon fuel. While this may seem like progress, the methane emissions of natural gas may be worse for the environment than the conventional fuel it replaces. 
What can businesses do?
Overall, the decarbonisation of global shipping is projected to require around $1.65 trillion in investment by 2050. While regulatory measures will undoubtedly play their part, there is no national government that can single-handedly control an integrally international industry. 
This leaves a significant role for the private sector. As major customers of global shipping, companies can leverage the power of their collective demand. 
With the launch of its latest report, the Ship It Zero campaign is calling for action. It suggests that each of the retailers should be doing more to transition towards net zero shipping while increasing their protection of vulnerable coastal communities. 
In order to ensure that brands are continuously held to account, it asks that they commit to specific intermediary targets that will lead to their achievement of net zero shipping by 2030. It adds that each company should have its plans approved by the Science-Based Targets initiative, and that they ought to be reporting their progress on an annual basis. 
Practically speaking, the campaign advises that retailers should request similar reporting from carrier companies and end their dealings with those that are not making progress. Finally, Ship It Zero has called on global retailers to publicly declare their refusal to have their goods transported by LNG vessels. 
SGV TAKE
In some ways, Ship It Zero's report could be seen as a damning exposé of how the world's biggest companies are hindering the global transition. While this may be true, the report also demonstrates the sheer scale of the industry's influence. 
By creating the demand for net zero shipping, companies can incentivise carriers to invest in alternative fuels or other sustainable solutions. As these options are adopted more widely, their costs will begin to fall and the construction of suitable infrastructure will suddenly seem like a far more worthwhile opportunity. More funding will be put towards research and development, and valuable lessons may be learned. 
Brands themselves may also stand to gain from their public commitment to net zero shipping. By aligning themselves with the sector's transition, they may increase their appeal to conscious consumers and cautious investors. As Scope 3 emissions become more widely engrained in corporate reporting, a cleaner reputation is likely to be an advantage.