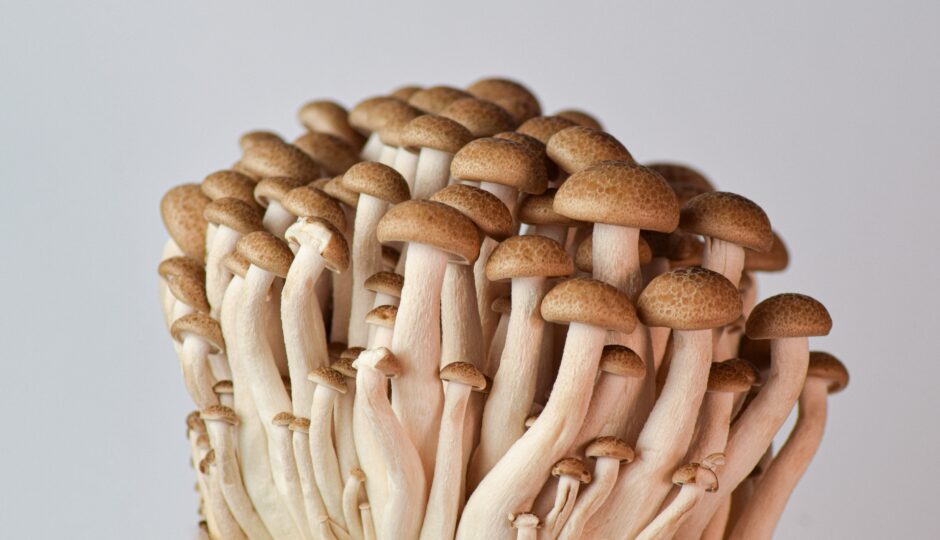 Biomaterials firm MycoWorks has announced the launch of a large-scale production facility, primarily dedicated to crafting its 'Reishi' leather alternative made with mycelium.
MycoWorks has confirmed that the primary objective of establishing this production facility is to create a novel high-quality natural material named "Reishi".
Reishi is made from mycelium, a complex web of thread-like structures that permeate soil, fallen leaves, and even dead trees. 
This mushroom-based leather alternative could represent a fundamental change in the fashion and luxury industries by providing an ethical, biodegradable and environmentally conscious alternative.
MycoWorks, a biomaterials technology company founded in 2013, has announced the opening date of the world's first commercial-scale fine Mycelium production plant.
This 136,000-square-foot facility, scheduled to open on 20 September 2023 in South Carolina, is expected to employ over 350 people. Its main purpose will be to manufacture a new type of premium natural material called 'Reishi,' which is a leather alternative made from mycelium, the root structure of mushrooms.
"This is the moment the luxury industry has been waiting for; a plastic-free leather alternative that offers undeniable beauty and performance—at scale," said Patrick Thomas, former executive chief of Hermès and MycoWorks board member. "Now that the challenge of supply has been solved, brands will move quickly to commercialize items made with Reishi."
What does MycoWorks do?
Co-founded by Philip Ross and Sophia Wang, MycoWorks is a biomaterials company based in San Francisco. With $187 million in funding to date, its primary goal is to introduce novel mycelium-grown materials to various industries.
At the heart of MycoWorks' endeavours lies its Fine Mycelium technology, a sophisticated manufacturing platform. This technology enables the cultivation of mycelium, resulting in distinct proprietary cellular structures. 
Positioned as a fresh material category, Reishi has now caught the interest of luxury brands from all over the world, with the company reporting interest from the likes of Hermès (PAR:RMS), Ligne Roset and General Motors (NYSE:GM).  As high-end brands look to improve their sustainability profiles, it appears to be gaining significant traction.
What is mycelium?
Mycelium, often referred to as the "root" of mushrooms, is a complex web of thread-like structures that permeate soil, fallen leaves, and even dead trees. While it might seem mundane, this fungus is anything but ordinary – it holds the potential to transform incumbent industries and shape a more environmentally conscious future.
Clusters of cells known as hyphae form intricate networks within mycelium, endowing them with remarkable strength and the capability to withstand decay, water or other external pressures. Reinforcing these networks are mycelial cell walls coated with chitin, a substance also found in insect shells, providing exceptional tensile strength to the structure.
Mycelium presents an exceptional combination of attributes – versatility, robustness and lightness. It has the unique capability to impart fire-resistant qualities to the materials it forms.
It is biodegradable and recyclable, which has led many researchers to consider it as a transformative resource to enhance the sustainability profile of various consumer products such as packaging, clothing, food, construction materials, plant-based steaks and scaffolding.
MycoWorks' proprietary process harnesses mycelium's innate ability to grow and interlock, producing sheets of material that exhibit the strength, durability and luxurious texture akin to traditional animal leathers. This approach, the company said, not only circumvents the heavy environmental toll of conventional leather production but also resolves long-standing barriers to scalability and product  quality.
A luxury leather alternative
Working with mycelium isn't new. In April 2023, a team of researchers at the University of Sydney unveiled their discovery of a biological process that uses mushrooms to convert organic waste into biodegradable products, offering a sustainable solution to plastics.
This method involves cultivating myco-materials using mushroom spawn combined with waste materials such as sawdust and cardboard, resulting in 3D structures of common objects. The myco-materials are lightweight, compostable and provide an eco-conscious substitute for conventional plastics.
The university's approach merges design, technology and life sciences to facilitate the growth of items imbued with the innate qualities of edible mushrooms. The procedure enables a more streamlined design process, stimulates opportunities for self-repair and DIY applications, and capitalises on locally accessible organic waste to enable cost-effective fabrication.
Other companies have also delved into this realm, harnessing the unique attributes of mycelium networks to create their own alternatives to leather. Among MycoWork's competitors are Ecovative Design and Bolt Threads, each of which has been actively exploring mycelium's potential for the creation of sustainable, cruelty-free leather. Such rivalry serves to demonstrate the industry's collective pursuit of ethical and environmentally friendly alternatives to traditional leather products.
Achieving commercial scale, however, has remained a key challenge. Just recently, Bolt Threads confirmed that it would no longer be producing the mycelium-based leather alternative used by Stella McCartney, Kering, and Adidas.
The company's 'Mylo' material had initially been lauded as a more sustainable option than conventional animal leather. Unfortunately, inflation and limited funding opportunities have forced the company to pause its production. Others in the space, such as Natural Fiber Welding (Mirum) and Ecovative (Forager), have also faced difficulties in reaching commercial scale for their mycelium.
Despite these challenges, the industry continues to recognise the importance of sustainable materials. Commercial interest in Reishi suggests that brands are on board with transforming the essence of luxury goods while amplifying their commitments to a more harmonious coexistence with nature.
SGV TAKE
Finding alternatives to traditional leather, such as mycelium-based materials like Reishi, is crucial for addressing environmental, ethical, and economic concerns. The commercial-scale production of Reishi highlights the potential for innovation in the luxury industry, leading the way toward a more sustainable and responsible future.
It will be interesting to observe whether MycoWorks can succeed where previous attempts to create scalable and sustainable leather alternatives, such as Mylo, have encountered challenges.