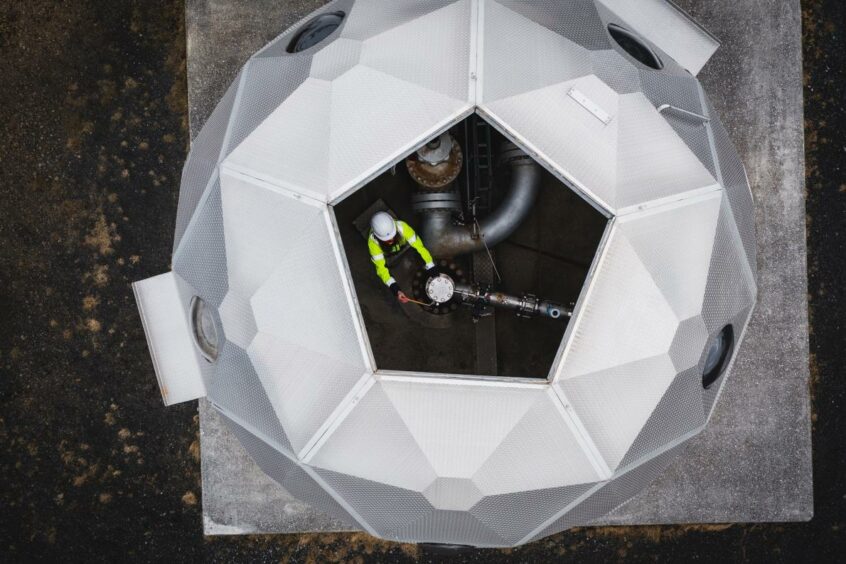 A team of earth scientists at the University of Edinburgh has received £1 million of UK Government funding to develop new ways to measure the capture of carbon dioxide in volcanic rock.
The University of Edinburgh team will help Carbfix track the amount of CO2 it removes from the atmosphere through its carbon dioxide removal (CDR) technique.
CDR is projected to make up 46% of the voluntary carbon markets by 2030.
For the technology to become fully commercialised, there must be robust and verifiable measurements of the amount of CO2 stored in mineralised rocks.
The scientists will work with Icelandic mineralisation operator Carbfix to test new methods to track the carbon dioxide being captured from the country's largest geothermal power plant and verify its safe and permanent storage.
Dr Stuart Gilfillan, of the University of Edinburgh, and his team will use mineral analysis techniques and a novel CO2 fingerprinting tool, currently being patented by Edinburgh Innovations, the University's commercialisation service.
Dr Sandra Ósk Snæbjörnsdóttir, head of CO2 mineral storage at Carbfix, said: "Carbfix is born out of collaboration between academia and industry. Partnerships with prestigious research institutes such as the University of Edinburgh helps us to increase our understanding of the natural processes we build our technology on, add to our existing verification methods,  and move forward the technical development."
She added: "Furthermore, it gives new perspectives, and trains the next generation of experts in the field. We are honoured to collaborate with this world-leading team of scientists, and excited for the outcome."
Growing maturity of CDR market
Carbfix has developed a novel solution that involves dissolving CO2 in water and injecting it into basalt, commonly found across Iceland. After a few weeks in the formation, the liquid turns to stone, offering long-term emissions storage – a natural version of carbon capture and storage.
This relatively new carbon storage technique is known as mineralisation, where the reactivity of the basalt volcanic rock converts the carbon dioxide rapidly into new minerals, safely locking it away underground.
Carbon capture and storage is becoming increasingly important to reduce the levels of greenhouse gases such as carbon dioxide in the atmosphere, where they are the principal contributor to global heating.
Carbfix was one of the world's first CO2 mineral storage operators. Since 2012, the company says it has mineralised over 90 thousand tons of CO2 in Iceland using proprietary technology, and says its "proven, safe, permanent, and cost-effective carbon storage solution" is ripe for significant upscaling both in Iceland and worldwide.
Carbfix's largest current project is Coda Terminal, recipient of a €115 million grant from the EU's Innovation Fund, with an expected capacity to mineralize 3 million tons of CO2 annually.
Small volumes of carbon have already been transported from Switzerland for injection, with further emissions coming from Climeworks' on-site direct air capture (DAC) technology, which sucks CO2 out of the atmosphere.
There is growing interest in the potential for CDR for offsetting emissions in the voluntary carbon markets. While under the Science-based Targets initiative only 5-10% of a company's emissions can be offset, this still represents enormous demand. Robust and verifiable standards are expected to be catalytic to the growth and operation of the carbon markets on a gigaton scale, and there is a lack of what is considered 'high integrity' carbon credits available in the voluntary markets.
Voluntary carbon markets ratings agency BeZero says that engineered CDR can be highly scalable, which addresses the trade-offs of land use versus emission action. By 2050, 70-225 GtCO₂ of cumulative CO2 removal is estimated to be required and it is clear that this cannot be achieved through nature-based solutions alone. If this demand was to be solely fulfilled by afforestation, for example, it would require 500-1500 million hectares of land, almost the entire land area on Earth.
BeZero's analysis of IPCC, BloombergNEF and the Taskforce for Scaling Voluntary Carbon Markets models found that, by 2030, with a market size of 1.5-2 billion tonnes per annum, 44% of the VCM are expected to be avoidance credits. Of these, 56% would be removal credits. So far, an estimated $53 million has been spent on CDR credits by corporate purchasers, all of which have taken place in the last two years.
UK government is backing CDR
The INCLUSION project, in collaboration with Carbfix and the Scottish Universities Environmental Research Centre (SUERC), has been awarded £1 million of funding from the Natural Environment Research Council (NERC)'s Pushing the Frontiers scheme.
Dr Gilfillan said: "This project will combine the state-of-the-art scientific laboratory facilities available in Scotland with the world's leading CO2 mineralisation project to provide essential understanding of how to safely lock away CO2 underground in basalts.
"We will also develop our understanding of the reactivity of basalt and other volcanic rock, to understand the potential of mineralisation in other parts of the world, such as Scotland."
Professor Fin Stuart, Director of SUERC, said: "We will determine the unique chemical fingerprint of the injected CO2 at Carbfix, and record how that changes during the storage process. This will enable us to determine how, and how much, CO2 is stored and provide confidence in the amount of CO2 that can be stored by mineralisation in the future, which can also aid participation in carbon credit schemes."
SGV Take
The ability to track the amount of CO2 stored within mineralised rocks, and assess what is additional, is going to play a critical role in enabling such techniques to create tradeable removal credits for the global carbon markets.