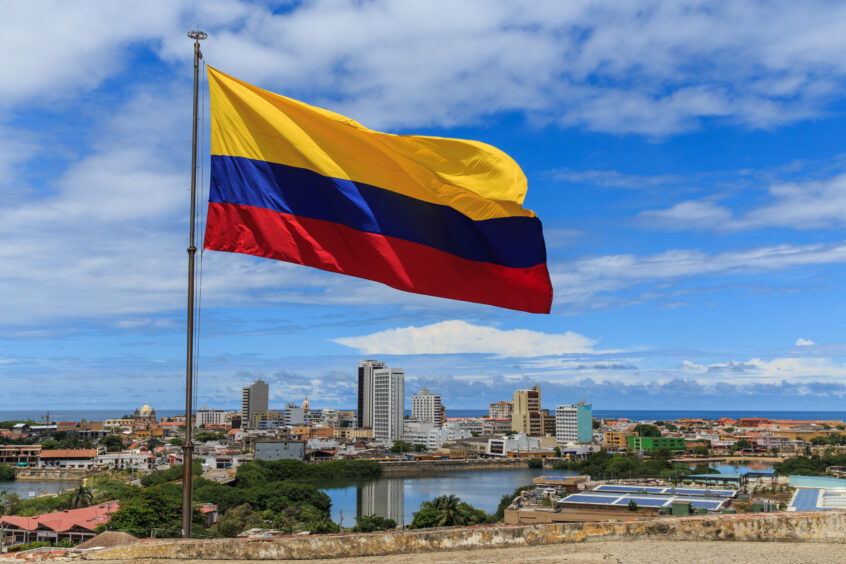 From Colombia's strong signal to the oil and gas industry to M&S's legal challenge over a Government decision, in this weekly round-up we explore the latest developments regarding corporate initiatives, sustainability reports and key industry updates.
Colombia joins Beyond Oil and Gas Alliance as UK tiptoes on Energy Charter Treaty
This week saw some good news in the move away from fossil fuels, as the Colombian Government joined the Beyond Oil and Gas Alliance (BOGA), an alliance of governments and stakeholders working together to facilitate the managed phase-out of oil and gas production. It is the largest oil and gas producer to date to become a member.
Romain Ioualalen, global policy manager at Oil Change International, said: "Instead of further locking in its economy and its people in an unsustainable and risky fossil based economic model, Colombia is making plans for a just transition away from coal, oil and gas. Engaging with BOGA will ensure Colombia gets support from other countries that have made similar commitments to keep oil and gas in the ground."
Perhaps less encouragingly, the UK said it is reviewing its membership of the Energy Charter Treaty if member states do not reach an agreement on modernised terms by November 2023.
Cleodie Rickard, trade campaign manager at Global Justice Now, said it is a welcome development but added: "Putting off the decision until November looks like an attempt to keep the UK sitting on the fence when MPs are about to try and push them off it through an amendment to the Energy Bill next week."
"The reform process to this treaty has failed – 11 countries are voting with their feet and exiting, meaning there is not enough support to get the so-called modernisation through. Leaving the Energy Charter Treaty is a necessary step to stop fossil fuel companies raising the costs of the green transition across Europe and beyond. Rather than more dither and delay, the UK should be joining a co-ordinated withdrawal now to maximise the benefits of leaving this damaging deal."
M&S launches legal challenge against Marble Arch decision
Remaining in the UK, Marks & Spencer (LSE:MKS) launched a legal challenge against the Government's decision to reject its Marble Arch store proposal. The retailer wanted to demolish its store in Central London to build a new one, but Michael Gove, the UK Secretary of State for Levelling Up, Housing and Communities, ruled in July 2023 that "the proposed development now would result in far more carbon emissions than after the UK has achieved a net-zero grid". The decision came despite approvals by Westminster City Council, the Mayor of London and the Planning Inspector, and the company claims that retrofitting is not an option.
Sacha Berendji, operations director at M&S, said: "We have done this because we believe the Secretary of State wrongly interpreted and applied planning policy, to justify his rejection of our scheme on grounds of heritage and environmental concerns."
"It is hugely disappointing that after two years of support and approvals at every stage, we have been forced to take legal action to overcome a misguided agenda against our scheme, and we will be challenging this to the fullest extent possible."
Fujitsu, Ingersoll Rand and LEGO update on net zero targets
This week saw a fresh wave of corporate updates on net zero targets. In Japan, Fujitsu (JPX:6702) accelerated its plans to achieve net zero emissions across Scope 1 and 2 by twenty years to 2030, while for Scope 3 is setting a deadline of fiscal 2040. To achieve its target, the digital transformation group further accelerated its plans to source 100% of the electricity used in its business operations from renewable energy by the end of the current decade.
Meanwhile, the LEGO Group pledged to achieve net-zero greenhouse gas (GHG) emissions by 2050 and submitted its intention to the Science Based Target initiative (SBTi). The commitment is an extension of its existing target to reduce GHG emissions by 37% by 2032 from a 2019 base, which was previously approved by the SBTi. The toymaker plans to triple its investment in environmental initiatives – such as carbon-neutral building, renewable energy and decarbonising the supply chain – to $1.4 billion by 2026.
Apple announces next Impact Accelerator class
In equality news, Apple (NASDAQ:APPL) announced its third Impact Accelerator class: a cohort of 12 Black-, Hispanic/Latinx-, and Indigenous-owned environmental solution and service providers focused on green technology and clean energy. Established to help mature, diverse businesses scale their impact and reach the next stage of development, companies will also be considered for business opportunities with Apple as it works to achieve carbon neutrality across its manufacturing supply chain by 2030.
Schneider Electric launches sustainability AI tool
Finally, Schneider Electric (PAR:SU) said it is launching a private beta version of EcoStruxure Resource Advisor Copilot, a conversational AI tool designed to help business leaders interact with their enterprise energy and sustainability data. To be made available in early 2024 at latest, it is intended to equip energy and sustainability teams with enhanced data analysis, visualisation, decision support, and performance optimisation.