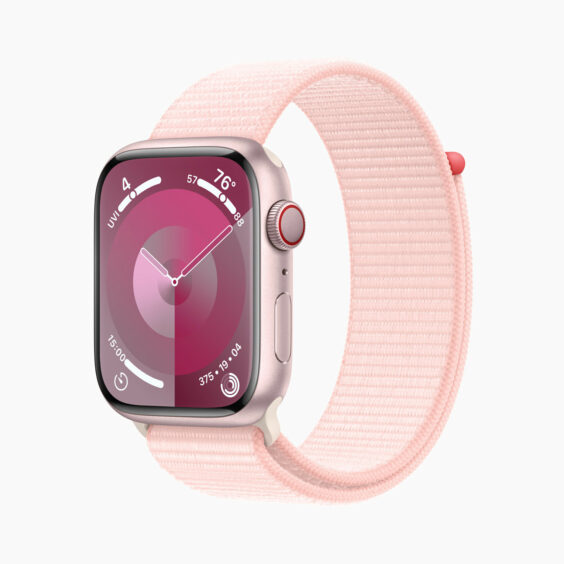 From Apple's launch of its carbon neutral range to award-winning circularity projects, in this weekly round-up we explore the latest developments regarding corporate initiatives, sustainability reports and key industry updates.
Apple launches first carbon neutral products
This week Apple (NASDAQ:APPL) made waves after unveiling its first-ever carbon neutral products in the watches range. The tech giant said it cut product emissions by over 75% by switching to full clean electricity for manufacturing and product use, using 30% recycled or renewable material by weight, and halving shipping emissions by eliminating air transportation. The remaining 25% of emissions that could not be abated are offset through the use of high-quality carbon credits.
The company has pledged to make every product carbon neutral by 2030, including the entire global supply chain and the lifetime use of every device Apple makes. This includes ending the use of leather across all of its product lines, switching to entirely fibre-based packaging and using recycled materials in iPhone.
Cleaning up Scopes 2 and 3
Large corporations are coming up with new initiatives to mitigate their impact on global warming, which often can have wide-reaching effects beyond their own industries.
This week, AstraZeneca (LSE:AZN) secured a 15-year partnership with Future Biogas to establish what would be the UK's first unsubsidised industrial-scale supply of biomethane gas, as part of a £100 million commitment. The facility will supply the pharma giant's sites in Macclesfield, Cambridge, Luton and Speke with 100 gigawatt hours per year, equivalent to the heat demands of over 8,000 homes. Once operational in early 2025, the partnership will reduce emissions by an estimated 20,000 tonnes CO2 equivalent, adding renewable energy capacity to the national gas grid.
In terms of addressing Scope 3 emissions, consultant Guidehouse announced the addition of McDonald's (NYSE:MCD), Post Holdings (NYSE:POST) and PUMA (XETRA: PUM) to the Supplier Leadership on Climate Transition. The initiative is a collaborative programme to accelerate progress towards science-based greenhouse gas (GHG) reduction targets across supply chains.
In the food sector, Just Eat (LSE:JET) has partnered with ten restaurants in London to trial carbon labelling, to help increase awareness of the carbon impact among corporate customers. Working with My Emissions, a provider of food carbon calculations and labelling, the food delivery service will show companies how they can make more climate-conscious choices with the food ordered for their employees, as well as help restaurants understand the environmental impact of the food they are offering team members.
Big names engage in the circular economy
Implementing circularity initiatives can provide a solution to environmental challenges that go beyond a company's GHG footprint. This week, THG (LSE:THG) was awarded the EMEA Circular Economy Transition of the Year Award in the 2023 Sustainable Company Awards from Environmental Finance for its initiative to turn unused Myprotein products into fish feed. In partnership with waste processing company MYGroup, the consumer brand would blend out-of-date Myprotein with other upcycled ingredients to produce a sustainable fish feed pellet.
Meanwhile, Nestlé UK & Ireland (SIX:NESN) and Cargill are still in a trial phase to assess whether cocoa shells from a confectionery site in York could be used to create a low-carbon fertiliser. If successful, up to 7,000 tonnes of low-carbon fertiliser could be produced and offered to farmers in Nestlé's UK wheat supply chain, which equates to 25% of the company's total fertiliser use for wheat in the country. As well as reusing production waste, the cocoa-shells-derived fertiliser would also limit its footprint: the production and use of conventional fertiliser accounts for approximately 5% of global greenhouse emissions.
How about the SDGs?
Even though the Sustainable Development Goals (SDGs) were designed for countries, companies have a crucial role to play in achieving them. Rating agency Impak Analytics assessed how the STOXX 600 index, a compilation of the 600 largest listed companies in 17 of the highest-income countries in Europe, is contributing towards these global objectives.
It found that only 4% of the total index's combined revenue has a positive contribution to the SDGs, though only 15% of the 600 companies generate one or more positive contributions. On average, only 29% of their combined revenues align with the SDGs, while the rest have either a neutral or negative contribution – suggesting that companies need to step up their efforts.