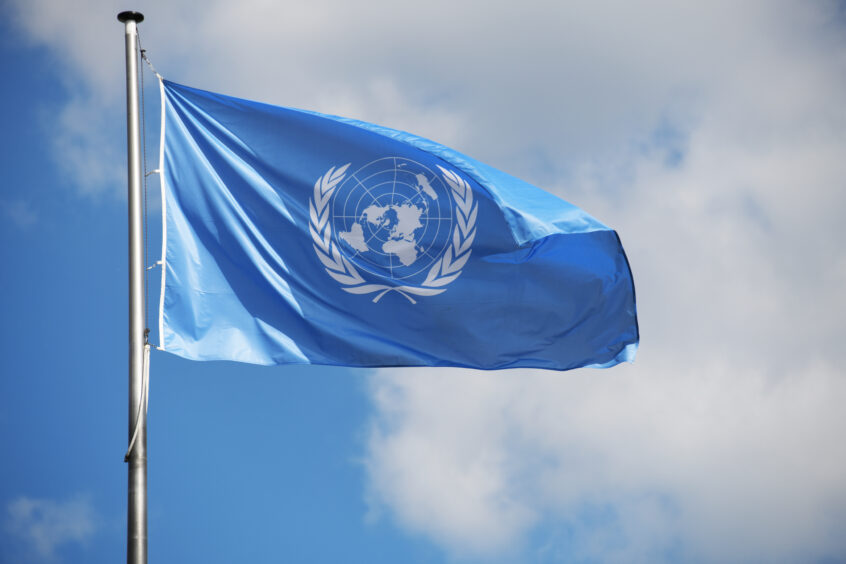 Twelve business leaders who have demonstrated progress and commitment to advancing the Sustainable Development Goals (SDGs) globally have been recognised at the UN Global Compact Summit in New York. 
The search focused on professionals working at any level in a company participating in the UN Global Compact and recognised their work in successfully integrating SDGs into business strategy.
The 2030 deadline for achieving the 17 SDGs is only seven years away, and businesses need to step up to do their part.
The work honoured includes implementing initiatives to empower women, sustain and protect biodiversity, and tackle the underrepresentation of ethnic minority groups and is hoped to inspire other businesses signed to the UN Global Compact.
The SDG Pioneers Award honours global business leaders making strides in incorporating the 17 goals into their business strategies. 
The award is hosted by the UN Global Compact, the world's largest corporate sustainability initiative and a project of the United Nations Secretary-General. It intends to accelerate and scale the global collective impact of business by upholding Ten Principles in the areas of human rights, labour, environment and anti-corruption. It calls on companies to align operations and strategies with these principles and has more than 18,000 companies and 3,800 non-business signatories around the world. 
Sanda Ojiambo, chief executive and executive director of the UN Global Compact said: "The SDG Pioneers programme recognizes the dedicated professionals that drive and innovate solutions through new technologies, initiatives and business models that can enable us to reach the Sustainable Development Goals by 2030. We hope their work will inspire others to advance the Global Goals by implementing our Ten Principles on human rights, labour, environment and anti-corruption."
The SDG pioneer entries were judged by an expert panel of representatives of the UN Global Compact Board members, alongside previous SDG Pioneers and representatives from academia and UN agencies. Two winners were chosen from each geographic region, one honouring the SDG Pioneer for Large National and Multinational Companies.
Optimising businesses for the SDGs
If business as usual continues, none of the SDGs will be achieved by 2030. The role of global businesses is crucial: according to a report by Global Compact earlier in 2023, sustainable business practices, public-private partnerships and strategic investment could help meet up to 17% of SDG targets. 
What are the ideal steps for businesses to take? The UN Global Compact's report in partnership with Accenture, published in September 2023, also identifies a set of ten key pathways for businesses to optimise their operations for sustainability in line with the SDG goals.  Impact investing, an approach for investing that generates not only financial returns but also positive social and environmental impacts is also rising as a method to advance progress in SDGs globally. Investors have a significant role to play, and a new tool launched earlier in 2023 allows investors to upload investment portfolios and analyse them across a range of SDG-related parameters.
Africa
SDG Pioneer for Large National and Multinational companies:

Fanilo Rakotovao Rakotoarison, social impact director, Axian Group

, Madagascar has been recognised for her work managing the Scopes 1,2 and 3 studies of 17 of the Axian group companies across five countries, enco

uraging self-assessment of impacts and guiding two

companies to BCorp certification. This includes socio-economic studies and standard measurement according to internal tools for impact scoring that prioritise the SDGs. The Axian Group is one of the founding members of the UN Global Impact and is a pan-African group that specialises in the sectors of real estate, telecom, financial service, energy and innovation. 

SDG Pioneer or Small-to-Medium Enterprises

:

Catherine Gichungu, chief executive, Caly Flora Limited, Kenya

. The award recognises her work promoting sustainable living practices and environmental conservation in the country as part of Caly Flora, a flower exporter which raised awareness around the importance of using sustainable floral wraps for local flower sales, and also holds the Mizizi Eco Circle, a programme designed to educate children about nature through play and crafts. The company advocates for enhancing biodiversity through practices such as composting and vermiculture, and emphasises the importance of growing indigenous trees. 
Asia-Oceania
SDG Pioneer for Large National and Multinational companies

:

M.A. Jabbar, managing director, DBL Group,

Bangladesh, The award recognises his work in setting up a research and development team to lead innovation in creating yarn from recycled materials. These materials are sourced from different processes within their supply chain and contributed to reducing emissions as well as resource use for more circular production, in line with SDG 9 (industry, innovation and infrastructure) and SDG 12 (responsible consumption and production). The DBL group is a family-owned conglomerate that spans textiles, apparel, textile printing, washing, pharmaceuticals, tiling and information and communications technology. 

SDG Pioneer or Small-to-Medium Enterprises

:

Veerappan Swaminathan, chief executiveSustainable Living Lab Pte Ltd

, Singapore, who was awarded for his work in implementing sustainability initiatives and business models, including launching Singapore's largest repair initiative, Repair Kopitiam, and now launching a Sustainability Action Platform, Spryx for Singapore-based small and medium-sized enterprises.  Sustainable Living Labs is a sustainability consultancy and innovation lab working across Singapore, India and Indonesia.
Western Europe and North America
SDG Pioneer for Large National and Multinational companies:

Uzma Hamid-Dizier, director of responsible Business at law firm Slaughter and May

, UK. The award recognises her work in implementing a collaboration of eight firms to launch the first cross-firm collective to tackle the underrepresentation of ethnic minority groups in the UK's legal sector. This group has now expanded to 36 law firms.

SDG Pioneer or Small-to-Medium Enterprises:

Eva Gouwens, chief executive, Fairphone

, Netherlands. FairPhone is a Dutch Social Enterprise focused on ethically sourced and manufactured electronics. The award recognises her work in prioritising the mission of ensuring a fair and sustainable manufacturing process for their electronics.
Latin America and the Caribbean
SDG Pioneer for Large National and Multinational companies:

Andrea Amozurrutia Casillas, head of finance and sustainability at food group Grupo Herdez,

Mexico. The award recognises her work in ensuring transparency in sustainability metrics and integrating finance and sustainability. 

SDG Pioneer or Small-to-Medium Enterprises:

Ana Paula Arbache, chief executive and founder, Arbache Innovations

, Brazil. The award recognises her work in founding the digital game library around the SDGs as well as the Hub Mulher collective, a movement of young people and women volunteers who implement initiatives to advance SDGs SDG 1 (No Poverty), SDG 4 (Quality Education), SDG 5 (Gender Equality), SDG 8 (Decent Work and Economic Growth) and SDG 10 (Reduced Inequalities). She has also developed a women's empowerment-centred platform for knowledge, research, best practices and tools for education on diversity and human rights, Mundo Mulher. Arbache Innovations is a solutions platform that harnesses AI and other technology to develop innovative solutions for professionals. 
Middle East
SDG Pioneer for Large National and Multinational companies:

Shay Bialik, director of global sustainability and ethics, Strauss Group

, Israel. The Strauss Group is a manufacturer of consumer foods ranging from dairy products, coffee and snacks to fresh vegetables, chocolate and more. The award recognises her work in driving sustainability within the company and founding the ESG Private Sector network in Israel that connects professionals in the sector. 

SDG Pioneer or Small-to-Medium Enterprises:

Roaa Kurdi, biodiversity specialist and science writer, Beesline,

Lebanon. Beesline is a skincare brand, and the award recognises her work in helping lead bee conservation in the region through the launch of the Generation Beegan initiative. This includes three proactive programs: The Lebanese Red List of Bees', a three-year bee-monitoring project spanning areas lacking sufficient data on bee fauna in Lebanon, 'Guardians of the Wild' which encourages customers to plant seeds for wild bees and 'Young Guardians' which focuses on raising awareness in schools. The initiative also aims to establish the first bee conservation document in their region. 
Eastern Europe
SDG Pioneer for Large National and Multinational companies:

Spiros Nomikos, chief executive, Solvay Sodi

, Bulgaria. The company owns the largest plant in Europe for the production of soda ash and also produces sodium bicarbonate, a product used as an additive in animal feed and for removing pollutants in flue gas. The award recognises his work in meeting sustainability standards and for announcing an ambitious Sustainability Roadmap to reduce their carbon footprint by 40% by 2030, extend involvement in nature, and biodiversity initiatives and become carbon neutral by 2050. 

SDG Pioneer or Small-to-Medium Enterprises:

Eteri Chachibaia, chief operating officer, MFI MBC

, Georgia. The award recognises her work in launching SDG-facing initiatives such as financial literacy programmes, employee volunteerism, energy efficiency, cross-sector partnerships, women's empowerment, gender equality, financial and non-financial support for social enterprises and more. Women hold at least 50% of positions across total employees, management and top management positions. MFI MBC is a microfinance organisation that includes a focus on collateralised micro and agricultural loans. 
SGV TAKE
The awards serve as an example of the multiple ways in which businesses can contribute to SDGs, ranging from women's empowerment and tackling the underrepresentation of minority ethnic groups in the workforce, to focusing on fair manufacturing processes that avoid exploitation and pollution. Companies should step up to implement business practices that advance the SDGs as it will not only nurture community impact and employee performance but also join the global drive for a sustainable future for all. The latter is a basic requirement as it certainly is time for large-scale businesses to avoid harming the environment and employees in their foundational business processes.  
Whether it is optimising your production for circularity or focusing on local biodiversity initiatives, there is a range of innovative pathways for advancing SDGs that can best suit a business's journey to a sustainable transition and lasting success.