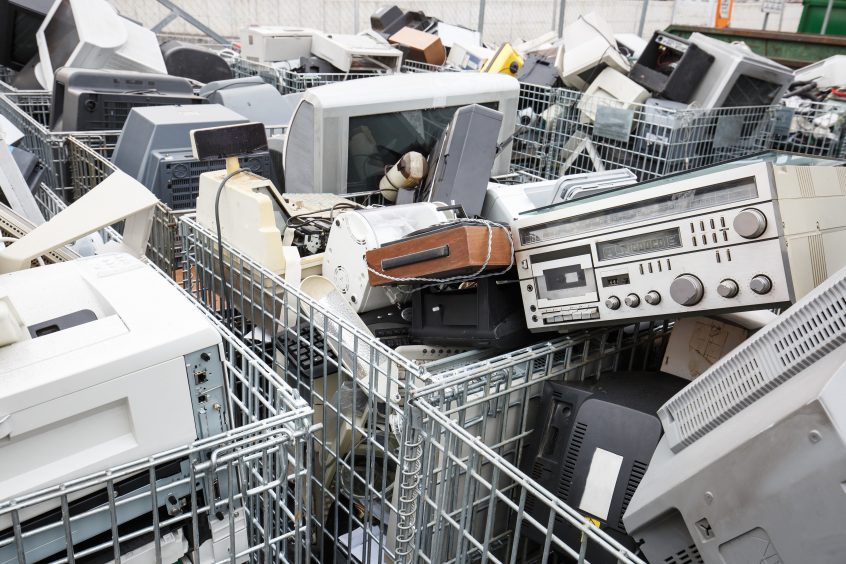 As new figures reveal UK businesses are holding onto almost 12 million unused mobile phones and tablets, Virgin Media O2 is boosting its O2 Recycle initiative, making it easier for companies to sustainably dispose of their unwanted devices.
Virgin Media O2's 'O2 Recycle for Business' is intended to make it simpler for companies to recycle their unused devices and get paid for doing so.
A new study finds that seven in 10 companies would like to be 'greener' but don't know how to handle their electronic waste, resulting in more than 11.8 million unused mobile and tablet devices gathering dust.
Over the last eight years, there have been an estimated 420.3 million metric tons of e-waste produced around the world, and this figure is predicted to double by 2050.
The O2 Recycle for Business service has been relaunched to help companies of all sizes trade in their old technology – where they can receive cash back, credit towards new devices, or donate funds to charity. Any company can use O2 Recycle for Business, regardless of their mobile provider.
O2 Recycle has processed more than 3.8 million business and consumer devices since its launch in 2009, and last year paid out more than £670,000 to businesses.
Devices are data wiped and 92% are either recycled or refurbished and resold as 'like new' products to customers – supporting the circular economy, with the remainder broken down for raw materials. None of the tech that goes through O2 Recycle ends up in a landfill, according to the company.
Businesses baffled by how to go green
The announcement came as new research reveals UK businesses don't know how to recycle their old tech and want help to become more sustainable. It found that 70% of companies would like to be 'greener' but just don't know how to go about handling their electronic waste (e-waste), resulting in organisations hoarding unused phones and laptops for a year, on average.
Furthermore, three-quarters of firms say that they need to be more responsible with disposing of their old tech, and eight in 10 organisations want a simple solution to help their business recycle their unwanted devices.
Miranda Apps at GB Railfreight said: "O2 Recycle has enabled our organisation to safely recycle our obsolete devices, minimising pollution and waste. This saves energy and also reduces greenhouse gas emissions, which helps to tackle climate change. The process has been easy to manage and is a cost-effective way to reutilise old equipment."
Five clicks to collection
With enhancements to the O2 Recycle for Business platform, organisations can now recycle their phones and tablets in five steps, registering multiple devices at once, and arranging a free courier collection. The service also supports employees working remotely who have many unused devices stashed in drawers, garages or lofts, as businesses can send them a QR code so they can also post the items to O2 Recycle for free.
Businesses can use their credit to buy new devices via O2 or donate up to 100% of their cash back to Virgin Media O2's charity partner, Good Things Foundation, to support digital inclusion projects across the UK.
O2 Recycle for Business also supports organisations to lower their Scope 3 supply chain carbon emissions by ensuring that devices are more likely to be given a second life.
The initiative forms part of Virgin Media O2's sustainability strategy, the Better Connections Plan, where the company is working to support consumers and businesses to carry out 10 million 'circular actions' by the end of 2025. 
The problem with e-waste
The production of our everyday devices has enormous environmental and social consequences. The extraction of critical minerals and the sprawling supply chains of the tech sector are highly polluting and rife with human rights breaches; smartphones are often built to last only a few years to encourage consumption as new models keep being churned out.
The current state of the industry is conducive to mountains of e-waste – which has its own devastating impacts on human health and the environment. Indeed, it contains metals, such as lead and mercury, and hazardous chemicals, such as brominated flame retardants.
Several studies found that residents of areas exposed to e-waste had significantly elevated levels of heavy metals and persistent organic pollutants, with negative impacts on neonatal growth indices and hormone level alterations in children and pregnant people.
Ambiguous and unharmonised global regulations have allowed the formation of unregulated international trade of e-waste, which in turn is causing the proliferation of illegal and improper recycling. Southeast Asian, Central and South American as well as North and West African countries are the world's major importers, as this is disproportionately affecting low-income countries.
The lack of adequate infrastructure to process the devices causes pollution of air, soil and water, meaning the hazardous materials can eventually be ingested by animals and people. Illegal recycling often comes with labour rights issues, such as child labour and lack of protection from dangerous materials.
Devices contain valuable metals such as gold, copper, silver and palladium, whose mining can have significant environmental and social impacts in itself. Recycling those metals can therefore reduce the impact of the mining industry.
SGV TAKE
While the issue of e-waste needs to be first and foremost tackled by reducing overproduction, we need to find ways to refurbish and recycle the millions of devices that are no longer being used. Properly disposing of e-waste is often an afterthought, which is why initiatives such as the O2 Recycle for Business service that simplify the process for companies are so important.