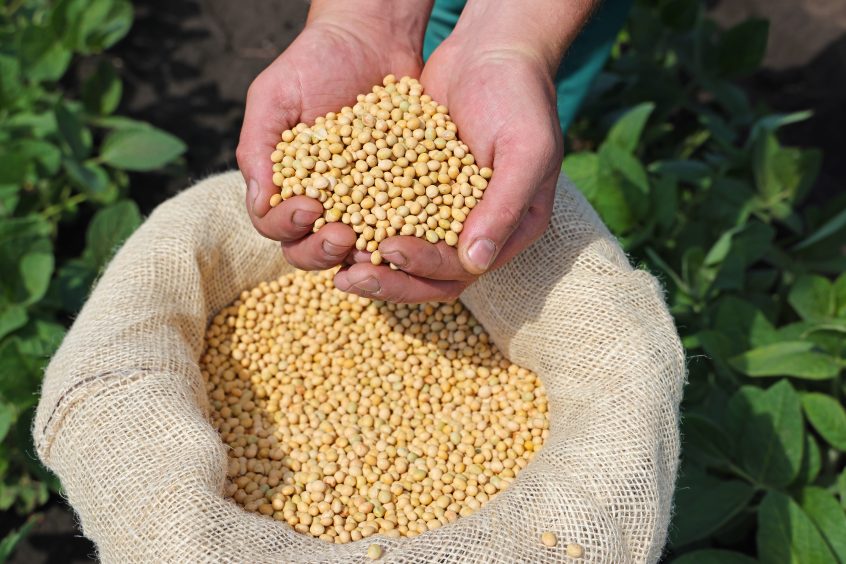 Global agribusiness giant Bunge (NYSE: BG) plans to collaborate with BKP, part of CP Foods, to develop a blockchain solution for the traceability of soy and deforestation-free products.
The memorandum of agreement between the two agri-businesses suggests a growing awareness of the need to address deforestation-based soy supply.
While it is an initial agreement and the time frames for a solution are not clear, this is clearly a response to growing social and governance concerns about deforestation driving products in the food chain.
Action on soy and other agricultural product-led deforestation is critical to both climate and nature targets, but large agribusiness has a poor track record for taking effective action.
Bangkok Produce Merchandising Public Company Limited (BKP) is a subsidiary company of Charoen Pokphand Foods Public Company Limited (CPF). CPF itself is a Thai-headquartered agro-industrial and food conglomerate. The agreement involves grain sourced by Bunge in Brazil and destined for several countries in Asia, where BKP and CPF produce and sell feed and food.
This partnership will enable both companies to carry out technical, commercial and operational feasibility studies to develop the basis for building a sustainable supply chain. It will also see an integration of digitisation, which will bring further economic benefits across the supply chain. The idea behind the agreement is to "transform traceability data from the field to final customers".
Paisarn Kruawongvanich, chief executive of BKP, said that blockchain technology will improve the traceability of the agro-industry and companies' food supply chains, providing transparency and ensuring product quality and safety for customers.
He added that the agreement with global business partners aligns with BKP's commitment to achieving a net zero supply chain in 2050 and said: "Tracing raw materials around the globe, including soy, back to the source is key to ensuring both directly and indirectly sourced raw material do not come from encroachment areas or areas of deforestation."
By involving two global companies, the scale of the initiative has the potential to raise standards of transparency in the Brazilian soy value chain and increase the confidence of end consumers in soy-derived products around the world.
Bunge's current position on deforestation
Bunge says it is taking action on deforestation.  In 2021, it launched the Bunge Sustainable Partnership Program to help grain resellers assess their suppliers' performance on climate and social issues.
According to the company, monitoring currently carried out by Bunge covers more than 16,000 farms, or up to 20 million hectares in South America, and relies on state-of-the-art satellite technology, capable of identifying changes in land use and soybean planting on each monitored property.
In Brazil, Bunge says it currently monitors all of its direct supply chain in areas subject to deforestation and is moving toward fully covering the indirect supply chain by 2025. The company stated that more than 97% of the volume of soy purchased by Bunge is verified free from deforestation and conversion, progressing the company closer to its deforestation-free value chain goal.
"Bunge strives to be the preferred sustainable solutions partner for producers and customers. The partnership with BKP reflects our business vision that leverages technology as an important tool. Over the past few years, we have built a robust social and environmental verification system that includes advanced traceability and monitoring of our suppliers," explained Rossano de Angelis Jr., Bunge's vice president of agribusiness for South America.
"We believe that, together with our customers, we will build sustainable supply chains with an additional layer of reliability guaranteed by blockchain."
What will the agreement look like?
Given the amount of soy that is used for animal feed, the agreement to work on deforestation-free soy supply between Bunge and one of the world's largest animal feed producers can only be positive. The core goal of the agreement is to "revolutionise the traceability of soy and related products", from their origins in the field to their final consumers in Asia, where BKP and CPF are actively involved in the production and sale of feed and food.
Through the memorandum, both companies also committed to discussing the possibility of future collaboration on other services, such as exploring opportunities for further integration among systems, with a focus on enabling real-time data transfer, measuring the carbon footprint of the volumes traded with BKP, and improving the digital traceability solution to be compatible with sustainability certification standards, such as the Round Table on Responsible Soy and the International Sustainability & Carbon Certification.
Where does the agreement rate on the credibility scale?
Yet Bunge has a track record of distributing products associated with deforestation. Mighty Earth released a report in June 2023 which showed that US-based Bunge is one of the big international corporations that trades in soy for animal feed. It has ambitions to be the biggest, having just announced a merger with Dutch company Viterra, to form a $34 billion agricultural giant.
With annual revenues of $67 billion, Bunge is the main supplier of soy animal feed to the meat industry in the EU and is the trader with the greatest deforestation risk linked to soy in the Cerrado, after the two next worst-performing commodities giants, ADM (NYSE: ADM), and privately held Cargill.
Bunge ships vast amounts of soy to Europe to feed animals in intensive farming systems, destined for the meat aisles of major supermarkets in France, Spain, Germany, and the Netherlands – for beef, poultry, pork, and dairy products. The report warned that markets in Europe are causing more deforestation in the Cerrado than anywhere else in the world.
Undestanding the importance of soy in deforestation
According to Trase Insights, "in the five years to 2020, soy plantations in the Cerrado were associated with 264,000 ha deforestation – an area almost twice the size of the city of São Paulo – and 196,000 ha of deforestation in the Pampas. By comparison, soy grown in Brazil's best-known biome – the Amazon – was linked to 76,400 ha of deforestation in the same period".
Brazil is the world's largest soy producer and exporter. Trase Insights reported that, in 2021, it produced almost 135 million tonnes of soy of which 105.5 million tonnes were exported as raw soybeans, soybean cake and soybean oil. Soy was Brazil's second-largest export, accounting for 14% of total exports in 2021 for an annual revenue of almost $48 billion.
In 2022 Trase data showed that large, well-known commodity traders Bunge, Cargill, and ADM continue to be the most exposed to deforestation in Brazil, recently joined in the top five by Olam and Gavilon which have expanded their operations in the country.
To put things in context, an Agricultural Sector Roadmap to address the impact of deforestation in the supply chain was launched during COP27 in 2022, with 14 agricultural giants now taking part. Each signatory made a public commitment to reduce its emissions from land use by implementing traceability systems, disseminating a positive narrative around sustainable soya production and ending deforestation within the supply chain.
Brazil's Cerrado savannah was identified as a priority ecosystem, as were the Amazon rainforest and the Gran Chaco. Yet the Roadmap agreement has now been watered down to a promise to 'undertake best efforts' towards ending commodity-driven deforestation by 2025 at the latest.
The EU Deforestation Regulation, which came into force in June 2023 is understood not to offer legal protection for around three-quarters of the Cerrado. Under the EU regulation, commodity traders will have to prove that products such as soybeans and palm oil destined for the EU market are not linked to the conversion of forests.
Discussions about traceability between such large conglomerates are interesting as while this looks like a positive move towards more effective traceability of soy within the supply chain, it is only an MoU. There is little detail on the agreement, when the solution will be launched etc, although it is positive to see action on Brazil-sourced soy and growing concerns about how demand is driving deforestation in the Amazon.
There are broad concerns about global agribusiness commitment to action on agriculture
FAIRR has explored the extent to which agribusiness giants were acting on stated commitments to regenerative agriculture, finding that 46 out of 50 companies that talk publicly about such have not made financial commitments to support farmers in their supply chains to make the switch – including Chipotle, Domino's and Bunge.
Of 79 global agri-food firms, 50 publicly refer to the potential of regenerative agriculture as a solution to the climate and biodiversity crises, but they have not put in place any formal quantitative company-wide targets to achieve those ambitions.
Jeremy Coller, Chair and Founder of the $70 trillion-backed FAIRR network, said:  "From soybeans to fish food, the agri-food sector is a significant driver of biodiversity loss and greenhouse gas emissions as it turns commodities into the food on our plates."
Earlier in September 2023, some of the biodiversity risks that regenerative agriculture is designed to mitigate – including nutrient pollution, loss of pollinators and poor soil health – were named as key risks food companies should report against in the new, finalised Taskforce on Nature-related Finance Disclosures (TNFD) framework. Companies must be able to substantiate how they manage nature-related risks and opportunities, as well as their impacts on nature.
SGV TAKE
While it is encouraging to see companies the size of Bunge and CKP taking action on soy in the supply chain, the Asia markets are a growth area for Bunge. Given the impact of Bunge soy in the European markets and the extent to which soy is still driving rapid growth of deforestation in areas that the global climate cannot afford to lose, this feels a little like a move towards increased digitisation and improved supply chain management dressed up as action on sustainability.
For the impact of such an MoU to be taken seriously as a sustainability strategy, consumers and investors must believe that Bunge is serious about erasing deforestation in its supply chain – and that's not yet the case.