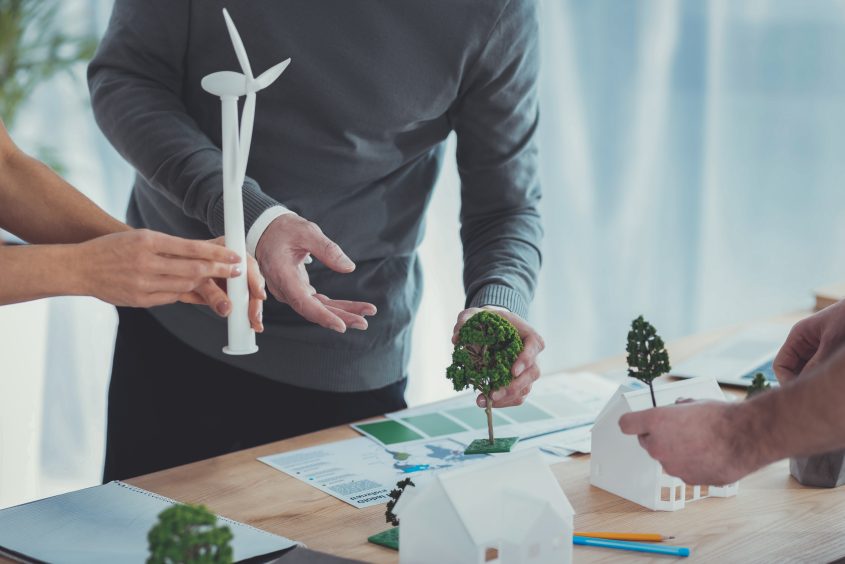 New Net Zero Tracker (NZT) analysis found that half of the world's largest 2,000 publicly-listed companies have now set net zero commitments, although a credibility gap remains. 
The global database on net zero commitments by companies, states and countries found that more than half of the companies in the Forbes Global 2000 have a net zero target.
The role of shareholders in incentivising corporate climate action has come to the forefront as more investors demand transparency and sustainability commitments.
Most net zero commitments, however, are largely lacking effective transition plans and one-third of the ranked companies have still to set emissions reduction targets. 
The scales have tipped among the largest public companies in the world. For the first time, more than half of them have set public net zero commitments. 
John Lang, project lead of the NZT, said: "A clear line in the sand on net zero has surfaced. Countless net zero targets are credibility light, but now we can say for certain that most of the world's largest companies have shifted to the right side of the line on net zero intent."
Rising net zero commitments across global public companies 
The share of the world's 2,000 largest public companies committing to net zero targets has spiked, rising by more than 40% from 702 in June 2022 to 1,003 in October 2023. It means that 66% of the annual revenue of these companies, or a staggering $27 trillion, is now covered by a net zero target. The number was $3.8 trillion in December 2020. 
Of the top five within the ranking, Walmart (NYSE:WMT) and Amazon (NASDAQ:AMZN) have committed to net zero across all operations by 2040, but UnitedHealth (NYSE:UNH) has only pledged towards the goal rather than including it in its strategy. Apple (NASDAQ:APPL) has only committed to carbon neutrality rather than net zero, but it has included this commitment in its corporate strategy.
Net zero commitments have gained significant traction since the 2020 launch of the UN Race to Zero campaign, which is intended to mobilise non-state actors to commit to achieving net zero carbon emissions by 2050 at the latest. More than 8,000 companies have signed up in just three years.
The geographical distribution of these companies is varied, however. According to the NZT's Net Zero Stocktake Report published in June 2023, almost 90% of Chinese companies in the Forbes Global 2000 have no mitigation target, suggesting challenges in operationalising national targets in China's economy. Meanwhile, 79% of EU companies have now set net zero targets, ahead of the US with a 49% share.
Transparency is valued
The role of shareholders in incentivising corporate climate action has come to the forefront. A previous analysis by NZT found that private firms are performing significantly worse on net zero commitments and integrity as compared to their publicly listed counterparts. Public scrutiny seems to be an important incentive, with later-stage tech companies found to have minimised climate risk in preparation for IPOs.
Investors are increasingly prioritising a company's climate performance in decision-making. A late 2022 survey by EY of over 1,000 chief financial officers and more than 300 institutional investors found that not only did 99% of investors consider ESG reporting a crucial part of decision-making, but 78% also believed that companies should focus on ESG activity even if it impacted short-term profits. 
UK backtracking on net zero misaligned with national corporate climate
The NZT found that, despite the Government's backtracking on climate commitments, the UK emerged as a leader in the ranking. According to the analysis, 94% of UK-based companies within the Forbes Global 2000 have committed to the net zero transition. Only two UK-based companies within the index – clothing company, Beira and the private equity firm, 3i – had not set any mitigation targets at all. 
Chris Skidmore MP, chairman of the UK Net Zero Review, said that, while it was remarkable that such progress had been made only four years after net zero had been signed into law, "the recent stop-start approach to policy" is "putting business investment at risk and undermining investor confidence".
Effective transition plans are almost nonexistent 
Despite the large-scale increase in net zero commitments, only very few companies have credible transition plans – a phenomenon now termed 'corporate greenwashing 3.0'. This refers to a new paradigm of greenwashing that includes long-term net zero targets that are unsubstantiated or unverified, and poses billion-dollar climate litigation risks for companies globally.
The NZT warns that the integrity of company mitigation targets should urgently improve. According to earlier analysis in 2023, only 4% of Forbes Global 2000 corporate net zero commitments met the criteria set by the UN Race to Zero campaign for a credible net zero transition. This leaves a credibility gap for investors and stakeholders, who are forced to deal with companies making unverified and unreliable plans for the net zero transition.
The UN criteria primarily include setting a specific net zero target, coverage of all greenhouse gases and emissions scopes, clear conditions set for the use of offsets and implementing immediate emissions-cutting measures. They also specify that there should be annual progress reporting on both interim and longer-term targets. The UN has also added guidance for the 'Just Transition' of global supply chains to reach net zero while empowering workers and communities.
Similarly, a 2023 report by the Carbon Disclosure Project found that only a minuscule 0.4% of more than 18,600 organisations being sampled had set credible transition plans aligned with 1.5°C. More than 30% of respondents in a 2023 review of global private sector progress towards net zero said that their firm would most likely rely on fossil fuels well beyond 2050 despite their company commitments promising an earlier transition.
Natasha Lutz, co-data lead, Net Zero Tracker at the University of Oxford said: "Weaker targets hinder companies' ability to implement effective emissions reductions, and cause greater exposure to climate and reputational risk, and stakeholder mistrust."
A significant failing of current net zero targets is the deliberate exclusion of Scope 3 emissions, which can account for a whopping 75% of a company's carbon footprint. NZT found that only 37% of corporate net zero targets in the ranking fully cover Scope 3 emissions on a self-reporting basis.
Moreover, unreliable offsets may be a significant part of corporate net zero plans. Only 13% of corporate net zero targets had a quality threshold for the use of offsets, risking low-quality offset credits rather than emissions reductions.
Dr Takeshi Kuramochi, senior climate policy researcher at NewClimate Institute, warned that many pledges are still based on self-defined emissions boundaries and scope and are not aligned with the global net zero emission goal. The NZT is set to release its seventh analysis of global net zero pledges across countries and non-state entities at COP28, Dubai. 
SGV TAKE 
While this milestone signals a positive and fast transition, half of the Forbes Global 2000 ranking still has no net zero commitments. Moreover, as the existing commitments are largely not aligned with the UN's guidelines or significantly exclude Scope 3 emissions, the net zero targets seem hollow and out of reach. Not only do companies need to pick up pace in aligning with global net zero targets to avoid being left in the dust by investors, but also invest in credible and transparent plans aligned with third-party guidelines to guarantee an effective transition.