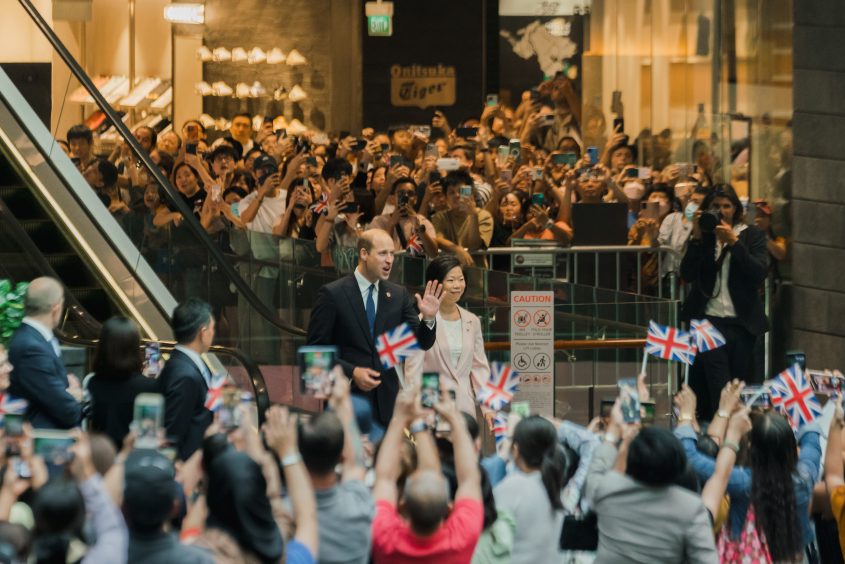 At a ceremony in Singapore, five winners were awarded the £1 million prize to scale environmental solutions technologies. 
The winners were chosen among 15 entrepreneurs named as 2023 Earthshot prize finalists. 
The award was launched by Prince William and the Royal Foundation charity in 2020 to scale solutions for issues affecting the environment.
The 15 finalists will be supported with mentorship, resources and technical support from the Earthshot Prize Fellowship Programme.
In a ceremony in Singapore on 7 November 2023, Prince William announced the five winners of the Earthshot Prize in its third year running. Each winner was awarded for their role in furthering the five 'Earthshots', or environmental goals for 2030: restoring nature, reducing air pollution, reviving the oceans, building a waste-free world and fixing climate disruption.
They were judged by a panel of 59 scientific, academic and other experts, including Prince William, Sir David Attenborough, Her Majesty Queen Rania Al Abdullah of Jordan, Indra Nooyi, former managing director of PepsiCo (NASDAQ:PEP), and Dr Ngozi Okonjo-Iweala, seventh director general of the World Trade Organisation chose the finalists. 
The Earthshot Council, chaired by Christiana Figueres DBE, one of the key leaders behind the Paris Agreement, chose the five winners which received  £1 million each to support their businesses.
Prince William said: "The last year has been one of great change and even greater challenge. A year in which the effects of the climate crisis have become too visible to be ignored. And a year that has left so many feeling defeated, their hope, dwindling. However, as we have seen tonight, hope does remain."
Winner of 'Protect and restore nature': Acción Andina
Acción Andina is a multinational, grassroots initiative by non-profit organisations Global Forest Generation and Asociación Ecosistemas Andinos, intended to support local communities to restore native high-altitude forest ecosystems across the Andes mountain range. Although the mountains are home to rich biodiversity,  the impact of animal grazing, mining and deforestation has left only 500,000 hectares of native forests, according to UNEP.
The initiative provides resources such as project and financial management, technical training and salary support for local conservation and indigenous leaders, communities and organisations to scale durable land protection and restoration activities. Since 2018, almost ten million native trees have been planted by the organisation, restoring over 4,000 hectares and protecting over 11,000 hectares of native forest.
Florent Kaiser, chief executive of  Global Forest Generation said: "The knowledge and expertise of indigenous communities closest to the problem of deforestation are also the closest to the solution. We believe we must harness their knowledge and abilities for a collective and large restoration effort that puts hundreds of thousands of local people first."
Winner of 'Clean our Air': GRST
GRST or Green, Renewable, Sustainable Technology created a process to make batteries using a water-soluble binding composite that pollutes less and can be more easily recycled than conventional batteries. This is expected to help pave the way to make electric car use more cleaner. 
According to the International Energy Agency, there will be over 350 million electric cars on the road by 2030. The global lithium battery market is expected to grow by over 30 % annually from 2022 to 2023, for which millions of tonnes of lithium will need to be mined – leaving room for ongoing environmental destruction, human rights abuses and toxic chemical release associated with it.
Justin Hung, chief executive and co-founder of GRST, said: "The electric vehicle revolution is here, but the world needs a sustainable battery revolution to accompany it."
GRST's method reduces GHG emissions from production by 40% and produces batteries that last up to 10% longer than average. At the end of the battery's life, the cobalt, lithium and nickel can be recovered and reused for other batteries, reducing the need for further mining.
Winner of 'Revive our Oceans': WildAid Marine Programme
WildAid is a global conservation non-profit that brings together stakeholders and partners ranging from governments to nonprofits, academics and charities to support the enforcement of Marine Protected Areas (MPAs) and sustainable fisheries in its marine programme.
In 2023, countries agreed to a High Seas Treaty to safeguard 30% of oceans by 2030. A part of achieving this goal is the enforcement of more than 15,000 MPAs globally, which are special protected marine zones where governments have legally limited human activity to protect ecosystems. According to Earthshot, although MPAs only cover 8% of the ocean, over 60% of these MPAs have been unable to protect ecosystems due to enforcement challenges. 
Meaghan Brosnan, chief operating officer, WildAid said: "WildAid's Marine Programme is making the promise of marine protected areas and sustainable fisheries real by filling a critical global gap: law enforcement capacity." The programme currently covers an estimated 1.64 million square kilometres of ocean, and aims to scale from 96 to 250 marine areas by 2028.
Winner of 'Build a waste-free world': S4S technologies
To tackle the issue of over 30% of crops being wasted before reaching markets, S4S is a startup that converts 'farm losses to value-added products'. It provides food processing equipment and solar-powered dryers for rural communities in India, with a focus on female farmers, to process their crops on-site rather than use more expensive methods of food preservation. It also supports farmers to use preserved food waste to produce and sell valuable products and connect them to a market. 
Co-founder Nidhi Pant said: "S4S, along with women farmers, are creating a new food ecosystem that reduces wastage and mitigates the increase in GHG emissions while meeting the world's food needs."
Under its guidance, over 300,000 women smallholder farmers have recorded a 10-15% increase in profits, while 2,000 female entrepreneurs as partners have doubled or tripled their incomes.
Winner of 'Fix our climate': Boomitra
Boomitra is a soil carbon marketplace founded in 2017 that rewards farmers for managing their land sustainably and works with more than 150,000 farmers in Africa, Asia and South America managing over five million acres of land.  
It harnesses AI and satellite technology to monitor soil improvements in farms, and governments and companies can buy independently verified carbon credits with most of the revenue from sales going to farmers. The company aims to store one gigaton of CO2 in the soil by 2030. 
Aadith Moorthy, founder and chief executive, said: "We cannot restore the earth without the support of farmers, who produce the food we eat and rely on the land for their income. Our technological solution empowers farmers with the data they need to improve soil and maximise their crop yields, while creating a valuable store for carbon."
SGV TAKE 
These awards spotlight global environmental challenges ranging from colossal food waste to the carbon-capture potential of soil lost to harmful farming practices, and innovative methods being used to address them. Some of the most powerful solutions are grassroots initiatives intended to empower farmers and indigenous communities to protect their land and ecosystems. As indigenous people protect 80% of global biodiversity and over 2.6 billion people's livelihoods depend on agriculture, this must be a key course of action for governments and companies to solve environmental challenges in the future.