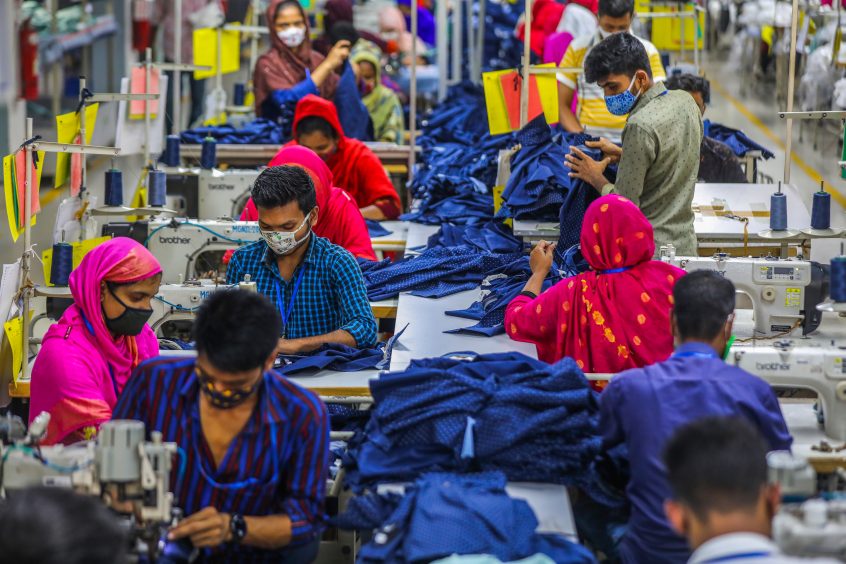 A new report by the Waste & Resources Action Programme (WRAP) warns that aggressive production levels by fashion companies are wiping out the positive impacts of sustainability initiatives.
Although brands committed to an environmental voluntary agreement (EVA) have improved on sustainability parameters, the rapid increase in textile production is cancelling out progress.
The textile industry is one of the most polluting industries worldwide, as it generates over 10% of annual greenhouse gas emissions and is responsible for colossal water use. 
As the global textile market is expected to grow by 7.6% annually this decade, it is crucial to reduce its environmental impacts to meet climate goals.
Although switching to the circular economy is considered a primary solution to address the pollution of global textile industries, the Textiles 2030 Annual Progress Report by WRAP has found that cutting environmental impact is futile if production continues to rise year-on-year.
Catherine David, director of behaviour change and business programmes at the climate action NGO, said: "As fast as positive improvements happen, they're cancelled out by rising production. If we hope to get anywhere near achieving the critical goals of the Paris Agreement, we must get serious about textiles and everyone has a role to play."
Improvements cancelled out by overproduction
The report found tangible progress in sustainability among the 26 brands and retailers that had previously signed up for the Textile 2030 initiative, launched by WRAP in 2021 to accelerate the UK fashion and textile industry towards a circular economy. As of 2023, a total of 130 companies including ASOS (LSE:ASC), Primark (LSE:ABF), Dunelm (LSE:DNLM) and ASDA committed to halving the overall carbon footprint and cutting a third of the water footprint of new products by 2030, in line with the Textiles 2030 Circularity Roadmap. 
The 2023 report found that brands signed up to EVA cut the carbon impact of the textiles they produce by 12% and water by 4% on a per-tonne basis between 2019 and 2022. Almost three-quarters of cotton used by signatories now comes from improved sources, mainly through Cotton Connect's REEL Cotton Program and the Better Cotton Initiative.
These reductions were achieved by focusing on sustainable design and manufacturing, as well as by increasing the amount of clothes reused and recycled. In particular, the use of recycled polyester and polyamide is rising year-on-year, reducing the need for virgin materials, alongside improvements in durability and design for recycling.
Nevertheless, between 2019 and 2022, the 26 signatories saw a 13% increase in the volume of textiles produced and sold by to almost 568,000 tonnes. This meant that the per-tonne reduction in water and carbon use was completely cancelled out.
Water use increased by 8% or 3.1 billion square metres, which is enough to provide more than half of the world with drinking water every day for a year. Although the carbon impact per tonne was cut by 12%, the real number was only 2%.
The fashion problem
The textile industry is one of the most polluting worldwide and cannot continue with business as usual if we are to meet global climate goals. It generates over 10% of annual greenhouse gas emissions and uses a staggering 93 billion cubic metres of water every year. 
Demand for clothing continues to rise, driven by fast fashion and the promotion of overconsumption. According to the report, the average person in the UK buys 28 new items of clothing every year or eight kilograms per person, a consumption higher than any other country in Europe. The number of clothes bought per person in the EU increased by 40% between 1996 and 2012.
Production of toxic clothing also continues to rise exponentially despite the British Fashion Council saying that there are enough items on the planet to "dress the next six generations of the human race". A report by the Changing Markets Foundation found that virgin polyester production will double by 2030 from 2015, which is expected to generate twice the greenhouse gas emissions of Australia.
Not only are all these new products not needed, but they are often difficult to recycle or are not disposed of properly, creating a huge waste problem. An estimated $500 billion of value is lost every year due to a lack of recycling technologies and cloth underutilisation. The UK alone sends over 336,000 tonnes of clothing to landfills or incineration annually, with textile waste having nearly five times the carbon impact per unit of animal or mixed food waste.
Textile companies must urgently cut production and invest in circularity
According to WRAP, designing for longer life, improved durability and increasing the use of recycled fibres is imperative for textile companies to reduce their environmental impact according to their sustainability goals.
Increased recycled fibres could alone reduce the total carbon footprint by 12% and water by 18% for the Textile 2030 signatories. Improving durability and sorting textile waste to reuse could achieve carbon savings of over 14%. Although the volume of used textiles collected and sold for reuse or recycling has doubled between 2019 and 2022 to almost 39,000 tonnes, second-hand clothing makes up only 9% of the textiles placed on the market. 
WRAP also urges more scope to develop, pilot and scale up circular business models such as rental and repair. In terms of sustainable material and fibre alternatives, it recommends organic, regenerative or recycled cotton to become more widely used than conventionally water-intensive cotton. Other solutions include switching from viscose to lyocell, changing dyeing methods, increasing 'takeback' or collection for reuse and recycling, and upcycling textile waste. 
David said: "We need sustainable design, sustainable business models, and more sustainable ways of buying and using clothes from more businesses. But production is clearly the key issue, and the onus is on businesses to make preloved part of their portfolio, so it's accessible, easy and fun." 
Nevertheless, even 'takeback' schemes require further scrutiny as a 2023 report found that several major brands involved in high-street takeback schemes largely dispose of clothes in perfectly good condition.
There are various resources for companies in the sector, such as WRAP's Circular Business Models Guide for Fashion and the Circular Fashion Innovation Network, which was founded by the UK Fashion and Textile Association and the British Fashion Council as an ecosystem for relevant stakeholders and industry players to create and develop circular fashion solutions.
Consumers can do their part in limiting overconsumption. David added: "Our research shows that a quarter of most wardrobes go unworn in a year and nearly a quarter of us admit to wearing clothes only a few times. Moving into winter is the perfect time to look through our wardrobes – wear what we have and consider whether it's time to let something go. You can donate, sell, or give clothes away – it all helps them move around the economy and reduce the amount produced."
The UNEP has issued guidance on how fashion communicators can promote sustainable values and other research identified three key consumer behaviours to promote circularity. Investors also have a significant role to play by financing the transition towards a sustainable textile supply chain through investment decisions, proxy voting and sustainability covenants. 
SGV TAKE 
Overproduction is a systemic issue that must be addressed from the corporate and government regulatory levels. While consumers can be encouraged to reduce their consumption in the move to a more circular economy, they are not a primary source of unsustainable practices as it is companies that are fuelling overproduction.