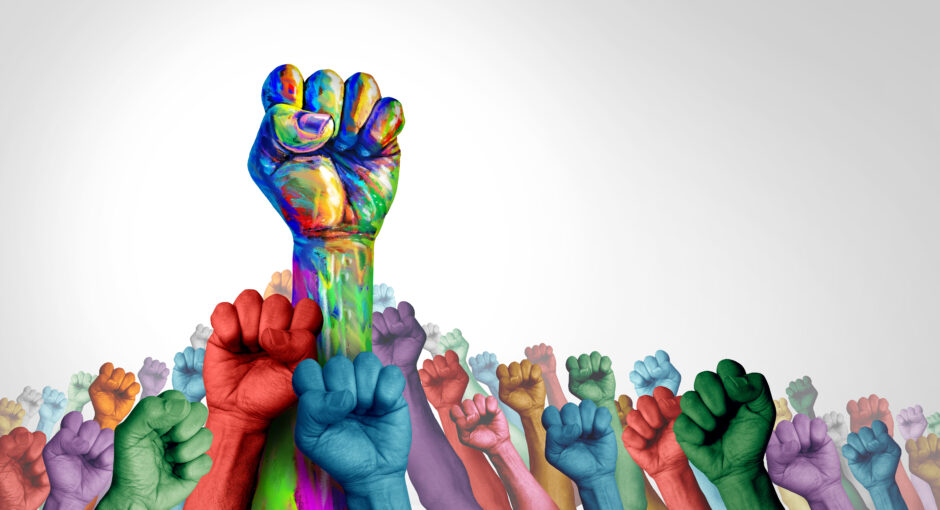 While to date the majority of ESG focus has been on the E and G, the COVID-19 pandemic has played a significant role in highlighting the importance of action on the social elements of ESG.
There is a significant interplay between growth and sustainability, and the way in which business operates has a major impact on society through the economy and environment that underpin society.
This is reflected in the 2011 principle of 'shared value', first introduced by Porter and Kramer in the Harvard Business Review, which argues that the competitiveness of a business and the health of the communities around it are interdependent. There are numbers to back up this assertion as well.
2020 research from global investment manager Federated Hermes, which advises on over £1 trillion in assets, says that "companies with more social awareness than their peers have tended to outperform."
While issues such as extreme weather, pollution, biodiversity loss and the pandemic have dominated ESG discussions in recent years, each has a direct and indirect social impact, and managing that impact is becoming necessary.
Socioeconomic considerations at the forefront
As Rod Robinson, SVP and head of Supplier Diversity at Insight Sourcing Group, puts it, "The 'S' generally refers to Social, but I prefer to think of it as 'Socioeconomic.' It matters because the 'S' focuses on important issues such as eliminating poverty, quality education for all, economic growth and reduction of inequality."
The impact of such issues also has a disproportionate impact on the poorest and most vulnerable, and there is growing recognition of the fact that a healthy society must address growing inequality. That means questions about corporate relationships with communities must be addressed, as must issues around health and well-being, as well as tax avoidance and corruption.
It's important to remember that while these may be 'governance' issues, they have a real impact in societal terms.
The impacts and management of the pandemic also underlined the inequality between rich and poor, both domestically and between countries, and there is a groundswell of demand for action on such issues.
Societal change can be rapid
This builds on the impact of the Black Lives Matter movement, where the dangers of systemic racism were highlighted. This is pushing a fundamental shift in the expectations stakeholders have of corporate behaviour, as well as in investment thinking.
Companies face reputational and operational risks daily. UK ferry operator P&O has consistently been rated highly on an ESG basis, yet its recent decision to sack a huge number of staff with no warning, replacing them with cheaper agency staff, was a huge blow to its public reputation.
Investors, staff and customers raised an outcry and there were calls for the resignation of the chief executive from the UK government.
It's also critical to be aware of how rapidly market expectations can change. In January 2022, no one would have predicted that by March, companies would be withdrawing business from Russia, driven not by sanctions but by public outcry that they were supporting an authoritarian regime.
Bloomberg data suggests that at the outbreak of the invasion, ESG funds held $8.3 billion in Russian equities, with an associated reputational hit combined with the potential for a financial crash due to sanctions. It seems the relationship of business with democracy and democratic institutions is becoming a hot button issue.
There are numerous ways in which a company can drive social impact, what matters is to identify a focus that is relevant to the organisation and its wider development and sustainability strategy.
It may be that health & safety is a strategic issue, or talent retention and training and upskilling the workforce. Perhaps ensuring racial and gender equality in the workplace and equal pay are the most likely to result in a positive social impact.
Wages currently a key issue for businesses
In the UK, for example, retailer Sainsbury's became one of the first supermarkets to sign up to provide its staff with the real living wage. While as a supermarket it may have significant procurement power, addressing wages should be a core internal concern.
Simon Roberts, CEO of Sainsbury's, said that the move was about investing in what matters most for both customers and colleagues, and is seen as a means of addressing the current cost of living crisis. Not only does this enhance the company's reputation, but it also provides an incentive for staff.
What's interesting here is that Sainsbury's made the agreement following a shareholder resolution driven by responsible investment NGO Share Action, representing over £2.2 trillion in institutional investment. A further resolution will be considered at the July 2022 AGM, as to whether to extend the increase to contracted workers.
Frameworks can provide guidance
Experts agree that it's up to management to decide which are the most material ESG elements to address, with a range of frameworks to provide guidance. These can be specific to a given industry as, for example, the ITSCI Programme for Responsible Mineral Supply Chains or the Global Real Estate Sustainability Benchmark (GRESBI).
The Global Reporting Initiative (GRI) covers all the elements of ESG and provides detailed approaches to understanding materiality, management reporting and disclosure for a range of sustainability issues, including social. What matters is identifying which issues are material to stakeholders and finding the framework that will bring transparency to those issues.
The International Labor Organisation (ILO) has a focus on the just transition, ensuring that the transition to a green, low-carbon future doesn't leave today's workers behind.
The UN Global Compact focuses on human rights, labour and anti-corruption (as well as environment), the UN Guiding Principles (UNGPs) on Business and Human Rights is another, while the World Economic Forum (WEF) provides stakeholder capitalism metrics that align with the Sustainable Development Goals (SDGs).
It has 21 core metrics (as well as 34 expanded ones) and its 'people' pillar covers Dignity and Equality (incorporating diversity and inclusion, pay equality, wage level, risk of compulsory child labour, health & safety and training), Health & Wellbeing (health & safety also comes in here) alongside Skills for the Future, where enables companies to explain the training they provide.
Social side of ESG can add value to a business
Robinson believes there is enormous value associated with the social aspect of ESG, and that can be found through identifying measurable and quantifiable interventions, and he sees procurement as a key tool for this. Ensuring that business is funnelled to a range of diverse businesses can have a significant impact.
He says that "Driving procurement dollars through small and diverse businesses creates economic impact in the form of job creation and growth within local communities. It has been estimated that every $1 million of incremental spend with small/diverse businesses results in five jobs created or retained."
The usual goals of procurement management are managing supplier relationships, ensuring quality, minimising costs and reducing risks within the buying cycle. Meeting social objectives has not been on the procurement agenda, which has historically been focused on how to minimise costs and ensure the highest quality.
Introducing questions about social impact brings forward a new set of concerns, regarding trade-offs – how much is it worth to use new suppliers, or implement new processes versus how much it's going to cost?
One of the reasons procurement is so important is the role the supply chain plays in emissions management and that changes, effectively managed, can provide multiple benefits.
Addressing supplier diversity, for example, either directly or indirectly has an impact on six of the SDGs, including No Poverty, Zero Hunger, Good Health and Well-Being, Quality Education, Decent Work and Economic Growth and Reduced Inequalities. Robinson says that "In my experience, corporate initiatives aimed at driving social impact can enhance a company's reputation while simultaneously minimising risk and delivering overall corporate value."
Targets for the social aspect of ESG are essential
Remember, of course, that identifying core priorities for the business is only part of the journey. Once the appropriate metrics have been identified, the next step is to set a target by which the end goal must be reached. Without the time element, there is no real way to gauge the effectiveness of the company's sustainability plan.
Whether the target set is to increase diversity, reduce pay disparity or even cut human rights violations in the supply chain, it needs to be measured to be managed.
The data to support that management can be a challenge to identify, especially if the change is being set beyond the boundaries of the company's direct control. That means that collaboration and co-operation are going to be increasingly important if company reporting is going to be both accurate and transparent.
The bottom line is that entire industries are going to have to embark upon a journey to create supply chain data transparency, build platforms and strategies that enable action, and create frameworks and tools that empower suppliers to overcome resource and capability limits on the road to a more sustainable and equitable world.