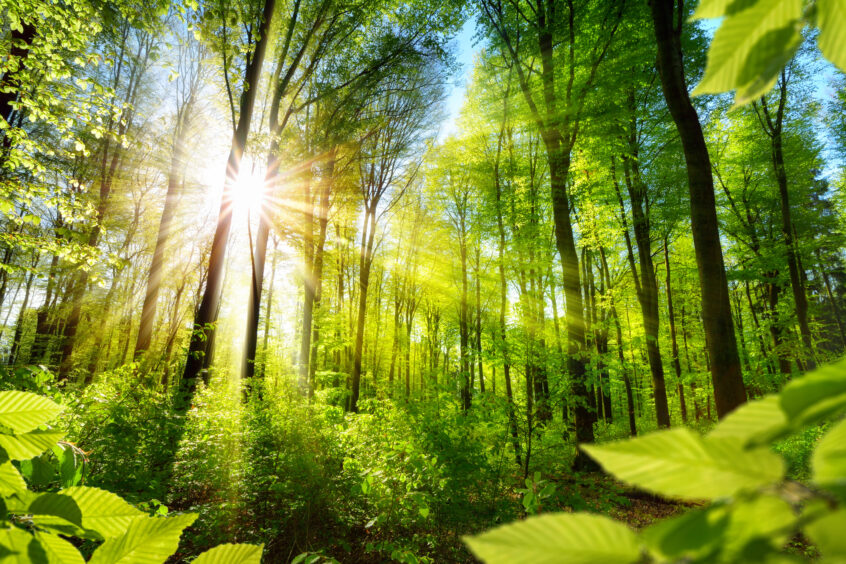 The American Forest Foundation (AFF) and The Nature Conservancy (TNC) have secured Verra's approval for a new carbon accounting methodology, intended to improve the transparency of carbon credits issued by forest management projects.
The new methodology matches project-enrolled forests against a control area that is not involved in the programme, and compares the difference in real-time carbon sequestration between the two. 

Carbon credits are not considered credible unless they can demonstrate additional carbon storage. This has been a major challenge in scaling the voluntary carbon market.

 

New methodologies will be vital in mobilising the investment required to capture enough carbon to deliver a net zero future.

 
The AFF and TNC created the methodology to provide accurate proof of the carbon saved by their Family Forest Carbon Program (FFCP). Verra, a global standards body for voluntary carbon markets, has now approved the approach for use across the US and in any other country with a national forest inventory system in place. 
New methodology to lower barriers for smaller forest owners
The FFCP is a national scheme launched in collaboration between the AFF and TNC. It intends to help landowners of forests as small as 30 acres to participate in the voluntary carbon market through improved forest management projects. 
According to TNC, the carbon sequestration potential of forests can almost be doubled by the implementation of improved management practices. The family forest owners that manage around 39% of US forests, however, typically struggle with the upfront costs and complexity of engaging in forest carbon projects. 
To address these barriers to entry, the FFCP is working with landowners in several US regions to develop new projects and issue verified carbon credits that are credible enough to secure the high prices that incentivise the adoption of improved management practices. 
In order to do so, it needed a new methodology that provides more accurate and transparent data. This led to the development of the Verra-approved approach, which will see its first use by the FFCP in early 2023. 
Rita Hite, president and chief executive of the AFF, said: "The approval of the Family Forest Carbon Program's pioneering methodology unlocks the potential for landowners to meet the need for more transparent, credible and trustworthy carbon programs." 
"This is the kind of innovation that ensures the continued evolution of carbon markets, and it could lead to a dramatic expansion of IFM practices in countries with national forest inventories", added Spencer Plumb, manager of forest carbon innovation at Verra. 
How does the new methodology work?
The new methodology relies on a dynamic, rather than a projected, baseline for determining the volume of carbon sequestered by individual projects. Essentially, it matches project-enrolled forests against a control area that is not involved in the programme, and compares the difference in real-time carbon sequestration between the two. 
Enrolled forests are paired with a highly similar area as detailed within the US Forest Service's National Forest Inventory and Analysis database. Their similarity is determined by a minimum of 14 variables, which include ecological region, land elevation and the average width of trees. 
By measuring the different carbon levels of the forests in real time, the methodology identifies enrolment in the programme as the key intervention that can be credited with increases in carbon storage. 
Additionality is a crucial principle of carbon offset credibility
The new methodology serves to guarantee that a project has sequestered more carbon than would have been stored under a business-as-usual scenario. This principle of additionality has been identified by the Integrity Council for the Voluntary Carbon Market as one of the fundamental necessities of credible carbon offsets. 
Without such transparency, there is a risk that offsetting projects do not actually remove any carbon from the atmosphere. Indeed, an inventory analysis conducted in 2020 by the Taskforce for Scaling Monetary Carbon Markets revealed that only 5% of existing offsets at the time were actually contributing to overall carbon reduction. 
This problem has been a major limitation to the scaling of voluntary carbon markets, particularly for carbon credits based on forestry and land use credits that are typically difficult to measure and verify.  
Voluntary carbon trading will be vital in financing the one to two billion tons of CO2 that must be captured by 2030 in order to reach net zero by 2050, but the market will be unable to scale unless purchasers of carbon credits can trust in the credibility of available offsets. This is acknowledged by a 2021 report from the Taskforce on Scaling Voluntary Carbon Markets, which recommends the development of clear, consistent and transparent methodologies for providing verifiable claims of carbon removal. 
Is additionality enough to guarantee the credibility of forest carbon projects?
Improved forest management projects are popular among carbon offset developers, given the capacity of globally forested land to sequester around 2.6 billion tonnes of carbon per year. Forest projects also offer several co-benefits, ranging from the management of water flows to the stabilisation of global temperatures. 
Although the AFF and TNC's methodology could enhance the credibility of such projects by demonstrating their additionality, there are other challenges to consider. There is no guarantee, for example, that the carbon storage of forestry projects is permanent. 
Forests are increasingly at risk of being destroyed by wildfires, disease or pest infestation. Global tree loss from wildfires has doubled in the past 20 years, already causing around 95% of California's state-guaranteed forest offset reserves to go up in flames. Extreme weather events are also on the rise, causing some forests to become net emitters rather than carbon sinks. 
Although the real-time measurement of the new methodology could ensure that carbon credits stop being issued if sequestration is disrupted by such incidents, any offsets that had previously been verified would essentially be reversed. 
New methodologies helping to scale the voluntary carbon market
Nonetheless, the new methodology does provide a more transparent approach to assessing certain aspects of the credibility of forest carbon offsets. By making these improvements, the methodology could increase trust in forest management projects, thereby driving demand and discovering prices that can serve as a greater incentive for smaller landowners to get involved. 
As such, the AFF and TNC approach could help to scale the voluntary carbon market on both the demand and the supply side.