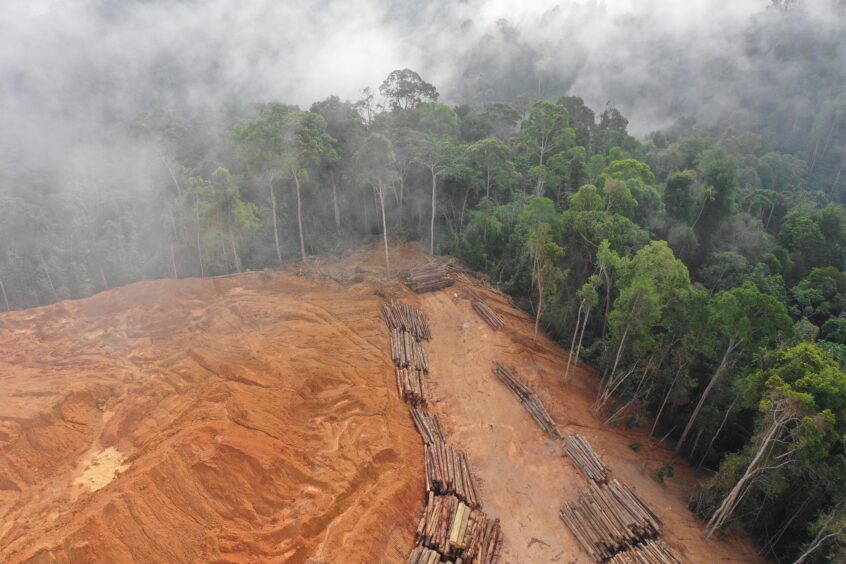 At COP27, the Finance Sector Deforestation Action (FSDA) announced new measures to tackle commodity-driven deforestation and drive net zero progress in their portfolios.
The FSDA is an investor group using engagement and active ownership to eliminate deforestation linked to some major agricultural commodities.
Ending deforestation, which is the main source of emissions from land use, land-use change and forestry, is essential to achieve net zero targets.
Investors can push for change by working with investee companies, policymakers and data providers, as well as providing an example for other financial institutions.
What does the FSDA do?
FSDA is a group of over 30 financial institutions holding a combined $8.9 trillion of assets under management. They are all signatories of a commitment to eliminate deforestation driven by major agricultural commodities – palm oil, soy, beef, pulp and paper – from their investment and lending portfolios by 2025. Pan-African investment company SouthBridge Group, Banco Estado de Chile (NYSE:BCH), GAM Investments (SWX:GAM) and London CIV joined in November 2022.
Members use engagement and active ownership to pursue their goals. FSDA recently published expectations for companies to address their deforestation impacts, assess and disclose their deforestation risk exposures, and transform their supply chains. Members such as Impax (LON:IPX) and Axa (EPA:CS) have published deforestation policies, working with data providers to call for issuer-level data on deforestation risk exposure and management. 
Some members are increasing investments in nature-based solutions. For example, Axa partnered with Unilever (LON:ULVR) and Tikehau Capital to launch a €1 billion regenerative agriculture fund in July 2022.
Many FSDA members are also part of the Investor Policy Dialogue on Deforestation and have been engaging with public agencies and industry associations in Brazil and Indonesia, as well as with consumers such as the EU and UK, over the adoption and implementation of regulatory frameworks. They plan to start engagement with the US and China in 2023.
Limiting deforestation is key to achieving net zero goals
Food-related deforestation was the main source of emissions from land use, land-use change and forestry between 1990 and 2018. Global greenhouse gas estimates vary between 3.4 and 9.5 gigatons of CO2 per year in the two decades to 2020. This is because there are differences in definitions of forests and deforestation as well as uncertainty over carbon stocks in forests.
Alongside causing soil erosion, flooding, desertification and leading to fewer crops, the practice exacerbates climate change by limiting future removals of atmospheric carbon in natural forests. It has significant negative consequences for communities inhabiting and or living close to forested areas, such as indigenous people.
Food systems are linked to almost half of tree cover loss due to commodity-driven deforestation and shifting agriculture. Deforestation related to food industries increased from 8 million hectares per year between 2001 and 2010, to 11.5 million hectares per year between 2011 and 2020.
According to the UN Environment Programme's Emissions Gap Report 2022, ending deforestation is key for both environmental protection and climate change mitigation. The UN Sustainable Development Goals set a 2020 target to stop deforestation, but it has not materialised yet.
Pushing for change
Data by non-profit organisation Global Canopy shows that 83% of 557 financial institutions that have made a commitment to net zero do not recognise deforestation as a risk. According to its Deforestation Action Tracker, only 20% of the institutions have a publicly-available policy in place to address deforestation risks in at least one commodity, but only 6% covered all four of the highest-risk commodities – cattle products (beef and leather), soy, palm oil, and timber products, including pulp and paper.
Initiatives such as the FSDA are therefore important to push more firms in the sector to act by providing an example. On the other hand, the engagement of investors is crucial to fund decarbonisation strategies as well as collaborating with investee companies, policymakers and data providers on measures to halt deforestation.
Hans Mehn, partner at FSDA member Generation Investment Management, said: "Working to find ways to keep forests standing, hand in hand with sustainable development, is critical and urgent. It is also a business imperative, as it is not possible to reach Net Zero without tackling deforestation."
He added: "The Glasgow Leaders Declaration, emerging legislation in the EU and UK, consumer expectations and regulatory frameworks on the horizon have all added further momentum for the action we need. The investment community must work together on this complex challenge – we view the FSDA not as a new commitment, but rather as an important avenue for action for our Net Zero and broader sustainability goals."