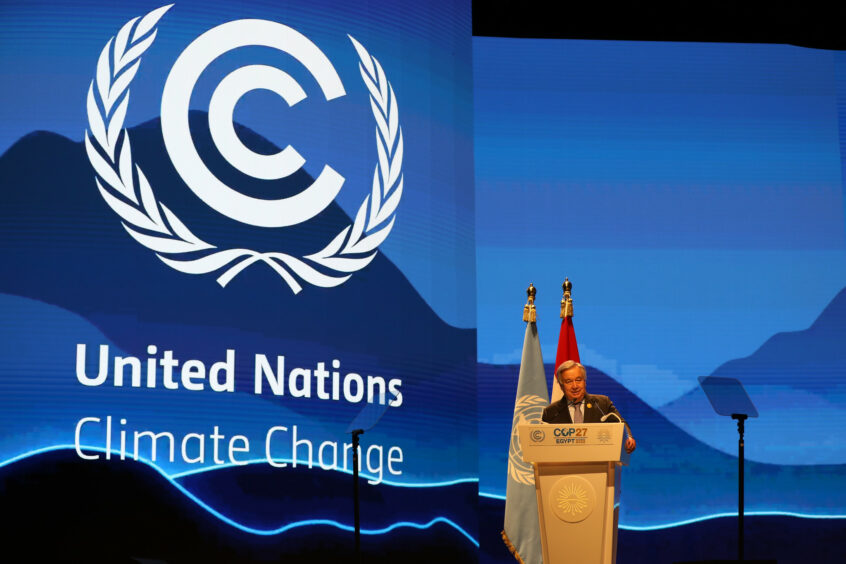 The UN High-Level Expert Group on Net-Zero Commitments of Non-State Actors, otherwise known as HLEG, has produced its report Integrity Matters on what is required for corporates to call themselves aligned with net zero.
A report from HLEG puts a 'red line' around greenwash.
Cheap offsets are not acceptable as a substitution for internal emissions works.
Net zero commitments must be matched by transparent implementation and integrity.
Since the adoption of the Paris Agreement in 2015, there has been an increasing number of net-zero commitments by non-State actors, in particular from the private and financial sectors, as well as from local governments and regions.
Yet the growth in pledges has been accompanied by a proliferation of criteria and benchmarks to set net-zero commitments with varying levels of robustness. That led Secretary-General António Guterres to establish a High-Level Expert Group on the Net-Zero Emissions Commitments of Non-State Entities in March 2022.
Guterres said: "A growing number of governments and non-state actors are pledging to be carbon-free – and obviously that's good news. The problem is that the criteria and benchmarks for these net-zero commitments have varying levels of rigor and loopholes wide enough to drive a diesel truck through.  We must have zero tolerance for net-zero greenwashing."
The goal of the group was to develop stronger and clearer standards for net zero emissions pledges by non-State entities – including businesses, investors, cities, and regions – and speed up their implementation. The former Canadian Minister of Environment and Climate Change Catherine McKenna launched the recommendations at COP27, in a bid to speed up action on net zero and overcome confusion and greenwash.
Recommendations from the net zero HLEG
Guterres said: "the Expert Group report is a how-to guide to ensure credible, accountable net zero pledges." McKenna outlined the report with a series of must-haves and things to avoid. To have a credible net zero position, companies:
Must have short medium and long-term targets starting in 2025.
Must show their work – have a transition plan that is being implemented across the value chain.
Must report publicly on plans and performance with verifiable data and information.
McKenna said that the report is clear on what constitutes credibility and what will be considered greenwashing. No one can consider themselves net zero if they build or invest in new oil and gas, or are involved in deforestation. It is also clear that companies cannot use cheap carbon credits to reach net zero, instead of working on their own emissions – the first priority must be internal cuts. There is a role for the use of high-quality carbon credits but these must be seen as 'in addition' to emissions cuts.
Focusing on carbon, the report makes clear that carbon intensity reductions are not enough, where carbon is measured by the amount of CO2e is released per unit of output – rather emissions must be reduced in an absolute way. Critically, it was also made clear that the entire value chain must be addressed in line with the science, which means credibility requires action on Scopes 1, 2 and 3.
It also means ensuring that every corporate action comes from a consistent base – that means that no company can call itself a climate leader and lobby against climate action. Consistency in talk and action is a fundamental requirement for avoiding greenwash.
There were wider recommendations to ensure accountability. One of these was the importance of linking executive compensation to performance on a climate plan. Data and verifiable information will play a vital role and the report praised the launch of the Global Climate Portal.
McKenna said: "Much of what we recommend is based on common sense and levelling up" and added that it was time to put a 'red line' around greenwash.
Responses to the recommendations
Guterres said: "I also have a message to fossil fuel companies and their financial enablers.   So-called 'net-zero pledges' that exclude core products and activities are poisoning our planet… the message is clear to all those managing existing voluntary initiatives – as well as CEOs, mayors, governors committing to net-zero:  Abide by this standard and update your guidelines right away – and certainly no later than COP28."
It's not simply a call to action for the energy industry, but a wake-up call for much of the carbon markets. Many corporate programmes have used cheap carbon credits as offsets, where the credits in question either have little carbon impact or are based on projects which have ignored the rights of indigenous peoples on their own land.
Lucy Almond, chair of Nature4Climate, said: "We welcome this report and its focus on the urgent, deep and wide-ranging emissions reductions that must be taken by any company before using carbon credits to support beyond value chain mitigation. It is good to see the emphasis on additionality, permanence and IPLC rights, along with the prioritisation of people and nature in the just transition."
Maria Mendiluce, chief executive of the We Mean Business Coalition, said: "Businesses want clear standards and rules that define what net zero means. The High Level Expert Group's recommendations will bring integrity, transparency and accountability to the pledges and actions delivered by business. This will make greenwashing easier to detect and allow those companies that are really delivering on climate action to stand out from the crowd. It leaves nowhere to hide for those businesses that are delaying or denying the need for urgent emission reductions.
"The recommendations are very aligned with our newly launched Climate leadership framework which includes guidance to companies on target setting through the Science Based Targets initiative and SME Climate Hub.
"Companies can align themselves with the recommendations of this report by using our new consolidated guidance on how to develop a climate transition action plan which lays out how companies can move from ambition into action. Importantly, it also highlights the need for companies to responsibly engage with policymakers.
"We particularly welcome the clear instruction for business to prioritise urgent and deep reduction of emissions across their value chain. There is much work still to be done for companies to understand their value chain footprint and how to engage with suppliers to cut it.
"We also welcome the group's recognition that companies must invest in nature beyond their value chains and emphasise that this must happen right now alongside cutting their emissions in line with science. A high-integrity voluntary carbon market could raise billions of dollars a year in additional climate finance to remove carbon, cut emissions and benefit communities and ecosystems more broadly. We cannot delay on this.
She concluded: "There is no more time to lose, but if business and governments can now align around a new global consensus on what net zero actually requires, this gives a very clear direction of travel to cut emissions in half by 2030 and build a safe and secure future for all."