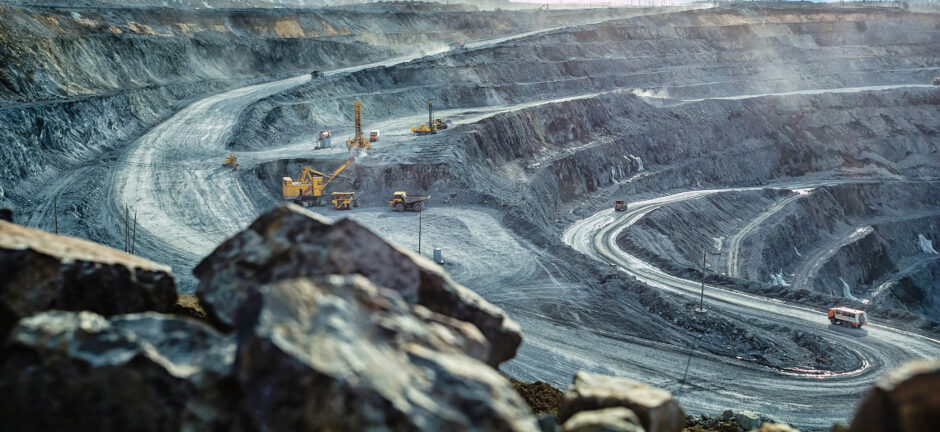 At COP27, the United Nations Economic Commission for Europe (UNECE) has released a toolkit for the integrated and sustainable management of natural resources.
The framework outlines ways to use natural resources efficiently while reaching good social, environmental and economic outcomes.
The natural capital needs to be consumed in respect of the sensitive ecosystem equilibrium.
All stakeholders must adopt an integrated approach in order to manage natural resources sustainably.
Resources are "services that can usher in peace and prosperity"
UNECE presented the UN-approved UN Resource Management System (UNRMS) at COP27 at the side event "Accelerating the circular economy agenda to tackle climate change and foster economic transformation". It is intended for countries, industries, the financial community and civil society so that they can manage resources as "an unlimited public good".
The commission hopes the framework will move from a linear, fragmented and unsustainable approach of blind extraction to a responsible, balanced, and value-added model. It views resources not just as commodities, but chiefly as "services that can usher in peace and prosperity".  
UNECE executive secretary Olga Algayerova said: "The United Nations Framework Classification for Resources (UNFC) offers tools for the management of anthropogenic resources (secondary resources). UNRMS has circularity at its core and will support member States in increasing the circularity of resource use that is indispensable to reduce our carbon and ecological footprint."
UNRMS is based on existing UN framework principles implemented worldwide
UNRMS is based on the United Nations Framework Classification for Resources (UNFC), which has incorporated a unique methodology of assessing resources through the triple lenses of environmental-social-economic viability, technical feasibility and confidence in estimates. 
Similarly, the African Mineral and Energy Resources Classification and Management System and the Pan-African Resource Reporting Code, developed by the African Minerals Development Centre of the African Union Commission with technical support from UNECE, are also based on the UNFC. 
The UNFC approved in October 2022 the Guidance for Europe which is intended to facilitate decision-making by stakeholders related to raw material stocks and flows in Europe. Several Latin American nations are also engaged in capacity-building initiatives on good practices to assess potential geothermal and mineral projects based on these frameworks.
Finally, the recent endorsement of the Bridging Documents between China's Standards for Classification of Mineral Resources and Mineral Reserves and Petroleum Resources/Reserves and UNFC is expected to promote the sustainable development of energy resources and encourage wider international collaboration.  
Using natural capital sustainably
Natural capital includes resources such as water, geology, energy, biodiversity, soil, ozone layer and properties including ecological resilience, ecosystem health and integrity. These are used to produce goods and services in economic activities – but should be enhanced rather than depleted.
According to UNECE, climate action needs to see "a total change to the paradigm of unrestricted fossil fuel use and unabated use of natural resources". Less than 10% of the materials being consumed are recycled.  Between 1970 and 2017, the extraction of minerals worldwide more than tripled to 92 billion tons annually – a trend that would lead to 190 billion tons of materials per annum by 2060.
Humans need natural capital to live, but it needs to be produced and used sustainably. The 2030 Agenda for Sustainable Development imposes social, environmental and economic objectives, but there are several challenges to shifting to a sustainable system, such as market volatilities, the need to pursue responsible investments, avoid windfalls, and guarantee no one is left behind. This has to be done amid geopolitical conflicts and other uncertainties. 
Resources need to be managed with integrated approach
Natural capital has historically been managed with a fragmented approach, on a project-by-project or sector-by-sector basis, usually by a single government entity and companies involved in the relevant sector. Industries such as minerals, petroleum, renewable energy and groundwater resources have rarely cooperated.
As such, there has often been a limited perspective and diversity of knowledge and viewpoints to support informed decision-making, leading to conflict, delays, and severe natural capital losses. UNECE said that an integrated approach, involving all stakeholders, will need to be adopted in the shift to sustainability.
In fact, the 2030 Agenda highlights the need for interconnected thinking across all sections of society. The Sustainable Development Goals must be addressed in consideration of the others, as none of them exists in a vacuum.