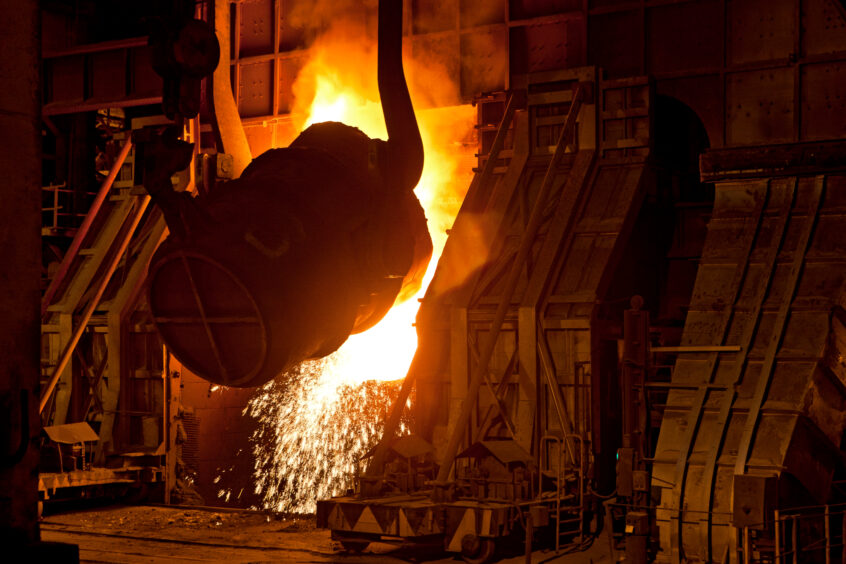 A new steel coalition, The Global Steel Climate Council (GSCC) is calling for a process agnostic steel-making standard to provide what it calls a "transparent and climate-focused standard to measure and reduce carbon emissions."
The GSCC is a new coalition calling for a technology agnostic climate standard.
Steel and aluminium manufacturing is one of the highest carbon emission sources, responsible for about 10% of global emissions, similar to those of India.
Such sectoral agreements could see real action on emissions but requires clarity and transparency to be effective.
They are urging the United States and European Union to adopt a global emission standard that incentivises steelmakers to use the cleanest steel production process available. Basically the GSCC is challenging the "sliding scale" proposal that the United States and European Union are considering as they negotiate a new emissions standard for steel production.
The GSCC says that its primary focus is to establish a standard, focusing on the following guiding principles:
Reducing GHG emissions from the global steel industry.
Establishing a standard that is technology/production method agnostic.
Establishing a standard that has a system boundary that includes Scope 1, 2 and 3 emissions.
Establishing a standard that aligns with a science-based glide path to achieve a 1.5 degree scenario by the year 2050.
Providing relevant information on sustainable steelmaking to appropriate decision makers.
One of the biggest challenges in understanding both risk and impact in any sector is the divergence in accounting standards that makes it incredibly difficult to compare emissions profiles effectively.
Philip Bell, President of the Steel Manufacturers Association, a founding member of the Global Steel Climate Council, said: "The GSCC single standard will encourage all producers to reduce their carbon emissions and create a level playing field for all manufacturers. The US-EU negotiations should not create a double standard and a slippery slope toward a dirtier environment. We can do better."
EU and the US are working on a climate focused steel standard
The United States and European Union are negotiating a new emissions standard for steel production. In February 2022, they announced an agreement to ease tariffs on steel and aluminium and to address carbon intensity and overcapacity in a global scale. This will be the world's first carbon-based sectoral arrangement when it comes to trade agreements.
The two are currently running consultations on how to address carbon intensity and said that they, "seek to conclude the negotiations on the arrangements within two years." In a statement the White House said that by keeping highly  carbon intensive steel out of their markets it would reward steel makers for their actions on carbon. The plan is to ensure that: "low-carbon steel across all production types —and the workers who make it—will be incentivised and rewarded going forward."
While the details have not yet been agreed, the common basis is an agreement on how to measure the lifecycle emissions of steel and aluminium. This could eventually lead to restrictions on the import of high carbon products, in a similar way to the EU's carbon border adjustment mechanism (CBAM).
Should measurement be on lifecycle or on emissions generated?
According to the GSCC however, any agreement should focus on the amount of emissions generated, not on how steel is made. The majority of the world's steel production is extremely carbon-intensive because it primarily relies on mined and processed coal, iron ore and limestone.
The GSCC says that there are steelmakers – including those producing over 70% of all US and over 40% of all European manufactured steel today – that are generating significantly lower carbon emissions through the use of electric arc furnaces (EAFs), that principally input recycled scrap metal to produce steel.
The "sliding scale" standard supported by high-emission steelmakers, and under discussion by the US and EU, would set greenhouse gas emission standards ceilings up to nine times higher for extractive versus recycled products, penalising EAF producers and permitting higher-emission steel to be erroneously labelled as "green."  The GSCC says that under a sliding scale, two steel products could be classified as equally "green," even though one was produced by creating multiple times more carbon emissions than the other.
Are electric arc furnaces really low carbon?
As a rule EAF are considered to have a lower carbon emissions profile than traditional steel making, due to the input of recycled metal. The challenge for EAF however is the continuous provision of high intensity heat and it's been reported that sometimes highly carbon intensive metals are used to generate the heat necessary for steel-making.
In July 2022 however the US Steel Manufacturers Association (SMA) released the results of an independent study by CRU Group, a global business intelligence firm specializing in metals manufacturing. The results said that steel produced by electric arc furnace (EAF) steelmakers in the US has a carbon intensity that is approximately 75% lower than traditional blast furnace steelmakers.
Although the Paris Agreement (as well as current industry standards) excludes Scope 3 emission in the supply chain, the report said that blast furnace producers crude steelmaking GHG intensity is still 210% higher than EAF steelmakers and 189% higher at the hot-rolled steelmaking phase when including all three scopes.
Steel making standards need to align
The GSCC says that it is specifically focused on the reduction of greenhouse gas emissions from the global steel industry by supporting reduction methods that are technology agnostic, have a system boundary that includes Scope 1, 2 and 3 emissions and align with a science-based glidepath to achieve a 1.5°C scenario by 2050.
It is made up of over 20 members and supporters who are steel manufacturers, trade associations, end users, scrap metal suppliers and non-governmental organisations. founding members of the GSCC are the Steel Manufacturers Association, Nucor Corporation, CELSA Group, Steel Dynamics, Commercial Metals Company and the Institute of Scrap Recycling Industries.
It should prove interesting to see whether lifecycle emissions or manufacturing footprint end up underpinning a new standard, as it could become a de facto approach for other sectors.