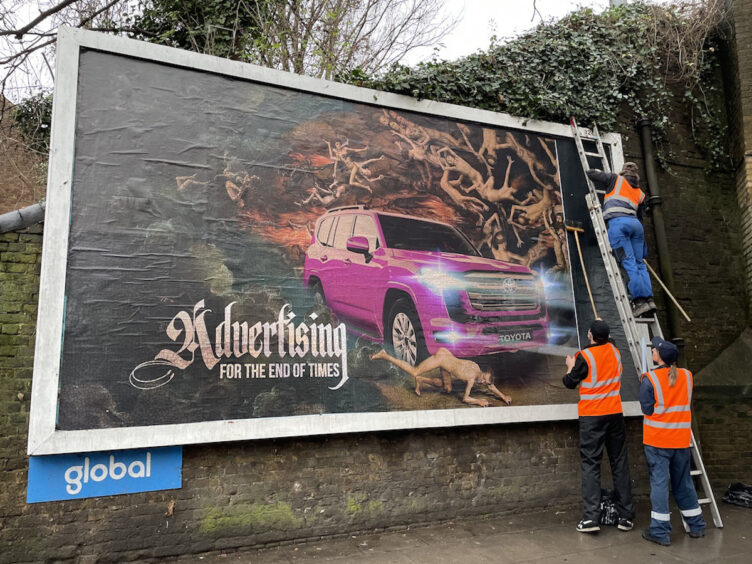 Three activist organisations have installed parody advertising billboards of car manufacturers Toyota and BMW to protest "their misleading advertisements and aggressive lobbying against climate policy". The ultimate aim is to influence regulation and policy to introduce a ban on advertising environmentally harmful products.

Brandalism, Subvertisers International and Extinction Rebellion have replaced 400 advertising billboards across Europe to target Toyota and BMW.
The activists intend to draw attention to the misleading advertisements by the car companies, and their lobbying against climate policy.
The aim is to build international opinion and influence policy to ban advertising on environmentally harmful products from car companies, similar to 'tobacco-style' advertising bans.
Why are Brandalism, Subvertisers International and Extinction Rebellion hijacking adverts?
The three groups behind the 'hijacked' billboard advertisements by automakers are dedicated to raising awareness of misleading practices by big businesses, particularly with regard to climate change. Brandalism is an international group of artists and activists confronting advertising by big businesses. It replaces advertising with 'subvertising' to highlight social and environmental justice issues caused by capitalism.
Subervertisers International is also focused on the effects of advertising on society, and consists of local and national groups that include artists, activists, collectives, NGOs and private citizens. Environmental activist group Extinction Rebellion (XR) has waged its very public war against fossil fuels, which in the past has included acts of civil disobedience and public disruption. In January 2023 it changed tactics, in a bid to prioritise "relationships over roadblocks".
XR has carried out advertising campaigns before. Its 'April 21: Unite to Survive' initiative involved hanging a banner on London's Westminster Bridge, aimed at bringing at least 100,000 people to stand outside the Houses of Parliament and protest the fossil fuel industry.
Why were Toyota and BMW targeted?
In the most recent 'subvertising' campaign, the three activist groups took over 400 advertising billboards and bus stops from Toyota (JAP:7203.T) and BMW (GER:BMW). The takeover, carried out across Belgium, France, Germany and England, was timed to coincide with the start of the European Motor Show in Brussels, which is celebrating its 100th anniversary.
According to Brandalism, the recent advertisements on their electric vehicle ranges by the two car makers are misleading, as both still hold significant investments in internal combustion engine (ICE) vehicles. In 2021, just 0.2% of cars sold by Toyota were EVs.
In addition to the alleged greenwash, the activists have criticised the lobbying tactics of the two car companies. InfluenceMap ranked Toyota and BMW the 10th and 16th worst companies in the world for their anti-climate lobbying, respectively.
The activists want to prevent misleading green claims from big polluters, such as automakers, by demanding that governments enact more rigorous policies to regulate the advertisement of environmentally harmful products. Car companies are being targeted in anticipation of EU and UK regulations banning sales of petrol and diesel cars by 2030 and hybrid vehicles by 2035. 
Tona Merriman, a spokesperson for Brandalism, said: "Toyota and BMW use slick marketing campaigns to promote over-sized SUV models that clog up urban neighbourhoods. Electric SUVs are no solution – they're too big for most parking spaces and their tall bumper size and excessive weight present an increased risk to pedestrians, especially children, involved in road collisions."
Toyota's and BMW's responses
Toyota's sustainability commitments include achieving carbon neutrality in Europe by 2040 and globally by 2050. In September 2022, its emissions reduction targets were validated by the Science Based Targets Initiative, which said that its Scope 1 and 2 targets being aligned with a 1.5⁰C scenario, and its Scope 3 targets aligned with a 2⁰C scenario.
In response to the Brandalism initiative, a spokesperson for Toyota said: "During the transition period to 2035, we firmly believe that multiple technology solutions are necessary to lower carbon emissions as much as possible and as soon as possible. Ultimately, the market will be zero-emission vehicles (ZEV), whether they are battery electric vehicles (BEV), hydrogen fuel cell electric vehicles (FCEV) or other zero emission technologies. Currently, not everyone has access to ZEVs due to lack of infrastructure or other market barriers. We believe that giving people access to multiple technologies is a more inclusive path towards carbon neutrality."
A spokesperson for BMW, which in August 2022 announced plans to reduce its supply chain emissions and increase packaging sustainability in its logistics operations, said: "The BMW Group is firmly committed to achieving climate neutrality by 2050 at the latest and is adopting a scientifically validated and transparent path through the entire value chain… In the short term, the company is taking steps today to reduce the total carbon footprint of its products by 40 per cent throughout their lifecycle by 2030 compared with 2019 levels. As the first German carmaker to join the 'Business Ambition for 1.5°C' and a member of the UN's Race to Zero programme, the BMW Group believes in action and continued dialogue."
BMW has pledged to cut carbon emissions by 40% by 2030 and to be climate-neutral no later than 2050.
Are regulators and policymakers listening to activists?
A bid to introduce tobacco-style advertising bans on polluting products, such as fossil fuel and SUVs, has been gaining global momentum across activist groups. This may be developing at other levels: for instance, the UN High-Level Expert Group's 2022 report Integrity Matters calls for regulation, rather than voluntary action to ensure companies align their policy and engagement efforts with reducing global emissions. Lobbying for climate action and not against it, the report says, is what is needed to target a 50% emissions reduction by 2030, and reach net zero by 2050.
In October 2022, the UK Advertising Standards Authority (ASA) banned what it called misleading adverts from HSBC, requiring it to disclose its contributions to climate change in future advertising campaigns. A key part of the ASA's ruling focused on the fact that HSBC's ongoing financings of carbon-intensive industries undermines any positive contributions it may have made towards acting on climate change, which had to be acknowledged.
The actions of Brandalism and its associates, as well as the ruling from the UK advertising watchdog, demonstrate that marketing messages are equally important to actions taken by companies in tackling climate change.