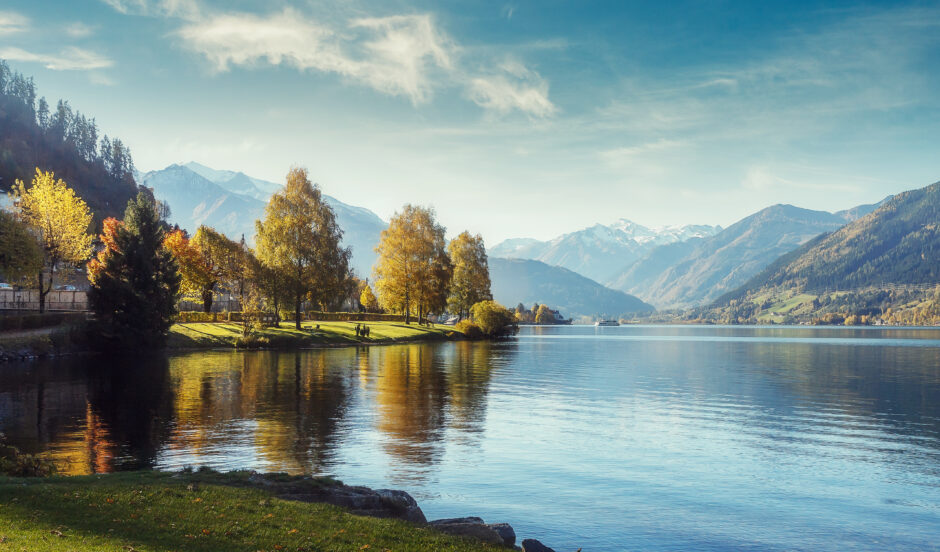 The Science Based Targets Network (SBTN) has launched the world's first science-based targets (SBTs) for nature, to help companies take integrated action across freshwater, land, ocean, biodiversity, and climate challenges.
The SBTN is providing guidance for companies to holistically assess and prioritise their environmental impacts, and to prepare targets alongside those set through the Science Based Targets initiative (SBTi). 
It includes a five-stage process to help companies set targets for nature: assess; prioritise; measure, act and track.
With more than half of the world's GDP moderately or highly dependent on nature, it is in the best interest of businesses to understand and address their relationship to various ecosystems.
The new SBTs for nature build on global momentum on global warming, with over 2,600 companies already setting SBTs for climate through the SBTi. The much-needed targets on nature will complement their existing climate counterparts, by allowing companies to take holistic action to address their impact in the face of mounting environmental and social crises. The guidance is expected to result in "targets that are measurable, actionable and time bound", as described by Dr Varsha Vijay, technical director at the SBTN.
M. Sanjayan, chief executive of Conservation International, said: "There are two key reasons companies need to understand their impact on nature. First, companies rely on nature – for the resources they use, for a stable climate, and the food that fuels their workforce, so they must understand that nature produces the basic goods and services they need to succeed."
"At the same time, businesses have an enormous impact on nature. Understanding that impact is vital for building and operating a business for the long run. Science-based targets for nature take the guesswork out of what businesses need to do, by when, by whom, how much, and where," he added.
With the initial release of SBTs for nature, companies can start the target-setting process to assess and prioritise their environmental impacts, as well as prepare to set freshwater and land targets ahead of the validation roll-out, anticipated in early 2024. Erin Billman, executive director of SBTN, said: "This is the first meaningful step on the pathway to a comprehensive initiative."
These first targets are to be piloted by 17 companies including AB InBev (EBR:ABI), Alpro – part of Danone (EPA:BN) – Bel (EPA:FBEL), Carrefour (EPA:CA), Corbion (AMS:CRBN), GSK (LSE:GSK), H&M (STO:HMB), Hindustan Zinc (NSE:HINDZINC), Holcim (SIX:HOLN), Kering (EPA:KER), L'OCCITANE (HKG:0973), LVMH (EPA:MC), Nestlé (SIX:NESN), Neste (HE:NESTE), Suntory (TYO:2587), Tesco (LSE:TSCO) and UPM (LSE:UPMH).
The SBTN expects to launch further guidance in the coming year. Although more detailed targets on biodiversity are expected to be launched later, the initial guidance supports biodiversity in terms of ensuring that companies contribute to the preservation and restoration of ecosystems.
What are the SBTN targets?
Land and freshwater targets are the first action areas that SBTN is focusing on, helping companies set targets to both reduce their negative impacts and increase positive outcomes for nature and people.
The SBTN's guidance is aligned with the Earth Commission's upcoming safe and just Earth System Boundaries, as well as global goals on climate, nature and development, including the GBF, the Paris Agreement, and the Sustainable Development Goals (SDGs). They are also aligned with existing and upcoming sustainability initiatives and frameworks, including the Taskforce on Nature-related Financial Disclosures (TNFD). This means the methodologies are designed to build on what companies are already doing, with the goal of providing an efficient, effective and ambitious resource for companies.
These targets give companies the necessary guardrails to know they are taking enough of the right actions, in the right places, at the right time across their value chains, beginning with their direct operation and upstream activities. The SBTi is focused on what's 'enough' for a company and the SBTN is expected to follow, in terms of the amount of reduction in impact needed, by when and in line with the latest science.
Part of SBTN's first release includes local stakeholder engagement guidance, to help companies effectively collaborate with those who may be significantly affected on the ground when setting and implementing targets. This focuses on traditionally under-represented groups, such as indigenous people and local communities, and is the first step in ensuring a just implementation of the targets. It is an important part of the guidance, given the focus of the SDGs and the Global Biodiversity Framework (GBF) on holistic solutions with multiple benefits and the inclusion of local stakeholders.
What can SBTs for nature do for business?
The pilot companies are expected to focus on a series of things in 2023. They will be working on understanding their impact on nature and the key areas where they can improve; using the proposed SBTN methodologies to set new targets for their own business; and then they will be submitting these targets to the SBRN for validation. It is hoped that this process will help SBTN shore up its validation criteria before a full rollout in 2024.
There are three areas where the integration of SBTs for nature is deemed useful to business: improving the bottom line, getting ahead of regulation and policy change, as well as increasing innovation.
In terms of improving the bottom line, the SBTN argues that damage and loss of nature can drive up costs for businesses – ultimately making them less efficient to run. By addressing and planning for these issues, businesses can save money and increase value, for example through access to capital and competitive advantage.
Secondly, getting ahead of regulation and policy changes is a business-critical issue. Billman argues that we're likely to see more regulatory controls, such as taxes and fines, subsidy reforms, stricter rules on land development, and trade policy following the finalisation of last year's GBF. The use of SBTs for nature will help organisations understand where their impact and risks lie, and ultimately overcome them.
Finally, setting SBTs for climate has led companies to increased innovation, so the same is expected for nature targets. In a survey conducted among corporate executives of companies following SBTi, 63% of respondents said setting a target for climate is already driving innovation within their company.
What is driving the need for SBTs for nature?
Scientific consensus emphasises the reality that climate and nature are interconnected and interdependent, and that global ambitions to limit global warming to 1.5°C cannot be achieved without preventing and reversing nature loss. In carbon terms alone, for example, nature absorbs roughly half the world's CO2 emissions every year.
Billman said: "We are in the midst of interconnected crises. We cannot limit global warming to 1.5°C without addressing nature loss, and we cannot halt and reverse nature loss without a stable climate. Crucially, we know we can't address either without putting people and equity at the centre."
This interdependency has been recognised at an international level at COP15 of the Convention on Biological Diversity in 2022. The GBF says: "The biosphere, upon which humanity as a whole depends, is being altered to an unparalleled degree across all spatial scales. Biodiversity – the diversity within species, between species and of ecosystems – is declining faster than at any time in human history."
It also adds, however: "Nature can be conserved, restored and used sustainably while other global societal goals are simultaneously met through urgent and concerted efforts fostering transformative change".
At COP15, a group of institutional investors launched Nature Action 100, a global investor engagement initiative to drive urgent action on nature-related risks and dependencies in companies. Decision 15/2 out of COP 15 outlined the details of the agreement, but one of the key headlines was the goal set for the GBF, which includes the protection of 30% of terrestrial, inland water, and coastal and marine ecosystems will be restored and conserved; as well as plans to halving global food waste, significantly reducing overconsumption and substantially reducing waste generation. This is going to have significant implications for business.
Target 15 of the overall agreement focuses on the role of businesses in managing and disclosing their impact on nature. Greater transparency can lead to greater accountability and, given the risks involved, could drive more dramatic action. In order for the 2030 goals to be achieved, we need significant, ambitious and rapid action – if such a target is to be reached, it will require the rapid transformation of many existing economic sectors.
Market responses to global policy approaches
There is a growing body of research highlighting the economy's dependency on nature and biodiversity, and there are accelerating pressures for disclosure requirements to drive both transparency and action in the private sector. While there are concerns about putting a price on nature as a public good, given the current economic paradigm, corporate behaviour is most often changed through shifts in regulation, pricing and accountability.
According to a 2020 World Economic Forum (WEF), over half of the world's GDP is at risk from biodiversity loss. The WEF lists biodiversity loss as the third most severe global risk, after climate change and extreme weather, with the destruction of natural ecosystems resulting in severe social and economic consequences.
PwC analysis agrees that 55% of the world's GDP, equivalent to an estimated $58 trillion, is moderately or highly dependent on nature. It also warns of the potential impact of loss or damage to nature on economic stability, as over half of the market value of listed companies on 19 major stock exchanges could be threatened by material nature risk.
Nature-based Solutions (NbS) to tackle biodiversity loss can play an important part in the green transition. Most of the world's remaining biodiversity assets reside on lands inhabited by 480 million indigenous people, according to the UN Permanent Forum on Indigenous Issues. Quite how place-based finance of NbS can be accelerated is still open to debate, but one of the first steps lies in helping the private sector understand the implications of their actions – SBTs for nature are a key tool for achieving this.
Growing number of frameworks and approaches
There is no doubt that despite the difficulties many companies have found in effectively addressing their carbon footprint, understanding and managing the impact of nature of operations, and the impact of operations on nature, will be far more complex.
The EU's Corporate Sustainability Reporting Directive (CSRD), which came into force in early 2023, requires reporting on nature impacts, which is expected to be challenging. The International Sustainability Standards Board (ISSB) which initially focused solely on climate in terms of financial impact on the business or enterprise value, extended its disclosures to include biodiversity (and just transition) issues. Yet it has also said that requirements in the first year of reporting will remain limited to climate only.  Nonetheless, pressure is increasing and companies need to find ways of structuring their approach to complex challenges.
To achieve a balance between scientific rigour and feasibility, over 200 organisations have helped to shape the initial methods, tools and guidance. This includes 115 companies, the majority of whom participate in SBTN's Corporate Engagement Program, representing over 20 sectors in 25 countries with over $4 trillion in market cap.
Johan Rockström, co-chair of the Earth Commission, said: "Companies now have clear guidance and methodologies to set science-based targets for climate and nature. The first science-based targets for nature align with the new science assessment The Earth Commission is about to publish on defining a safe and just space for humanity. I applaud the courage of the seventeen pilot companies who are setting the first targets, because just like climate, it won't be easy. We can all learn from their experiences, and we must. The future of business depends on it."