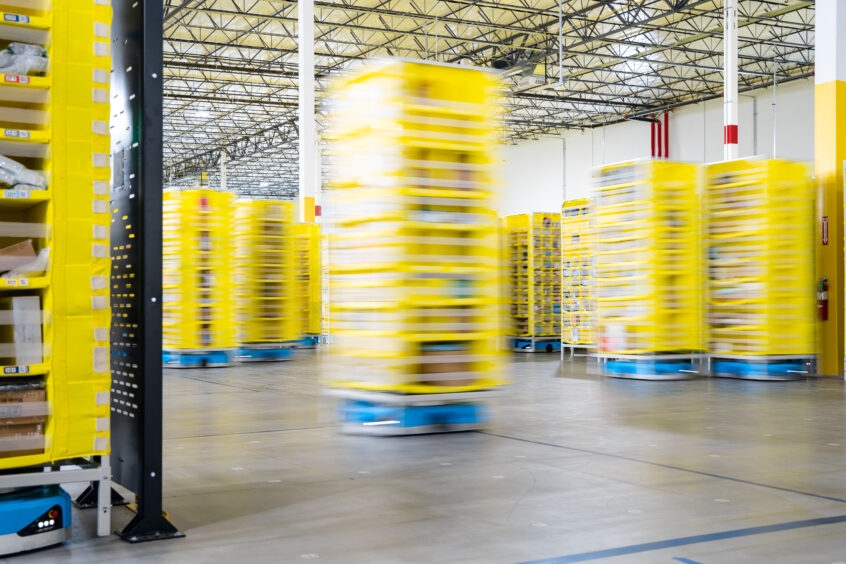 Amazon (NASDAQ:AMZN) and the Ellen MacArthur Foundation will develop certifications for products with circular attributes, which can prevent greenwashing and spread awareness on the benefits of circularity.
The pair intend to develop rigorous third-party certifications that recognise key circular attributes for products, and encourage and reward intentional design that supports circularity.
They will add to the existing host of voluntary certifications on circularity, with a global standard expected for 2024.
There is still some confusion on what circularity actually entails, so providing information on consumer products can be a way to address this gap.
Amazon and the Ellen MacArthur Foundation have expanded their partnership to focus on developing certifications for products with circular attributes. Along with the Foundation, Amazon is already working with two certification organisations: the NSF, which develops public health standards and services that help protect the environment, and International and Scientific Certification Systems (SCS) Global.
What is the purpose of the new certifications?
The pair intend to develop rigorous third-party certifications that recognise key circular attributes for products, and encourage and reward intentional design that supports circularity. These certifications are intended to provide customers with the information they need to make a more circular choice. They are expected to encourage brands, original equipment manufacturers, suppliers, retailers, and ecommerce platforms to create products that are designed in accordance with circular economy principles.
Amazon said the certifications will qualify for inclusion into its Climate Pledge Friendly Program – whose sustainability metrics and product coverage have been questioned – designed to help customers discover more-sustainable products by labelling products with sustainability certifications. 
Moreover, the Foundation's Plastics Initiative is working with reuse partners and experts to develop a vision for scaling returnable packaging systems. Amazon and AWS Global Impact Computing Teams are supporting this work with future visualisation and analytical modelling to show how scaled reuse systems can perform economically, environmentally, and experientially in comparison to single-use packaging.
What are the existing certifications for circularity?
The International Organization for Standardization (ISO) has been working since 2018 on a globalised standard for the circular economy. A total of 89 countries from five continents sit within the technical committee, led by Catherine Chevauché, and the package is expected for early 2024. ISO compliance is not mandatory, but is widely regarded as best practice across various industries.
Another voluntary standard is XP X30-901 by France's standardisation body AFNOR. It covers the three dimensions of sustainable development – environment, economy, society – and the seven areas of action of the circular economy: sustainable procurement, ecodesign, industrial symbiosis, functional economy, responsible consumption, extension of service life, and the effective management of materials and products at the end of their life cycle.
In Italy, the Government published the UNI/TS 11820:2022 technical specification in November 2022, intended to define a set of indicators needed to assess, through a rating system, the level of circularity of an organisation or group of organisations. The rating system does not stipulate minimum levels of circularity, but provides an assessment of the level achieved. It is certified by RINA.
In the UK, the British Standards Institution established Bs 8001 in 2017 with the goal of regulating circular economic models, which companies can refer to in order to integrate into their business model the principle of the three Rs: reduce, reuse, recycle. 
In May 2023, SCS Global launched the Recycled Content Standard for Electrical and Electronic Equipment, an extension of its Recycled Content Standard that verifies the total percentage of recycled materials in these products against set minimum thresholds of achievement by both material input and specific product type. To achieve certification, products also must contain more than one recycled material input, promoting the use of more and varied recycled materials.
Companies can apply for a range of certifications currently available on the market. The Cradle to Cradle Products Innovation Institute supplies Cradle to Cradle Certified, which verifies materials and products based on science-based measures across five categories: material health, product circularity, renewable energy and climate, water and soil stewardship, and social fairness. It is awarded at five levels (Basic, Bronze, Silver, Gold, and Platinum) with a goal of encouraging innovation and the design of products that effectively and positively impact people and the environment.
Elsewhere, the Circular Economy Institute, which provides certifications to individual professionals, is piloting a 'Certified Methodology' for organisations looking to demonstrate that they have established a methodology to embed the circular economy and are working towards its implementation. The intent is, alongside proving that a company is excelling in that specific moment, to commit it to regard the circular economy a key pillar in the organisational strategy for the long term by building it into its structure.
Why do we need circularity certifications?
There is still some confusion on what circularity actually entails: the concept is mostly associated with recycling, which is certainly part of the solution but not the whole picture. Indeed, we cannot solely rely on recycling to reverse the damages caused by the linear economy on society and the environment, as it allows the continued extraction of natural resources and implies that we have perfectly efficient recycling systems – which is not the case. Recycle is only the third step in the three Rs after reduce and reuse. 
As the shift towards a circular economy gains momentum, the emergence of new certifications will prevent companies from greenwashing by claiming that their products are circular without providing evidence. 
Moreover, explaining the benefits of a circular product could be a tool to spread awareness. A study published in December 2021 found that, despite consumers being willing to pay higher prices for products deemed environmentally friendly, this did not apply to circular products. When they were provided with information about the environmental benefits of the product, especially when that information was verified by a third-party, consumers could justify a price premium.
These findings suggest that consumers are not yet equating 'circular' to 'sustainable', but this is bound to change as more actors are pushing for a move away from the linear model. The EU, for example, is working on a circular economy action plan that is one of the main building blocks of the European Green Deal.
Certifications are currently voluntary, but they could be mandated by jurisdictions such as the EU or be required by stakeholders that seek proof of a client's or a supplier's sustainability credentials. As such, companies should look at their strategies and evaluate them against circularity principles to ensure that they are ahead of the curve.