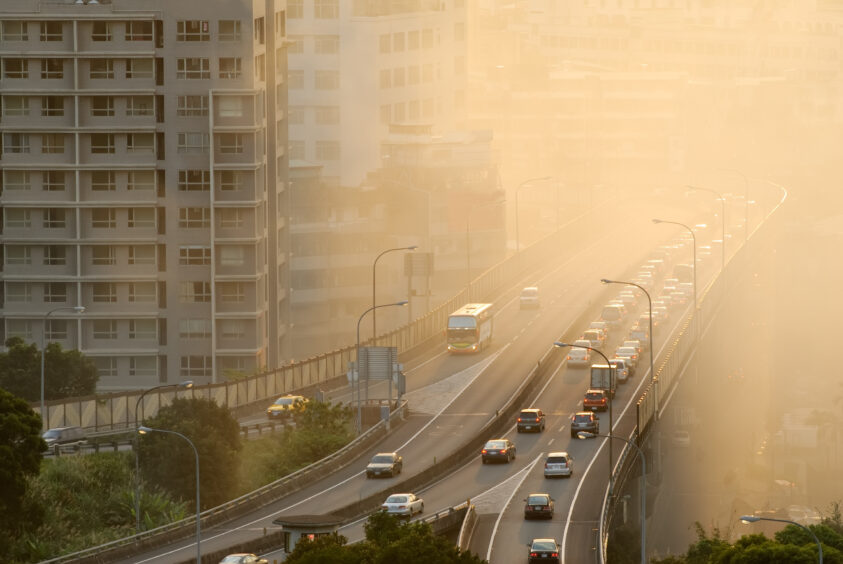 Like it or not, London's ultra low emissions zone (ULEZ) has had a direct impact on the city's air quality – and now the programme is going global.
Air pollution costs the global economy over $8 trillion a year – its even been suggested that China's action on climate was driven by the economic impacts of air pollution on morbidity and mortality.
Launch of Breathe Cities boosts London Climate Action Week with Bloomberg Philanthropies committing US$ 30 million to turbocharge cities to reduce air pollution, cut carbon emissions, and improve public health.
The initiative will take Mayor Khan's visionary work to tackle air pollution in London global – one of his top priorities as Chair of C40.
As part of London Climate Week, Michael R. Bloomberg, the UN Secretary-General's Special Envoy on Climate Ambition and Solutions and founder of Bloomberg Philanthropies, and Mayor of London and C40 Chair Sadiq Khan announced the launch of Breathe Cities to break down barriers to action and ensure communities around the world have access to clean air.
What is Breathe Cities?
The $ 30 million clean air initiative is a partnership between Bloomberg Philanthropies, the Clean Air Fund, and C40 Cities to save lives, improve health, and reduce air pollution that is both harmful to public health and the climate.  Millions of people are living with the health consequences of breathing dirty air — asthma, cancer, autoimmune diseases, miscarriages, and more noncommunicable diseases.
Funding, technical support, air quality data, community engagement, capacity building and more will be provided to a group of cities to be announced later in 2023.
The initiative builds on Mayor Khan's work to tackle air pollution in London. In August, Mayor Khan will oversee the London-wide expansion of the Ultra-Low Emission Zone, his world-leading initiative to reduce vehicle pollution, ensuring five million more Londoners will breathe cleaner air.
The ULEZ has already been revolutionary in London, already benefiting four million Londoners, with harmful nitrogen dioxide (NO2) concentrations 21% lower in inner London than they would be without the ULEZ and 46% lower in central London.
Since the ULEZ was first introduced four years ago it has led to a reduction of around 800,000 tonnes of CO2 emissions from vehicles across London – showing how air quality and carbon reduction are linked issues.
Cities are failing to tackle the air pollution challenge
Almost no urban area has air quality that meets the guidelines of the World Health Organization (WHO). 41% of cities have air pollution over 7 times higher than WHO's recommendation, meaning their residents are breathing dangerously polluted air that can cause a suite of health issues such as asthma and respiratory illnesses. Air pollution is also associated with 7 million premature deaths each year. And worldwide, air pollution costs the global economy $8.1 trillion, the equivalent of 6.1% of global GDP. Residents who live in cities where density, geography, and pollution from transportation and industry pose unique daily hazards live face to face with this reality.
"Cities around the world are proving that, with the right technology and support, they can reduce air pollution, protect public health, and fight climate change," said Michael R. Bloomberg, UN Secretary-General's Special Envoy for Climate Ambition and Solutions and founder of Bloomberg L.P. and Bloomberg Philanthropies. "Building on the effective work of London and others, our new Breathe Cities initiative brings together strong partners to help even more local leaders craft ambitious and equitable policies that can save and improve lives."
Sadiq Khan, Mayor of London and Chair of C40 Cities added:"Toxic air pollution is a public health crisis in many of our cities – leading to premature death and chronic disease. Countries in the Global South – which have contributed the least to climate change throughout history – are most severely affected, bearing the brunt of climate chaos… I'm proud that this partnership with Bloomberg Philanthropies, Clean Air Fund, and C40 Cities will enable cities across the globe to drive down emissions and tackle the air pollution crisis head on."
What will Breathe Cities do?
The initiative is one of facilitation, and it intends to help cities develop their own plans and approaches by focusing on three pillars. These are:
Data and Research: Expand the availability of local air quality data through the use of innovative new technologies and research into causes of air pollution to provide local governments with evidence for implementing and enforcing new policies.
Stakeholder and Community Engagement: Engage local campaigns and grassroots organisers to build awareness and support for air quality action, especially for communities most affected by air pollution.
Technical Policy Assistance: Support local governments and city halls to develop and deliver clean air policies by providing technical assistance and capacity building to support policymakers in identifying and implementing solutions
Lesson Sharing: Share learnings across cities to help other cities to act.
At COP26 in 2021, Mayor Khan called for the creation of Breathe Cities to build upon the successful Breathe London program to help more cities address the global air pollution crisis, and now he's making good on that promise.
Breathe Cities also builds on existing efforts led by Bloomberg Philanthropies and the Clean Air Fund in the cities of Brussels, Jakarta, London, Milan, Paris, and Warsaw to track air pollution and shape public advocacy and policy measures to reduce pollution, and C40 efforts to increase global commitments to clean air, support mayors in implementing ambitious air quality actions, and create forums for mayors and city staff to scale solutions.