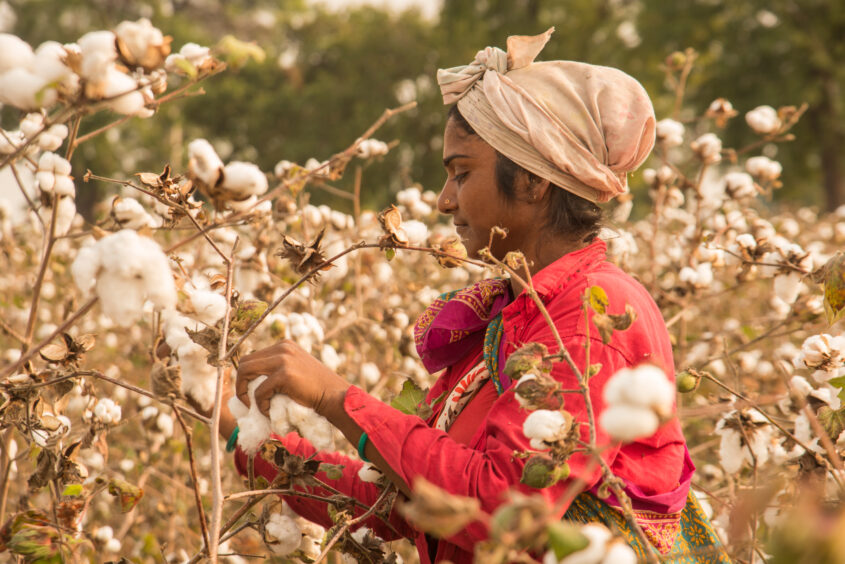 Better Cotton, the world's largest cotton sustainability initiative, has signed the United Nations Economic Commission for Europe (UNECE) Sustainability Pledge ahead of the launch of its Traceability Solution at the end of 2023.
Better Cotton is to sign the UN Sustainbility Pledge, commitment to traceabilty as a key tool for c

ompanies that are facing increased pressure to adapt their procurement practices.

 

Traceability across supply chains is becoming a critical requirement in managing risk related to climate, nature and biodiversity, human rights and more. offer several advantages to 
The Sustainability Pledge is an open-source suite of policy recommendations, guidelines and standards that enable industry actors to authenticate their sustainability claims. The aim of the Pledge is to create a Community of Practice that would together develop traceability and transparency as key enablers for sustainability and circularity.
The UNECE launched the framework to convene credible solution providers in knowledge exchange, with the belief that companies, academics and topic experts can collectively advance supply chain transparency by engaging in open discourse.
It's toolkit delivers solutions for generating an immutable record of provenance and composition for any item of clothing or pair of shoes. Armed with such information, consumers, regulators and companies themselves can check claims around sustainability and ethical production.
By recognising legitimate tools and projects that aim to advance industry traceability, the pledge stands to benefit policymakers, companies, workers and consumers alike. Traceability initiatives can also play an important role in reducing a brand's exposure to more serious legal risks. The textile industry faces a particularly unprecedented level of scrutiny, with new regulations being introduced by authorities worldwide.  
At the same time, greater transparency and traceability can also contribute to efforts towards building a circular economy, as prioritised by the European Union. With precise information on product composition, goods can be more easily recycled keeping materials in use and practices that generate waste, pollution or damage the natural environment cannot be hidden from regulators.
Why commit to traceability in the supply chain?
Surveys have shown that around 78% of shoppers may be willing to pay higher prices for products that are made with sustainable materials, but they must first be convinced by companies' claims. 
The French Decree 2022-748 AGEC (Anti-Waste for a Circular Economy Law) requires retailers to provide consumers with detailed information about the environmental qualities and origins of the products they purchase.  
Similar measures will soon be introduced across the whole of Europe, with the Commission having recently adopted a proposal for a Directive on corporate sustainability due diligence. The bloc has also proposed that clothing brands should be held accountable for extended producer responsibility, with measures including the introduction of digital product passports that would record the contents and origins of consumer products. 
Alia Malik, Senior Director of Data and Traceability at Better Cotton, said: "We are signing UNECE's Sustainability Pledge not only to affirm our commitment to improving traceability and transparency in Better Cotton supply chains, but also in support of traceability and the use of more credible sustainability claims across the industry."
Elisabeth Türk, Director, Economic Cooperation and Trade at UNECE, added: "Once we know the provenance of the clothes that we buy, and the path they have travelled in global value chains, then we can make informed decisions as consumers about the sustainability claims of those goods. We welcome Better Cotton's pledge and call on other players to join and make traceability and sustainability the new normal in the textile industry."
Who has committed to action on traceability in cotton?
As a signatory, Better Cotton joins more than 90 businesses to have committed to the pledge, including Inditex, Vivienne Westwood, WWF, Retraced and FibreTrace.
Better Cotton's submission accounts for the development of its Traceability Solution, which has been developed as part of its 2030 Strategy. With over 2,500 Members across the world, Better Cotton is well placed to develop a solution that could be scaled globally.
It will offer Retailer and Brand Members the opportunity to verify the country of origin of the Physical Better Cotton in their products and enable farmers and suppliers to continue accessing increasingly regulated international value chains. All this will support Better Cotton's work to improve lives and safeguard livelihoods in cotton farming communities.
It's not the only option on the table – there are a growing number of initiatives seeking to gain greater insight into cotton supply chains. For example, geospatial data specialist and EOXPLORE and Terranea are developing novel information sources for the cotton industry using data and tools from the C3S Climate Data Store (CDS). This will support the industry to understand and adapt to changes in the environment and climate. The two companies are currently developing the Climate Change Impact on Cotton (CCIC) application, which focuses on delivering climate change information relevant to the supply of cotton from around the world
Building a knowledge base for effective sustainability
The development of Better Cotton's Traceability Solution has been based on extensive consultation with over 1,500 stakeholders including Suppliers, Members, and industry consultants.
In signing the Sustainability Pledge, Better Cotton has outlined key actions and a timeframe within which the solution will be launched. A phased roll-out will follow, enabling all supply chain actors the opportunity to align with the new chain of custody requirements that will enable traceability before 2025.
The fashion and textile sectors face increasing regulatory pressure, particularly around 'greenwashing' – the use of unsubstantiated claims to deceive consumers about a company or product's sustainability credentials.
Better Cotton's soon-to-be-launched Traceability Solution will serve to verify the provenance and chronicle the lifecycle of cotton, starting at a country-level with the aim to improve the granularity of data in the future.
SGV Take
This is one of many traceability solutions that is signalling that brands are expecting consumer demand, and concerned about regulatory action upon, provenance and ensuring that supply chains are robust and free from human rights infractions, as well as negative climate and nature impacts.
In Europe, the textile industry depends significantly on cotton fibres, which are the starting point of the production chain – the WWF says cotton is the basis for half of the world's textiles. Cotton constitutes around 25% of global fibre source, so its impact is immense.
The cotton industry is highly water dependent and growth is predominantly in India, China and the US. With long and complex supply chains, the cotton industry is opaque and rife with exploitation of women and children. With a significant carbon footprint and strong association with both pollution and extremely high water demand, the sector needs rapid reform.