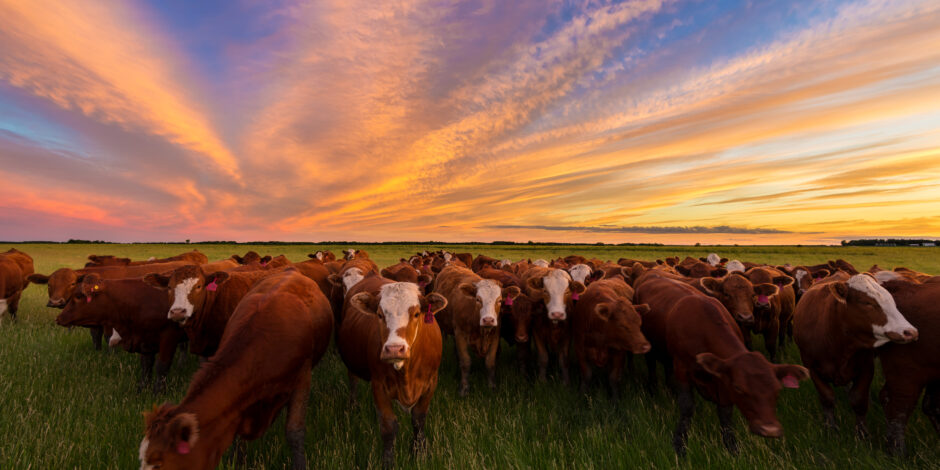 Agribusiness giant Cargill and its partners have announced the publication of the first Gold Standard-approved methane emissions reduction methodology for beef producers.
Global animal agriculture is a major contributor to climate change but also responsible for 37% of global protein production.
The world needs to increase its food supply but the animal agriculture sector cannot grow without addressing its climate impacts, and the impact climate change and environmental shifts will have on its operations.
Deployment of a standard enabling MRV of methane emissions reduction is a step forward for the industry, but increased transparency on a variety of risk exposure remains a challenge.
Cargill has partnered with TREES Consulting to develop a Gold Standard-approved beef methodology that offers the global beef industry a framework for measuring methane emissions reduction using feed supplements that have been incorporated into beef cattle diets.
Gold Standard's methodology
Gold Standard's certification process allows climate and sustainable development initiatives to quantify, manage and maximise their impacts toward climate security, and requires verifiable impact toward three or more of the United Nation's Sustainable Development Goals.
For many projects the ability to issue Gold Standard's Verified Emissions Reductions (VERs) means credits that can be traded in carbon markets, allowing credit purchasers to directly support the projects through an additional revenue stream.
The impact of changing agricultural practices on emissions is well documented but the biggest challenge, as usual, is how to measure and track any changes in emissions. Margaret Kim, CEO, Gold Standard said: "This new methodology provides beef producers with a way to reliably measure the impact of those changes. Cargill's support is helping pave the way for the animal agriculture industry to reduce methane emissions and is complements Gold Standard's other efforts to reduce the impact of agriculture on our planet – such as our recently published methodology which reduces the methane emitted by rice production".
The new beef methodology defines a set of parameters that beef producers can adopt to quantify reductions in methane emissions, a greenhouse gas (GHG) that is derived from enteric fermentation (digestion process) in cattle through eructation (burping), as well as from manure handling.
The new methodology is now available for beef producers worldwide to quantify, audit and verify methane reductions, enabling them to register their GHG mitigation project for Gold Standard certification.
In practice, projects using the new methodology first establish a baseline for emissions during "business as usual" activities for a minimum of three continuous years. The cattle given feed supplements must be clearly identified and tracked over the course of the project. The project crediting period is set at five years, and can be renewed for an additional five years, excluding the baseline years.
Managing Scope 3 emissions in the supply chain
What makes the deployment of the new methodology and the associated credits is that it allows such actions to be formally recognised in corporate value chains, whereby beef producers and food companies account for the reduction in supply chain GHG emissions, which contributes to their Scope 3 targets.
This is increasingly important as investors start to raise concerns about the impact of climate risk to animal agriculture companies. The FAIRR network has worked out that the loss of productivity from climate change, the cost of carbon taxes or offsetting of emissions and indeed – the cost of animal feed – could all see corporate profits fall by 10% over the next few years. Overall, its Climate Risk Tool estimates that companies could face cost increases of nearly 40% by 2030, rising to 60% by 2050 if global temperatures rise over two degrees higher than pre-industrial levels.
It is a challenge that must be addressed for multiple reasons. According to the Food and Agriculture Organization, livestock accounts for around 34% of global protein supplies, meaning that disruption to the sector would be a significant driver of food insecurity. At the same time, its been estimated that livestock also supports the incomes of at least 1.3 billion people around the world, each of whom could be plunged into poverty by challenges to the supply chain.
Why Cargill is exploring methane reduction in beef
Cargill believes that, as a leader in animal agriculture, that it is in an ideal position to support its network of beef producers with the resources and innovation they will need to meet sustainability challenges.
Through its Reach4Reduction program, Cargill says it is taking a holistic approach to methane reduction by uncovering the potential of feed management and nutrition to do more with less, helping to ensuring food security while protecting the planet. Although methane emissions from the enteric fermentation of cattle are a normal occurrence, Cargill recognizes there's opportunity to reduce the intensity of methane, through its global animal nutrition business.
Cargill says that it is working to accelerate progress by supporting producers with managing on-farm productivity to improve feed conversion rates, optimising animal health and nutrition, and innovating with new additives and solutions that reduce methane and nitrogen emissions directly.
For beef producers who are adopting these technologies, the new methodology  "Reducing Methane Emissions from Enteric Fermentation in Beef Cattle through Application of Feed Supplements" will enable them to accurately quantify the reduction of methane emissions and can provide them with opportunities to valorize their efforts.
"We know that the industry is looking for more accurate tools to measure methane reduction," said Joanne Sharpe, Cargill's global ruminant sustainability lead. "As producers look at their current levels of production efficiency and work toward sustainability goals, we are committed to finding ways to ensure they can be recognized and rewarded for their efforts. As part of our methane reduction priorities, this methodology is a key step toward opening new possibilities to reduce GHG emissions in the beef supply chain."
Cargill is obviously not the only corporate to be targeting this approach. Earlier in 2023 for example, Rumin8 announced a Series B funding for its own animal feed approach to cattle related methane reduction.
SGV Take
This is an interesting attempt to define, measure and track methane emissions within the beef production supply chain.  It doesn't really address the issues of associated deforestation, water use and its increasing scarcity, overuse of antibiotics or many of the other issues that are challenging traditional meat supply chain models, but it may help increase pressure for transparency.
In fact it adds a layer of complexity and cost to existing supply chains, requiring new feed to change the impact of cattle digestive systems. Cutting down methane emissions from beef production is a good idea, especially given the nearly 1 billion head of cattle around the world, and it'll be interesting to see the results of the trials.
Instead it could also be seen as a means of addressing peripheral issues in the meat industry, such as cow burps, rather than addressing the underlying system issues that are a factor in health, human rights and climate change. However there is no question that a reduction in emissions, however achieved, is something that we need to see in every sector.