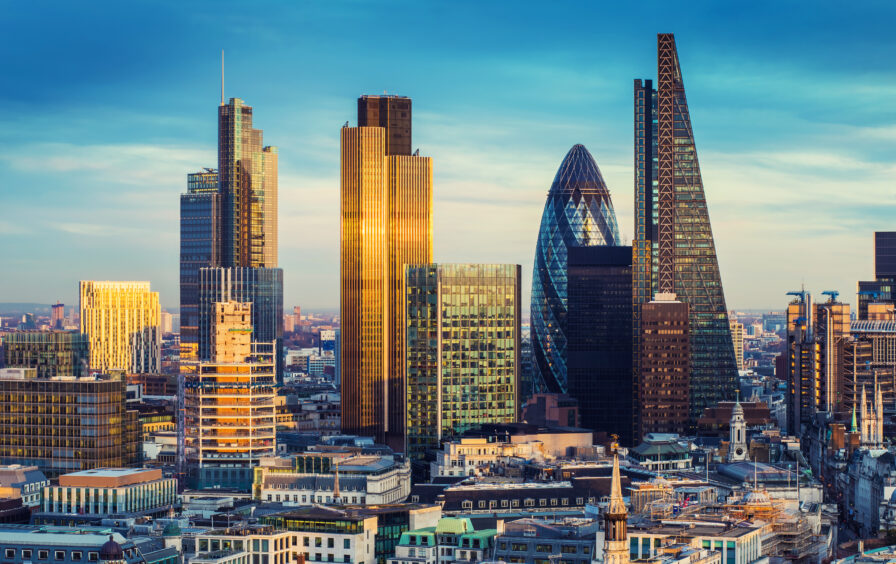 The UK's business ministry announced its intention to align its Sustainability Disclosure Standards (SDS) with the International Sustainability Standards Board (ISSB) for company disclosures on sustainability.
The UK's business ministry announced the adoption of the ISSB's guidelines for sustainability disclosures, including climate.
Under the SDS, companies will be required to provide detailed information about the risks and opportunities they face in relation to sustainability matters. 
This development gives clarity to UK businesses by providing a globally accepted framework for sustainability reporting.
The UK's business ministry announced its commitment to adopting internationally-approved standards for climate-related disclosures, aiming to preserve London's status as a leading global financial hub. The endorsement comes after global securities regulators officially supported the standards set by the ISSB.
The upcoming SDS builds on Britain's existing requirement Britain of climate disclosures for listed companies, already aligned with the Task Force on Climate-related Financial Disclosures, which has now formed the foundation for the ISSB's norms. 
Alexis Normand, co-founder and chief executive of carbon accounting firm Greenly, says that the "UK adoption of these standards is a significant step in the right direction when it comes to consolidating the fragmented landscape of disclosure frameworks globally".
What are the standards?
The ISSB was established to create a global baseline for sustainability reporting and published its first two standards – IFRS S1 and IFRS S2 – on sustainability-related financial information and climate-related disclosures in June 2023.
These standards are set to be followed by companies from 2024, with the first disclosures expected in 2025. While some countries will be mandating these disclosures, other businesses can choose to do it as a voluntary exercise These standards aim to complement traditional accounting requirements and offer a comprehensive view of the relationship between financial statements and sustainability-related data.
They cover various aspects such as Scope 3 emissions, scenario analysis, biodiversity, and the just transition. While they present a significant challenge to global businesses, they also offer economic opportunities in terms of driving efficiencies, fostering new business models, and opening up new markets.
What does it mean for businesses?
The Secretary of State for Business and Trade announced that "the endorsement of the IFRS SDS will be considered, aiming to establish the UK SDS by July 2024". It emphasised that any deviation from the global baseline in the UK-endorsed standards will only occur "in cases where it is absolutely necessary to address UK-specific matters".
Once the endorsement process is completed, "UK SDS will be eligible for reference in all legal or regulatory requirements applicable to UK entities." The decision to mandate disclosure will be made independently by the government for "UK registered companies and limited liability partnerships," while the responsibility for UK-listed companies will rest with the Financial Conduct Authority. 
The adoption of the UK SDS will mean greater transparency and accountability in disclosing sustainability-related information. Companies will be required to provide detailed information about the risks and opportunities they face in relation to sustainability matters. 
The UK SDS will be based on the International Financial Reporting Standards (IFRS) issued by the ISSB, ensuring global comparability and usefulness for investors. By adhering to these guidelines, the ministry believes that businesses can enhance their decision-making processes and attract investors looking for sustainable and responsible investment opportunities. 
The UK Department for Business and Trade said: "The disclosures required by these standards will help investors to compare information between companies, thereby aiding decision-making; supporting the efficient allocation of capital, and smooth running of the UK's capital markets."
The Government established two committees to implement the standards effectively. The Technical Advisory Committee evaluates IFRS standards and advises the Business and Trade Secretary, while the Policy and Implementation Committee ensures alignment with UK laws for seamless integration of sustainability disclosures.
"Whilst decisions over whether or how to enforce the rules will become clear in time, widespread adoption of these standards would improve the quality of information that market participants have access to and would provide investors with valuable information that will help them decide where to allocate capital," Normand adds. "Just like financial reporting, the hope is that reporting on sustainability issues will be taken into consideration when making resource-allocation decisions." 
According to Normand, UK businesses should not delay getting their processes ready, even while the details are to be "ironed out" so "they're able to fulfil the data collection requirements of the standards. And, whilst Scope 3 reporting won't be strictly required straight away, companies that take charge now to get used to calculating all three scopes will have a competitive edge when Scope 3 is eventually incorporated into future disclosure standards".
What's the position on sustainability disclosures in other countries?
Initially, there were concerns about the ISSB focusing on enterprise value and operational risks, but it has since evolved. The final version of its debut standards now includes disclosure requirements for Scope 1, Scope 2, and Scope 3 greenhouse gas emissions (GHG), demonstrating progress towards standardisation for basic reporting. 
While it may not cover all possible climate or nature-related risks yet, the ISSB has become the baseline for numerous jurisdictions, laying a strong foundation for future actions and agreements. Countries such as Australia, Canada, Japan, Hong Kong, Malaysia, New Zealand, Nigeria and Singapore have all indicated their interest in considering the ISSB standards.
Meanwhile, the EU has finalised the Corporate Sustainability Reporting Directive (CSRD) to introduce more detailed sustainability reporting requirements for EU companies, certain non-EU companies with significant EU turnover, and firms listed on EU markets. 
In the US, the Securities and Exchange Commission (SEC) delayed the publication of its disclosure rules, initially proposed in March 2022, and are now expected to be released in Autumn 2023. The proposals aim to mandate disclosure of climate-related risks and impacts, including GHG (Scope 1 and Scope 2), and potentially Scope 3 emissions if material or when emissions reduction targets involve Scope 3. The rules also cover governance of climate risks, risk-management processes, and decarbonisation plans with interim targets.
However, there is significant political controversy in the US surrounding environmental, social and governance (ESG) issues. The US Department of Labor adopted the 2022 ESG rule, which allows ESG factors to be considered in retirement plan investments like 401(k) plans. This rule reversed the previous ESG investing rule adopted under the Trump administration. 
While the 2022 ESG Rule has received widespread support for its neutral posture on investment considerations and elimination of extra requirements, it has faced opposition from Republicans. They argue that the rule mandates fiduciaries to prioritise ESG characteristics over financial interests, leading to ongoing debates and attempts to invalidate the rule through resolutions and proposed amendments to the Employee Retirement Income Security Act of 1974.
SGV TAKE
The ISSB norms have become the global standard for sustainability reporting due to its establishment as a universal baseline, comprehensive coverage of sustainability topics, endorsement from global regulators, and alignment with internationally-approved financial reporting standards. This widespread acceptance and adoption have made ISSB's standards the go-to framework for companies worldwide to disclose their ESG performance.
The UK's adoption of the standards gives clarity for what will come next as it sets a strong foundation for further advancements in sustainability reporting and encourages other countries to follow suit, fostering a more standardised and coordinated approach to addressing ESG challenges on a global scale.