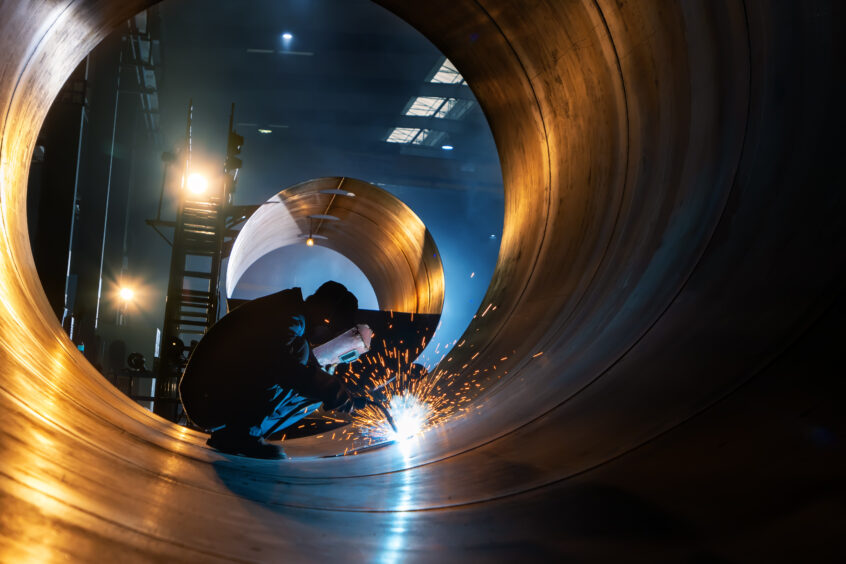 Nucor (NYSE:NUE), a founding member of The Global Steel Climate Council (GSCC), has released The Steel Climate Standard to measure and report carbon emissions in the global steel industry.
Nocur's standard is intended to help steel producers align with the Paris Climate Agreement's emissions reduction goals by 2050.
In 2021, the US and EU collaborated to negotiate a new emissions standard for steel production, aiming to tackle carbon intensity and global overcapacity.
Having double standards, however, pose the risks of trade disputes and inconsistent regulations, leading to market fragmentation, delayed emission reductions, greenwashing and hampering global coordination.
US steel producer Nucor published The Steel Climate Standard, a global standard to measure and report carbon emissions in the global steel industry. Developed by the GSCC, of which Nucor is a founding member, the standard "sets a precedent by establishing a single, process-agnostic standard and mandating science-based emission targets for steel manufacturers globally".
Greg Murphy, Nucor's executive vice president of business services and general counsel at chair of the GSCC, said: "Creating a dual standard would allow high-carbon emissions steel to be prioritized over lower-carbon steel. This would discourage innovation and allow high-carbon steelmakers to postpone making changes in their production process."
What is The Steel Climate Standard?
The standard is intended to measure and report carbon emissions in the steel industry and sets science-based emission targets for steel manufacturers worldwide. It is designed, according to Nocur, to ensure transparency and inclusivity. By adhering to this standard, Nucor said that steel producers can work towards decarbonisation, aligning with the emissions reduction goals of the Paris Climate Agreement by 2050. 
The standard is rooted in fundamental principles such as reducing greenhouse gas (GHG) emissions by 30% before 2030 and adopting an approach that is agnostic to technology and production methods. This encompasses all relevant GHG pollutants across Scope 1, 2, and 3. To ensure credibility, the standard also requires third-party verification of emissions data and science-based emissions targets. 
What is the purpose of a new standard?
A new standard such as the GSCC's in measuring and reporting carbon emissions in the global steel industry is essential to address climate change and enhance sustainability efforts. 
According to Dale Crawford, executive director and director of conduit for the Steel Tube Institute, "climate standards for steelmaking are necessary to reach the goals of the Paris Agreement, as they are for all industries".
"Ambitious goals like those issued by the GSCC are commendable. Other climate proposals have referenced a more gradual approach with a sliding scale and primary and secondary targets, which is more feasible for global steel manufacturers," Dale says. "The standards likely need to be set somewhere between these two approaches where the targets are attainable for manufacturers with a variety of steel-making technologies as their base of business, while still making a real impact on global emissions. This approach would result in the standards being market-led and not legislatively forced, increasing global participation."
Steel production is a major contributor to GHG, as the International Energy Agency projected in 2020 that the iron and steel sectors collectively contribute around 2.6 gigatonnes of CO2 emissions annually, accounting for approximately 7% of the world's total emissions. It is highly polluting due to its energy-intensive processes, primarily reliant on burning fossil fuels such as coal, leading to substantial carbon dioxide emissions and air pollution. By establishing clear and consistent guidelines, it is hoped that the new standard would improve transparency and accountability, enabling stakeholders to track and compare emissions data across companies.
The standardised approach would also facilitate informed decision-making by policymakers, investors, and consumers. They can support companies with lower emissions and encourage others to adopt more sustainable practices. Moreover, steel manufacturers would be supported in complying with evolving carbon reduction regulations and targets set by governments and international bodies.
Additionally, the new standard would stimulate technological innovation in the steel industry. Companies would be incentivised to develop and adopt new technologies and practices that reduce carbon emissions during steel production. It would also promote global collaboration and knowledge sharing among steel manufacturers, fostering a collective effort to combat carbon emissions and expedite the transition to more sustainable practices. 
What are the other standards out there?
In 2022, ResponsibleSteel launched a revised version of its responsible steel standard in a bid to decarbonise the industry. It intends to make companies within the steel value chain more accountable for their greenhouse gas emissions, thus incentivising the transition towards a decarbonised steel industry.
A year prior, the US and EU joined efforts in negotiating a new emissions standard for steel production. The goal was said to address carbon intensity and overcapacity on a global scale. The proposed measure would be the world's first carbon-based sectoral arrangement in trade agreements.
The two parties expressed their intention to conclude the negotiations on these arrangements within a two-year timeframe. The White House has stated that keeping highly carbon-intensive steel out of their markets will serve as a reward for steelmakers taking action to reduce carbon emissions. The objective is to promote and reward the production of low-carbon steel across all types of production, benefiting both the industry and its workers in the future.
Although the specific details are still under discussion, a key point of agreement is establishing a standardised method for measuring the lifecycle emissions of steel and aluminium. This standardised approach could potentially lead to imposing restrictions on the import of high-carbon products, similar to the EU's Carbon Border Adjustment Mechanism (CBAM).
SGV TAKE
The Steel Climate Standard is a positive step for the steel industry and sets a precedent for other industries to follow suit and underscores the importance of sustainability in the business world. Double standards, however, risk creating trade disputes and inconsistent regulations, fragment the market, delay emission reductions, foster greenwashing, and hinder global coordination. 
To avoid these pitfalls, it is crucial for governments, industry stakeholders, and international bodies to collaborate on a unified, science-based emissions standard that applies uniformly across the global steel industry. This standard should incentivise innovation, promote low-carbon practices, and align with international climate goals, fostering a collective effort to combat climate change.