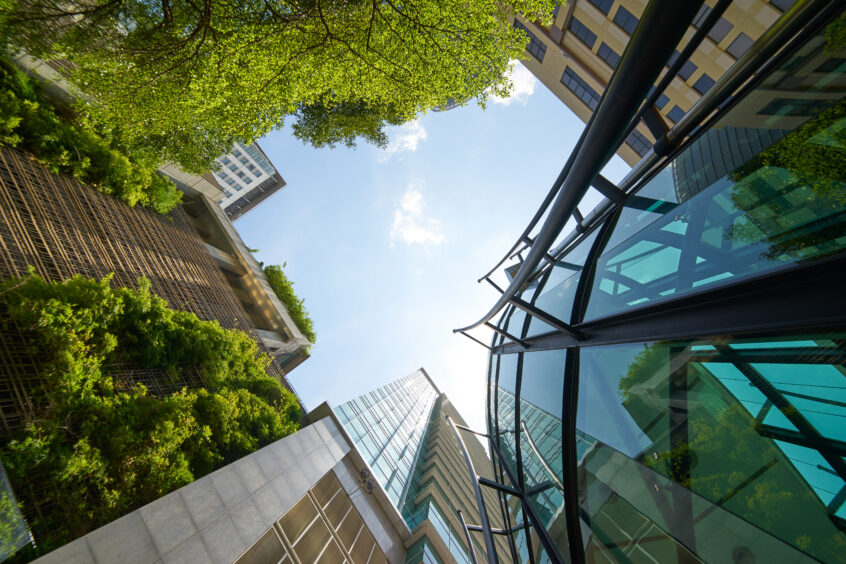 The Royal Institute of Chartered Surveyors (RICS) has updated its standard to give greater visibility to embodied, operational, and user-related carbon, among other updated features for a global framework to reduce lifetime emissions in construction. 
The RICS Whole Life Carbon Assessment Standard (WLCA) provides a new framework for measuring the lifecycle of CO2 in the built environment industry, now applicable globally and extended to cover all buildings and infrastructure through the built environment industry. 
With the construction industry responsible for nearly 40% of global emissions, effective and efficient carbon accounting  carbon budget management is critical to achieving net zero. 
The standard is set to take effect in July 2024 and mandates over 134,000 RICS members globally to follow the regulations set out when conducting WLCAs to reduce and optimise carbon emissions.
According to RICS, a global professional body for those working in built environment, construction, land, property and real estate, this is a uniquely comprehensive standard providing a whole-life carbon methodology for projects and assets that can be used alongside national and regional frameworks and in conjunction with global standards such as the International Cost Management Standards (ICMS) 3rd edition, ISO and EN standards.
Charlotte Neal, RICS director of surveying standards, said: "The built environment has been crying out for tools to measure its impact on climate change, which is crucial for developing mitigating practices to significantly reduce the industry's carbon output.
"By providing a consistent methodology to assess the carbon output of buildings throughout their entire lifecycle, the second edition of WLCA will significantly improve the industry's ability to measure and manage its impact on climate."
What is different about this standard?
The first edition of the standard was published in 2017 for the UK's built environment sector and mandated a whole-life approach to reducing carbon emissions in the industry. 
Following feedback from over 1,300 comments collected through public consultation, RICS and an author group of decarbonisation experts expanded and updated the standard to not only include visibility of embodied, operational and user carbon but also incorporate a more developed understanding of the carbon costs and benefits of design choices in the construction and infrastructure projects and assets. The revisions reflect advances in professional practice and updates to legislation and regulatory requirements.
Embodied carbon refers to the CO2 emitted in producing materials and could add up to 100 gigatonnes of CO2 by 2060 if no action is taken, according to research by Preoptima, a cloud-based software program for the construction industry. 
In addition, the standard addresses uncertainty in WLCA reporting by introducing the mandatory requirement to calculate and report a contingency allowance that accounts for unexpected variations in the assessments.
Building in a circular economy
The framework is designed to encourage long-term thinking through reuse, recycling and redevelopment and also includes better integration with existing software tools. This is expected to be a significant benefit for the SMEs that make up approximately 80% of RICS' members. 
To produce the standard, RICS worked in partnership with the Department for Transport UK and Zero Waste Scotland, a not-for-profit environmental organisation. Stephen Boyle, built environment manager at Zero Waste Scotland said: "This landmark publication will be a key driver for circularity as it provides a vital standard for assessing carbon over the whole life of a building. This whole life consideration prompts built environment professionals to confront the carbon impacts a building has before, during and after its use. 
The edition is aligned with the ICMS 3rd Edition, an international 2021 framework for carbon life cycle assessment and the Built Environment Carbon Database, the intended UK repository where the WLCA data will be submitted and stored for industry benchmarking and utilisation.
The global focus of this new edition is also hoped to encourage more nations to incorporate its methodologies into their regulatory structures. However, in the UK, a Net Zero Carbon Building Standard is being developed to incorporate the RICS WLCA methodology to set out metrics to measure net zero carbon performance, and determine the target and limits to achieve the same for building assets.
The RICS WLCA: Assessing the carbon life cycle of construction
Using the standard, surveyors can estimate the amount of carbon emitted throughout the life cycle of a constructed asset, from early stages of development through to the end of life. 
The standard centres on the core principles of being comprehensive, data-driven, consistent, practical, aligned and integrated carbon measurement standard and encompasses processes across the whole value chain for construction: 
Production: Raw material extraction, manufacturing, transportation

Construction: Transportation, assembly and installation

Operation: Use, maintenance, repair and renewal 

End of life: Deconstruction, waste processing, disposal 

Beyond asset life: reuse, recycling, energy recovery 
It aligns with UK's national and regional budgets and benchmarks to limit whole-life,  embodied or operational carbon values. The standard is not only relevant to surveyors undertaking carbon assessments, but also to clients, investors and property managers. Pro
The standard is expected to benefit a range of stakeholders. Firstly, professionals can optimise decisions to limit the whole-life carbon impact of buildings and infrastructure. These include quantity surveyors, cost consultants and building surveyors to designers, engineers and ESG consultants who are looking to meet client demand by measuring and managing carbon emissions reliably and consistently. 
Contractors and developers can use WLCA to help deliver against both government and client demands for the measurement of embodied carbon, net-zero buildings and infrastructure. Even financial decision-makers such as investors and lenders can gain a view of cost and carbon throughout the asset's life cycle to promote sustainable and low-carbon building and infrastructure environments. 
Building a net zero future for construction
Carbon reporting and accounting is central to climate action towards net zero in all industries, including construction. 
The built environment industry is responsible for a staggering 39% of global carbon emissions and over 50% of extracted material, a figure only expected to increase as the industry is forecast to grow by 42% by 2030.  Without significant progress in upgrading buildings by 2030, achieving net zero by 2050 will be in jeopardy. 
Boyle said: "Circular economy principles can provide a solution to this problem by encouraging the use of secondary materials to displace virgin ones, to use renewable low-carbon materials and to use digital tools, such as materials passports to create end-of-life value."
Although many businesses are concerned about the short-term inconvenience of investing in sustainable operations, investing in sustainability will pay off in the long term. This is not just in terms of individual cost savings in the business but in overall economic growth. In fact, a McKinsey report published in March 2023 revealed that decarbonising EU buildings could create two million new jobs by 2030. 
Addressing the materials challenge
Reducing emissions from concrete itself is also seen as central to a net zero future for construction, as it is responsible for over 8% of global carbon emissions. The ConcreteZero initiative launched in July 2022 involves global partnerships by conglomerates in the field committing to the use of 100% net zero low-emissions concrete by 2050.
Moreover, July 2023 saw an over $80 million investment led by Blue Earth Capital in low-emissions concrete produced by CarbonCure Technologies. Businesses can also now compare and pick sustainable materials from a catalogue launched earlier this year by Sustainable Minds, a cloud software and services company.
Bult environment will be a focus at COP28
RICS will be promoting the new standard at the upcoming United Nations Climate Change Conference (COP28), where the organisation is an accredited partner. 
Justin Young, RICS chief executive, said: "At this year's COP28, where RICS is a UN-accredited observer organisation, we will promote this standard and ensure it is at the heart of the built environment's crucial response to climate change."
SGV Take
Considering that the construction industry is a colossal contributor to global carbon emissions and urbanisation is expanding rapidly, investing in comprehensive carbon accounting technology is indispensable to reducing emissions.
This new standard provides a more holistic and advanced carbon assessment that accounts for embodied carbon as well, which will make it easier for professionals with built environment to deliver on net zero promises. Adopting such frameworks must become more widespread in the global construction industry for lasting change.