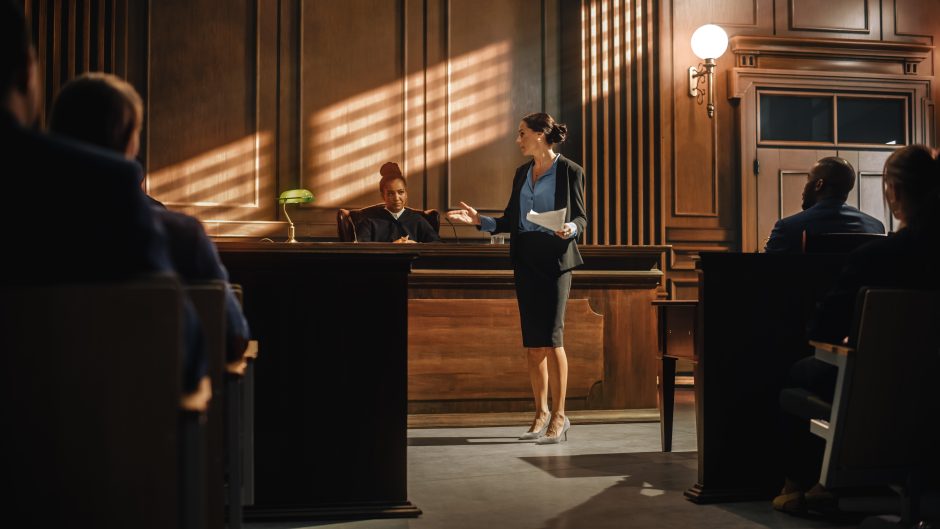 Most law firms are not prepared to deliver on the rising expectations in the Environmental, Social and Governance (ESG) area, Wolters Kluwer (AMS:WKL) found in a survey.
While legal services are increasingly harnessing innovative technology, the rise of demand for complex ESG legal services has been too rapid to keep up with. 
Global ESG regulation has jumped by 647% from 2000 and companies are facing increased pressure from stakeholders to improve ESG performance. 
Erring in ESG compliance and reporting can prove costly for both companies and law firms, and lawyers also require upskilling to deal with future demand. 
The rapid rise of ESG compliance and reporting across all industries has left a majority of law firms feeling unprepared to handle the demand, according to the Future Ready Lawyer Survey 2023 by Wolter Kluwers, a professional insights, software solutions and services company.

The company surveyed 700 lawyers in law firms, corporate legal departments and business services firms across the US, the Netherlands, Germany, France, Spain, Hungary, Italy, Poland and Belgium about key trends in the legal profession.
"The increasing importance of ESG does not only influence the type of legal advice and support provided by the legal industry to clients, it also increasingly requires the legal industry itself to consider what type of clients they serve, how they care for their own workforce, and what their own impact is on the environment," said Iris Wuisman, Professor of company law at Leiden University.  
Tightening ESG regulations open up billions in legal risk
In the journey to achieve the climate goals of the Paris Agreement, companies around the world are now facing significant stakeholder pressure to invest and be transparent about their ESG strategies. There has been a 647% spike in ESG regulations since 2000 and supply chain stakeholders are increasingly demanding transparency. 
More regulation means that there is a range of new compliance criteria, such as climate disclosure requirements, to which companies must adhere. Moreover, there is a transition from voluntary standards to stringent legal requirements in the space, according to a report by law firm Borden Ladner Gervais.
For example, since 2022, the UK has implemented mandatory reporting in line with the recommendations of the Taskforce on Climate-related Financial Disclosures and the European Commission has adopted the European Sustainability Reporting Standards as part of the Corporate Social Responsibility Directive. While the US Securities and Exchange Commission is yet to announce its requirements, California has passed a climate law that would require larger companies to report their emissions from 2027.
At the same time, businesses are failing to act on increasing ESG and climate risks to operations, with a study by Verdantix finding that only 50% of risk executives have incorporated sustainability factors into their risk management frameworks.
Looming on the horizon is a risk of billions in litigation costs for misleading stakeholders about their ESG performance or goals. Cases are on the rise challenging a new paradigm of corporate greenwashing involving unverifiable or unsubstantiated sustainability targets, and climate litigation has more than doubled in the five years to 2022 to 2,180 cases. In this environment, expert ESG legal guidance for corporates has become a strategic priority, according to Wolter Kluwers. 
A boom in dedicated ESG law practices 
The survey suggests that the demand for ESG guidance and expertise has continued to rise steadily between 2021 and 2023. For example, the US and the Netherlands saw a 59% and 47% spike in demand in 2023 respectively. 
Firms are also facing pressure to remain compliant with their own reporting requirements, improve ESG performance, develop sustainable credentials and shape policies. In fact, by developing robust ESG frameworks, they can demonstrate preparedness to provide corporate clients with expert legal advice.
In response, 60% of law firms have established dedicated ESG practices between 2020 and 2023. For example, Wolter Kluwers itself opened its corporate performance and ESG division in March 2023 to meet the growing demand from corporations and banks for integrated ESG performance, operational, financial and reporting solutions.
Half of the attorneys surveyed in 2023 also expect demand for ESG guidance to keep increasing in the next three years to 2026, a drop from 61% in 2022, while 45% said that demand would stay the same. Over 78% project more demand for specialisation including ESG and a decline in generalist work, and 81% consider recruiting and retaining talent for this as a key area of focus. 
Tech innovations bolster performance but ESG lags behind
Despite the increasing demand, 69% of law firms and 61% of corporate legal departments said that they are "not yet very prepared to fully deliver against expectations in the area of ESG". 
Moreover, only 31% of lawyers are prepared to keep pace with changing client needs. The report found that legal organisations in the US seem best prepared to meet client demand for ESG services (44%), followed by the Netherlands (38%) and Belgium (34%).
In terms of their own ESG performance, the firms also lagged on Diversity, Equity, Inclusion and Belonging (DEIB) training, with 43% of legal organisations found to have no formal training in the field. Nevertheless, 82% of lawyers work for organisations that claim to have a diverse and inclusive environment.
Law firms are, however, investing in the latest technologies to boost performance that can also support their ESG services. Almost half of law firms (46%) rank the need to use technology to improve productivity and efficiency as a top need to meet client demands.
One of the biggest trends to emerge from the analysis was that 73% of lawyers expect to be integrating generative AI into their legal work within the next year, and also said that they understand how it can be applied to their work. 
More lawyers in the Netherlands (65%) are convinced about the benefits of GenAI than legal professionals in the US (46%), Belgium (38%) and France (20%), and are more likely to see GenAI as an opportunity. 
SGV TAKE 
Considering that ESG reporting regulations are expected to continue growing, law firms must not only invest in developing their own ESG frameworks but also in training their lawyers in ESG, enhancing DEIB policies, and embracing technology to boost performance in specialised areas such as ESG. As increasing financial risks of extreme weather events threaten businesses worldwide, law firms must play their part in ensuring corporate compliance and addressing greenwashing that harms the planet.