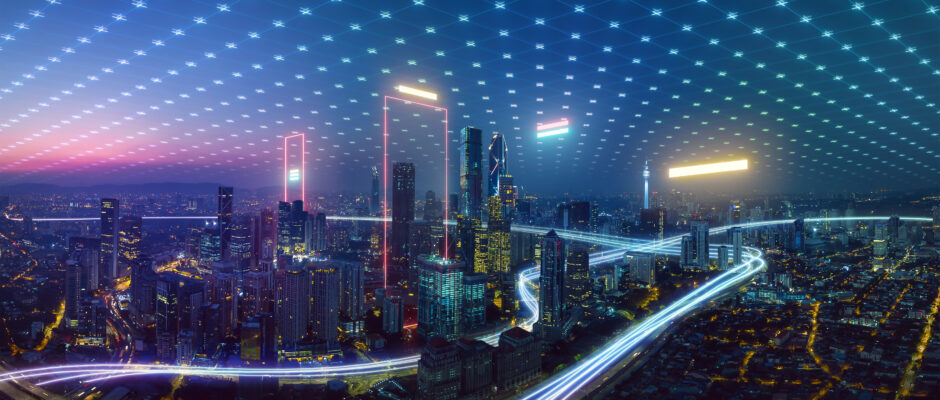 Salesforce (NYSE:CRM) has announced plans to collaborate on AT&T's (NYSE:T) Connected Climate Initiative (CCI), which will see AT&T Internet of Things (IoT) data integrated into Salesforce Net Zero Cloud to help the economy reduce overall emissions.
Salesforce SVP and global head of Sustainability says that he believes that business is the greatest platform for change, while climate change is one of the most significant differentiators in the competitive environment today.
By leveraging the specific expertise, tools and understanding in their complementary markets, the trusted data enabling connection between customers and suppliers can be transformational.
Connected Climate Initiative
The CCI is a collaborative effort that works on developing and using connectivity-based solutions to reduce greenhouse gas (GHG) emissions by 1 gigatonne by 2035.
The effort brings together corporate leaders, universities and non-profit organisations to harness the power of connectivity, including the IoT, 5G and edge computing, in order to reach this goal.
Measure and Monitor Carbon Emissions
One of the most fundamental tools companies require to achieve their net zero goals is being able to measure and monitor their emissions, as a first step towards managing and reducing such emissions.
As Mike Troiano, SVP of product and pricing, AT&T Business, points out, "By importing AT&T IoT sensor data into Salesforce Net Zero Cloud to track equipment data, businesses will be able to gain greater clarity and accuracy about their carbon footprint and where they can take action to lower emissions."
As an example of how CCI is helping reduce emissions through connectivity, AT&T and Salesforce have collaborated for AT&T to integrate its IoT sensor data into Salesforce's Net Zero Cloud, helping businesses – including large emitters – to track and reduce their own emissions.
AT&T to use Net Zero Cloud
AT&T will also use Net Zero Cloud to generate deeper insights into its own global carbon emissions.
According to AT&T, it has been reporting on its own GHG emissions since 2008, but the process has been labour-intensive and there has traditionally been a lag between when data is collected from emissions sources and when that data becomes available to decision-makers.
Since 2015, AT&T has been working on driving connectivity solutions to cut emissions, especially in sectors with large footprints, including manufacturing, energy and transport.
In one example, AT&T developed an IoT solutions to help companies to better track, monitor, control and optimise heavy machinery and equipment, such as bulldozers, forklifts and cranes.
Access to that data in a single view can help a business manage their performance more effectively, collecting and surveying equipment data, such as engine hours and fuel consumption of machinery, within Salesforce's Net Zero Cloud. With the emissions calculated within the system, businesses can better track their sustainability goals from the job site to the boardroom.
Other organisations turning to emissions tracking
AT&T is now in the process of migrating to Net Zero Cloud to streamline and improve timeliness and availability of emissions reporting.
Several other organisations, including JetBlue (LON: OJOT), Crowley, Clif Bar & Company and MillerKnoll, as well as the South Australian Government are already leveraging Net Zero Cloud to track their progress towards net zero.
"The world needs bold action beyond the scale of what any individual company can do alone," says Flynn. "When companies, customers and suppliers work together to reach shared climate goals, we can achieve transformative climate action at the scale and speed the planet needs."
The partnership is the latest move in Salesforce's overall sustainability vision.
To date the company has achieved net zero residual emissions through Scope 1, 2 and 3 – which constitutes two-thirds of the company's footprint. It has already brought on renewables equivalent to 100% of its energy consumption and is already half way to its decade-long target of planting 43 million trees.
Salesforce tracking carbon footprint
Salesforce built Net Zero Cloud to simplify and improve the process of tracking and reporting on its own carbon footprint.
This enabled the company to quickly track, analyse and report on emissions with reliable, investor-grade data, major steps on its journey to net zero – and it has a net zero target under the Science Based Targets initiative. That means prioritising internal emissions reduction, aligning its full value chain to 50% cuts by 2030 and near zero by 2050.
Only when this goal has been achieved can the company be net zero, but there is an important role in addressing climate change in removing as many emissions as possible as fast as possible.
The next stage in its climate action strategy is likely to be the launch of an emissions trading platform, with a quality floor for independently verified standards.
The core driver of the company's approach is the belief that no strategy should be ignored in tackling the climate crisis. Flynn says that "every industry, geography and company is facing a wave of change, one that either be ridden into the future or that will wash away those that are unprepared."