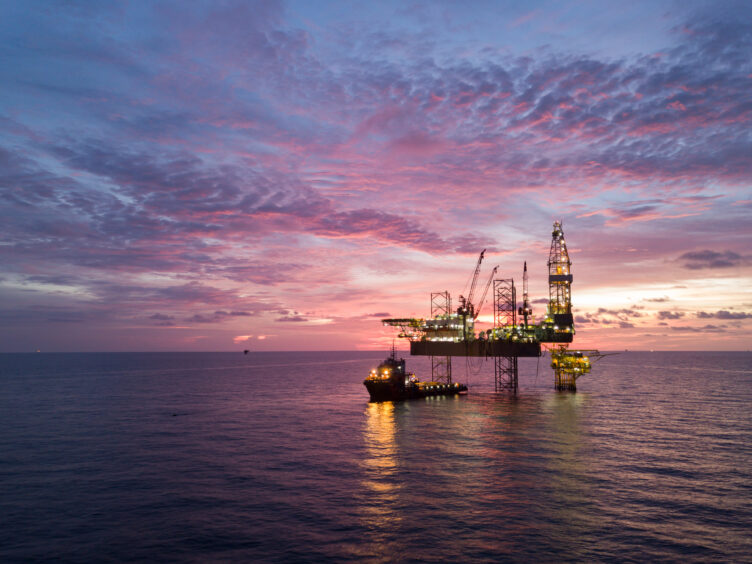 Scottish Greens have called on the UK government to halt development of the controversial Rosebank oil and gas field, in a bid to make 2023 a year of 'transition and change'.
Scottish Greens are asking to halt the development of the controversial Rosebank oil and gas field, operated by Equinor.
The party said that Westminster's support for the scheme and its intention to award new oil and gas exploration licences show an unwillingness to undertake serious action to combat climate change.
New oil and gas developments are inconsistent with net zero by 2050 scenarios.
Branding the west-of-Shetland development a "climate disaster waiting to happen", the Greens' energy spokesman called on Prime Minister Rishi Sunak to do "the right thing" and call time on the project.
In reply, the Scottish Conservatives blasted the party for what they described as a "reckless, uninformed obsession" which puts thousands of Scottish jobs at risk.
The SNP too suggested there was little point in refusing new production if it simply encouraged new energy imports, with potentially greater emissions.
Currently in the process of regulatory clearance, operator Equinor (OSLO:EQNR) is expected to reach a crucial final investment decision (FID) on the 300 million barrel field later this year – and with it a promised £8.1bn investment and more than 1,600 jobs.
However, as with the proposed Cambo development before it, the field has become a lightning rod for environmental and political clashes.
Scottish Greens energy and environment spokesperson, Mark Ruskell MSP said Westminster's support for the scheme, and its intention to award over 100 new oil and gas exploration licences across the North Sea this year, show an unwillingness to undertake serious action to combat climate change.
"We are already way past the point when we should have been moving away from oil and gas, yet Westminster is doubling down on it," Mr Ruskell said.
"2023 is a key year for our recovery and for our planet, and we cannot squander it. It must be a year of transition and change. That is what we are working towards with Scottish Greens in government here in Scotland, where we are investing in onshore wind and have banned new incinerators.
"Yet, with over 100 new climate-wrecking oil and gas exploration licences in the pipeline, and even a new coal mine in Cumbria, the UK government has been utterly unwilling to take the climate action that is so badly needed."
His comments echo those of Labour MP Dan Carden, who wrote to UK business secretary Grant Shapps in November urging him to reject the project before it begins production.
Declining North Sea production
As one of the UK's largest untapped oilfields, output from Rosebank could account for the equivalent of around 8% of the country's oil demand by 2030.
Equinor and its partners expect to invest £8.1 billion and employ up to 1,600 people over the life of the field, the majority of which will be within the UK.
Yet opponents have pointed to repeated warnings that global emissions must drop 43% by 2030 if the world is to remain on-track for a 1.5 degrees warming scenario – and that oil produced from the scheme will largely be sold for export.
In reply to Mr Carden, new UK energy minister Graham Stuart made the case for new projects like Rosebank.
"Even with declining demand, the natural decline of many of the UK's offshore fields means that the UK is likely to remain a net importer of both oil and gas," he said.
"A faster decline in domestic production would mean importing more oil and gas."
He said the matter of approving the development lies with regulators the NSTA and OPRED – though both organisations answer to the Department for Business, Energy and Industrial Strategy (BEIS), which he oversees.
'Reckless, uninformed obsession'
Responding to Mr Ruskell's comments, Scottish Conservative shadow secretary for net zero, energy and transport Liam Kerr, said: "Putin's war in Ukraine has highlighted just how important it is for Britain to have energy security.
"We've got world-leading standards and an industry that is fully on board with a careful transition away from oil and gas.
"But the Scottish Greens aren't really interested in energy transition — they just want to switch it all off now. That reckless, uninformed obsession puts tens of thousands of Scottish jobs at risk.
"Inflexible ideology won't power homes and businesses struggling to keep the lights on. And concocted constitutional grievance won't generate any sympathy for Patrick Harvie's brigade in Europe's energy capital."
Rosebank should be on 'equal footing'
Gordon MP and SNP spokesperson on International Trade, Northern Ireland and Wales, Richard Thomson, said the UK Government had already agreed as part of the North Sea Transition Deal that future oil and gas developments must pass key climate checkpoints.
"On that basis, Rosebank should be considered on an equal footing to any other new development in terms of balancing energy need with climate change impact," he added.
He too suggested the field would do little to offset existing declines, noting: "There's no point in closing off future exploration if it only leads to increased imports of oil and gas and potentially higher emissions elsewhere."
"The key to reducing reliance on oil and gas and effecting a successful transition to net zero at the present time is not to reduce the supply for oil and gas and hope that alternatives can fill the resulting gap, but rather to shift demand towards renewable alternatives and to then be able to meet that demand. That means rapidly accelerating our progress on decarbonising transport, domestic heating and industry and investing in those objectives accordingly."
"A just energy transition will only happen by stimulating demand for alternative energy sources and providing direct support for new technologies. The Scottish Government has put £500m on the table exclusively for the North East to help that process – the UK Government must match that commitment and also reverse its disastrous decision not to consent to the Acorn carbon capture project at Peterhead, which risks as many as 15,000 jobs going elsewhere."