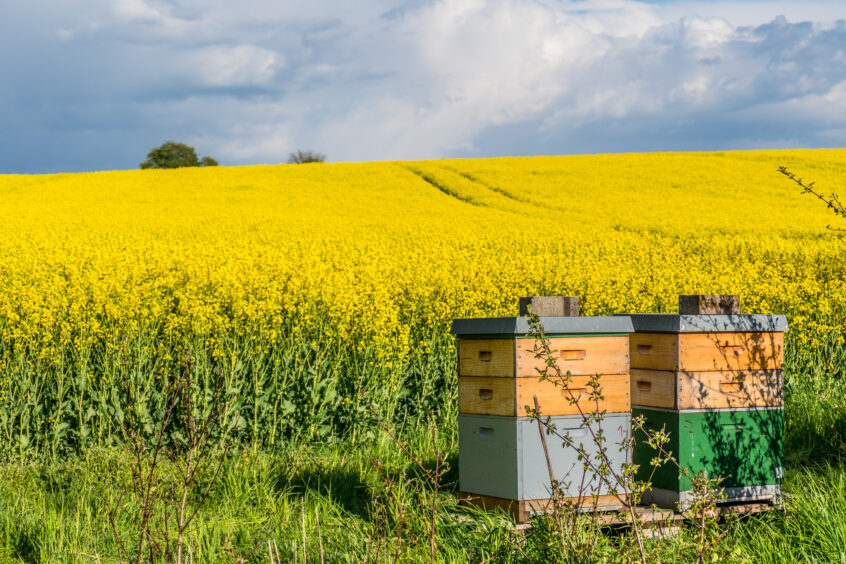 Pollinator Partnership has launched a new version of its Bee Friendly Farming Certification, giving its applicants the option of undergoing a third-party assessment. Independent verification will add credibility to the new label while highlighting the failings of the original scheme.
Applicants will be able to choose between the original Certification and a levelled-up version that has been independently verified.

 

Independent verification can strengthen consumers' trust in sustainability certifications.

 

When pursuing certification, businesses should carefully consider how their labels will be interpreted by relevant stakeholders.

 
Pollinator Partnership, a Californian nonprofit, has launched a new category of Bee Friendly Farming (BFF) Certification. Following an initial pilot with Danone's (PAR:BN) Silk Canada and Mars' KIND Snacks, applicants will be able to opt into third-party verification. 
"We are thrilled to partner with Silk Canada and KIND Snacks in this third-party beta-test of the Bee Friendly Farming Certified program," said Laurie Davies Adams, director of programs at Pollinator Partnership. "By working together, we can help build and enhance critical pollinator habitats across North America."  
The purpose of certification
Voluntary certification schemes, such as the BFF programme, are often promoted as a means of raising the standards of products and services. Successful applicants are typically rewarded with some sort of label that demonstrates their fulfilment of pre-established criteria, such as their adoption of sustainable processes and procedures. This label then helps them to differentiate their offering, capitalise on market demand and encourage others to follow suit. 
When developed and managed effectively, sustainability certifications can benefit multiple stakeholders. Downstream buyers and conscious consumers can easily identify the choices that align with their commitments or values, while suppliers stand to gain from increased demand and the opportunities of premium pricing. This encourages the adoption of sustainable practices and inspires their competitors to do the same. 
New certification offers more credibility…
The Pollinator Partnership has been administering the BFF programme since 2013, after acquiring its original founder. Its Certification is targeted towards farms, wineries, ranches and other types of commercial land use that are likely to impact the health of insect pollinators. 
For the original certification, each supplier's submission is reviewed by the BFF's administrative and coordinator team and the North American Pollinator Protection Campaign's BFF Task Force. Once approved, the applicant is entitled to use the BFF logo as long as they continue to pay their annual membership fees. 
This simple process, which is repeated every three years, is commonly referred to as second-party verification. Unlike a first-party system, suppliers are not allowed to self-certify. Since approvals are awarded by organisations that have an invested interest in increasing their membership, however, it does not meet the rigour of independent assessment. 
Now Pollinator Partnership has announced the launch of an additional option. From the summer of 2023, applicants will be able to opt into third-party verification. It will carry exactly the same standards as the regular certification, but compliance will be verified by an independent specialist body. 
The new option is to be beta-tested by two Californian almond suppliers whose produce is used by Danone's Silk Canada brand and Mars' KIND Snacks. Once approved, their products will be marketed with an adapted BFF logo that reads 'third-party verified' where it would previously have been labelled as 'certified'. 
"Pollinator Partnership's new third-party verification option will provide even more transparency for our consumers," said Lindsay Philpott, sustainability marketing manager at KIND Snacks. With research suggesting that independent verification can strengthen consumers' trust in sustainability certifications, this may well be a valid claim. 
Given that the purpose of certification is to differentiate one's offering and spark competition that leads to higher standards, the process becomes almost meaningless if it fails to influence consumers' behaviour. In recent years, however, the rise of corporate greenwashing and the sheer prevalence of competing labels has left shoppers confused and unconvinced. 
Despite their increasing desire to purchase more sustainable options, research by Deloitte has shown that only a quarter of surveyed consumers considers environmental labelling a trustworthy indication of sustainability. For as long as they remain sceptical, businesses will struggle to access the benefits of certification and may instead be accused of greenwashing. 
With this in mind, Pollinator Partnership's introduction of third-party verification could be seen as substantial progress. Its new logo will provide reassurance that claims have been independently assessed, reducing any doubts that stakeholders may have. 
…while highlighting the failings of what came before
There may be some issues, however, in that the BFF Programme will continue to offer its standard certification alongside the verified version. The two logos are almost indistinguishable, particularly when we consider that they will rarely be displayed side-by-side. 
This could add to consumers' confusion, as they may not understand which option ought to be seen as more credible. They may see one label on one shelf before coming across the other in a different store and wondering what on earth the difference could be. 
Furthermore, the launch of the new label could highlight the fact that the original version lacks the same rigour. Prior to the release of the latest option, one could be forgiven for presuming that the certification was already being independently verified. 
The logo itself is not explained unless compared with the third-party alternative. A simple graphic, its few words include the term "certified", which generally signifies the involvement of independent parties.  
Indeed, the International Standards Organisation defines certification as "the provision by an independent body of written assurance (a certificate) that the product, process, service, or system in question meets specific requirements". According to UKAS, the UK's national accreditation body, "certification is the third-party confirmation via audit of an organisation's systems or products". 
Following these definitions, it could be argued that the original BFF Certification has been entirely misleading. The use of unsubstantiated labels is among the most common forms of greenwashing and is unlikely to go down well. Although it is improbable that the standard system was intentionally deceptive, the launch of an additional option may lead to criticism of the entire programme. 
Responding to these concerns, the directors of Pollinator Partnership said that: "Bee Friendly Farming Certified is a rigorous set of science-based standards which must be met with either second party or third party verification. In each case, comprehensive evidence of compliance is required to be submitted for review and verification; it is not a self-certification."
"The two logos are visibly different, one for 2nd party (green with the word CERTIFIED) and one for 3rd party (yellow with the words "THIRD PARTY VERIFIED" inside the logo) and are used under a strict licensing agreement that requires approval of all uses to accurately represent the relationship."
"We offer these two verification methods for the same science-based standards so that we can save money for farmers – one of our goals is to keep all costs at a minimum; the practices are an expensive undertaking, especially for those for whom it is a new concept.  We strive to increase the farmer's investment in habitat and on-the-ground practices to promote pollinator health."
Nonetheless, history has shown that certification bodies are not immune from accusations of greenwashing, nor are the companies that trust the credibility of their labelling schemes. Such accusations can expose even certified businesses to various legal and reputational risks, so they ought to take care when assessing their options. By taking a more critical look at the BFF programme, there may be valuable lessons to learn.