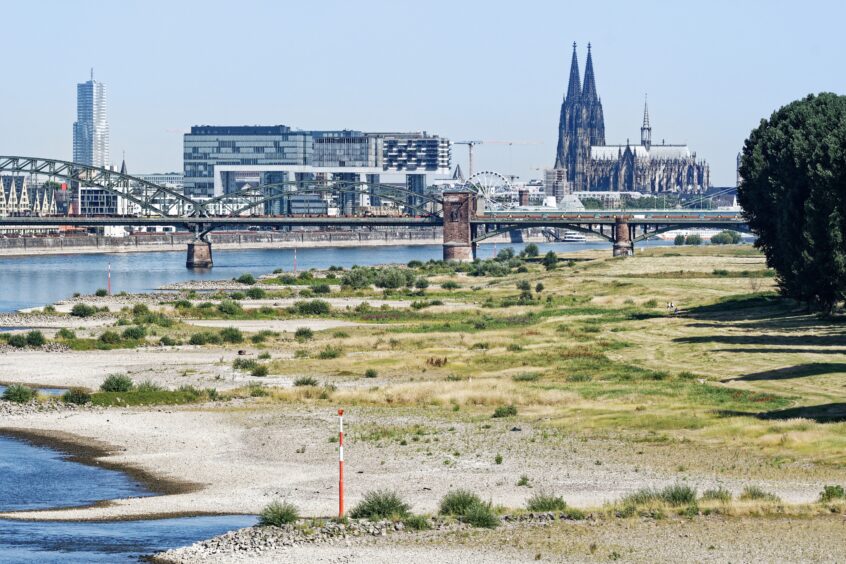 With droughts having an economic impact on the UK and EU of around €9 billion per year, a cost expected to increase to €65 billion a year by the end of the century, water management and water risk are rising up the agenda.
Water-related risks are a growing concern to investors and companies alike, with multiple sectors dependent on water supply for effective operations. Even under a net zero success scenario, drought in countries including China and Brazil is projected to triple.
Extreme weather is on the increase, with drought representing only 15% of natural disasters. Still, it is currently responsible for 60% of associated deaths.
While electric utilities, chemicals, oil and gas and mining are the top four thirstiest industries, many other sectors are also dependent on water – including agriculture, tourism, food and fashion/apparel.
Saturday 17 June is World Day to Combat Desertification and Drought, a day on which the UN raises awareness of the ongoing degradation of global ecosystems and its contribution to increasing instances of drought and the expansion of desert land.
There is growing concern that the unprecedented floods, droughts, and other extreme water events of the last year are not freak episodes but evidence of a systemic crisis that results from decades-long mismanagement of water. These concerns are translating into growing pressure for effective water management, and even replenishment, from water-consuming sectors because it is becoming impossible to separate what is essentially sensible environmental action from necessary corporate risk management.
As Laura Hoy, ESG analyst at Hargreaves Lansdown said: "Water scarcity might sound like a problem only for those concerned about the environment, but certain companies will also be at risk if droughts become more common. Investing in new techniques and more efficient water management is a must if these companies want to grow well into the future.
UN action on drought and desertification
As the UN Convention to Combat Desertification (UNCCD) says, "Drought puts livelihoods and ecosystems at risk and, in extreme cases, can trigger famine, displacement and conflict." Indeed, droughts were responsible for global losses of around $124 billion between 1998 and 2017. As things stand, it seems that only effective government action can alter the private sector's behaviour.
Yet, despite the fact that 70 countries in the world are regularly affected by droughts, only three countries had developed comprehensive action plans as of 2013. The UNCDD launched its Drought Initiative in an effort to combat this issue, alongside a Drought Toolbox including validated drought plans and aims to build systemic resilience.
In 2023, the UN Convention to Combat Desertification (UNCCD) is focusing on the role of women in sustainable land management. Women make up nearly half of the world's agricultural workforce, but they are the ones that suffer most when land is degraded. Still, discriminatory practices related to land tenure, credit access, equal pay, and decision-making often impede their active participation in sustaining land health. Today, less than one-in-five landholders worldwide are women.
What is water risk?
There are three main types of water risk to be aware of:
Physical risk: This boils down to a scarcity of water, a flood of water, or water than is unfit for use, usually through pollution.
Regulatory risks: These have historically arisen because of changing, ineffective, poorly implemented, or inconsistent water policies. With the focus on managing economic interdependencies, policies are likely to create a stricter regulatory environment.
Reputational risk: As central banks, investors and the public become increasing concerned about the climate, the environment and ecosystems, this will have an impact on stakeholder perspectives of corporate behaviour. The matter is likely to be of particular concern when raising money, or selling to consumers, as a perception of poor behaviour can result in loss of custom, decreased brand value or even changes in regulatory frameworks. In the end, it can even threaten a company's licence to operate.
It is increasingly accepted that global water scarcity is likely to drive fundamental industrial change.  The Global Commission on the Economics of Water (GCEW) published a report Turning the Tide: A Call to Collective Action, warning that the world will fail to achieve the targets of the Paris Agreement or the Sustainable Development Goals if it fails on water. At the same time, failure to achieve those goals will have a direct impact on corporate activity.
According to NGO CDP, '2.3 billion people currently live in water stressed areas, and since 1970, the world has experienced a dramatic 84% decline in freshwater biodiversity.' Global companies in key industries are already losing billions as a result of the global water crisis, with CDP's research concluding that $15.5 billion has been stranded, or is at risk. Its study focused on four case studies, taken from key sectors with high levels of water usage: oil & gas, electric utilities, coal, and metals & mining.
It is important to remember that financial institutions are exposed to these same water risks through their shareholding and lending activities. Indeed, the CDP analysis showed that the top 20 financial firms have provided $2.5 trillion in bond, loan, and equity financing to some of the world's most water-impactful companies over the past decade.
Water management brings opportunity too
There are benefits to be found, however, in effective water management. Further analysis undertaken by CDP showed how tackling water security offers companies unexplored commercial opportunities worth at least $436 billion. In contrast, the financial impact of water risks, such as shortages or pollution, came in at $392 billion. This was based on the companies reporting to CDP – the estimate was that the opportunity is actually over $1 trillion.
According to Hargreaves Lansdown, chemical giant Akzo Noble is a sustainability standout among chemical companies. In the chemicals sector, it may seem more important to address pollution risk – especially when trying to balance the trade-offs between environmental, social and governance risks.
The risk of hazardous chemicals leaking into the environment and causing health issues would appear to be more of a core strategic issue. Batting against the curve, however, Akzo Nobel  has already included water scarcity in its risk assessments and assigned board-level responsibility for addressing the matter.
This approach has led to a comprehensive freshwater consumption report as well as an ambitious goal of reusing 75% of its water by 2023. In order to get there, the group is tackling efficiency improvements at its most water-intense. As of 2021, 14 of the 47 sites were already reusing water. This push to cut down on water use means that the group is not only helping to protect our water supply, but it is also in a strong position to outperform in the longer-term as droughts become more common.
There are new opportunities too, in terms of access to capital. Mining giant Anglo American, for example, has made a commitment to cut its freshwater use in areas where scarcity is a risk by 50% over the next seven years. What makes this commitment interesting is that it has been linked to a green bond issued in 2022 under a new approach to financing such action.
Furthermore, the company has linked its water goals to executive performance measures, incentivising senior managers towards their achievement. Such a move is considered on of the key factors in delivering a credible plan for transformation.
Addressing water risk
Earlier this year, WWF launched tools to help assess not only biodiversity risk but water risk. The Biodiversity Risk Filter and the Water Risk Filter are screening tools for companies and financial institutions to assess their exposure to risks, helping them to make decisions that may enhance their resilience and sustainability at a corporate or portfolio level.
The WWF's tools differ in their scope and range of coverage of the aspects of each of the risk factors. The biodiversity risk filter includes broad aspects such as freshwater, marine, forest, grasslands and wetlands, and provides a high-level assessment of related risks. The water risk filter, meanwhile, includes specific indicators such as water scarcity, water quality, and fragmentation status of rivers, providing a more in-depth assessment of related risks, including operational risk assessment, and scenario risk assessment, along with high-resolution datasets.
There are other publicly available tools including Aqueduct from the WRI, The Water Risk Monetizer – designed by Ecolab, Trucost & Microsoft and WAVE (also from the WWF), and the offerings of various consultancies that are committed to helping companies through their water journeys. The main point that companies need to recognise  is that if they don't know their water dependencies yet, then it is definitely time to learn and take action.
SGV Take: