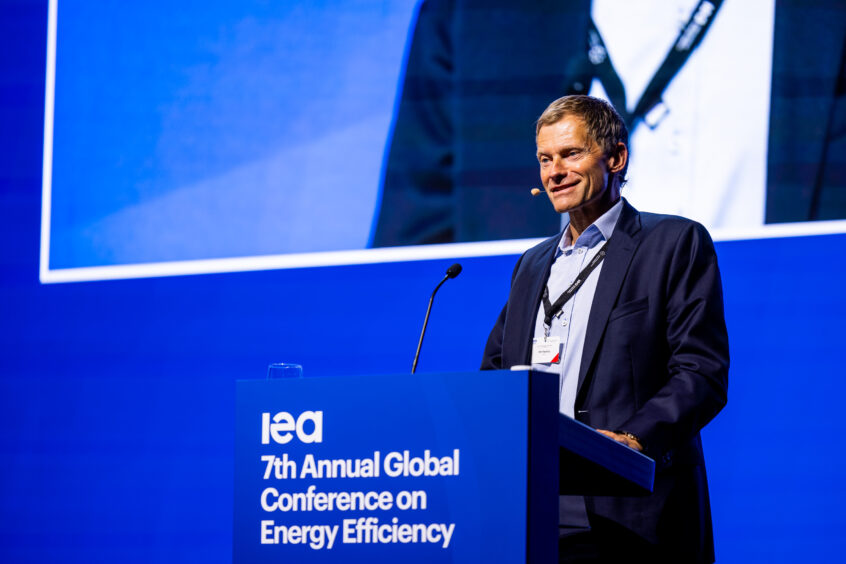 Danish engineering group Danfoss has published a white paper which argues that the prevention of energy waste should be on the table at COP27, and that energy efficiency should be a central element of emissions reduction plans.
Energy efficiency is expected to deliver 40% of energy-related emissions reductions by 2040.
Improving energy efficiency directly reduces costs for corporates and individuals.
While renewables are growing rapidly, they cannot scale at the pace necessary for emissions reduction by 2050.
The paper highlights the dramatic increase in global demand for energy and argues that, without urgent action to curb energy demand, the build-out of renewables will be insufficient to meet the needs of a growing population.
In its Energy Efficiency 2021 report, the International Energy Agency (IEA) says that total annual investment in energy efficiency worldwide needs to triple by 2030 to be consistent with a path towards the 2050 net zero goal.
"We consider energy efficiency to be the 'first fuel' as it still represents the cleanest and, in most cases, the cheapest way to meet our energy needs. There is no plausible pathway to net zero emissions without using our energy resources much more efficiently," said IEA executive director Fatih Birol. Front-loading efficiency measures into net zero strategies will be crucial for closing the gap between climate ambitions and current trends.
The neglected demand side of the green equation
President and chief executive of Danfoss Kim Fausing is committed to getting the message out on energy efficiency. He says that a global push for higher efficiency could lower energy bills, cut emissions and make economies more resilient.
Since 2007, Danfoss has reduced its energy intensity by 45% and CO2 emissions by 36%, primarily driven by energy-saving projects in some of the largest factories around the world.
For households alone, enhanced efficiency could help contribute to reducing global household energy bills by at least $650 billion a year by 2030 and support extra 10 million green jobs.
The Danfoss white paper, The neglected demand side of the green equation, says that while the substitution of renewables for fossil fuels is necessary, there is far more work to do. Even with huge build-outs of renewable energy, we simply will not have enough green energy to meet the demands of a growing world.
To grow the role of electricity in the energy mix it is a fundamental, yet overlooked, fact that it is imperative to reduce energy demand first. Green energy comes in peaks and is used in peaks. Energy efficiency shaves these peaks and reduces the systemic cost of electrification.
Energy efficiency is critical to managing energy demand growth, especially from cooling
While the pandemic reshaped the steep trajectory of energy demand growth, as economies recover demand is expected to increase, especially as demographics change and increasing temperatures drive an increasing need for cooling.
Cooling itself is increasingly considered a blind spot in mitigation discussions – energy demand for space cooling could more than triple by 2050, consuming as much as all of China and India today.
As the temperature heats up, more people are looking for cooling solutions. By 2100, research published in the Lancet warned that cities around the world could warm by 4°C on average, exposing the growing urban population to conditions that will damage human health, productivity, and quality of life.
In Germany today only 3% of people have air conditioning but that could change as temperatures change. In the US, the percentage of those with air conditioning is 90%. As emerging economies get richer, there are expectations of increased demand for air conditioning – everything from in-home systems to inefficient fans. The IEA has calculated that air conditioners and electric fans already account for 20% of the total electricity used in buildings around the world and up to 40% of emissions from energy-related sources.
Energy efficiency: doing more with less
Energy efficiency measures are about using less energy to perform the same task. Today energy is being wasted everywhere in buildings, transport and industry as illustrated in the Danfoss white paper, but we have the solutions at hand to stop energy waste.
Even in the current energy and cost of living crisis, the rate of improvements in energy efficiency is right now slowing down. Between 2017 and 2020, energy intensity has improved on average by 1% per year. That number needs to improve, however, with an expectation that there needs to be at least a 4% improvement in energy intensity in order to reach net zero.
The new energy-saving measures introduced by the German government are worth a look. While turning off the lights is a small step that makes sense, it is simply not enough. These measures will only reduce gas usage by 2% but Germany needs to reduce usage by 20%.  Before Russia invaded Ukraine, Germany got 55% of its gas from Russia but it has reduced this to 35%.
In order to get to 20%, much more stringent measures and efforts need to be applied. This can be done using energy efficiency solutions which are currently on the market, can be used immediately and have good payback times of less than three years.
One example of this would be the use of thermostats. Estimates show that around 70 million European homes do not have a thermostatic radiator valve and yet the IEA has stated that turning down the thermostat in the home by just 1 °C would save around 7% of the energy used for heating.
As Fausing says, not only is this necessary in the current energy crisis environment, but it makes good business sense and helps us reach climate goals.
Europe, and the world, need a rethink on energy efficiency
He adds: "Europe is following a one-sided approach to the energy crisis, focusing solely on the supply of energy, not enough on demand. For every dollar spent on energy efficiency, we can avoid spending more than 2 dollars on energy supply. The technology is available, and energy efficiency solutions can be used today across all sectors. If we don't act now to address the growing demand for energy it will be extremely difficult and more expensive to meet the Paris Agreement goal of staying below 1.5 degrees warming."
If we don't act now to address the demand for energy, it will be extremely difficult and more expensive to meet the Paris Agreement goal of staying below 1.5°C warming. Given that efficiency goes hand in hand with a reduction in emissions and costs, it behoves governments to take action today.