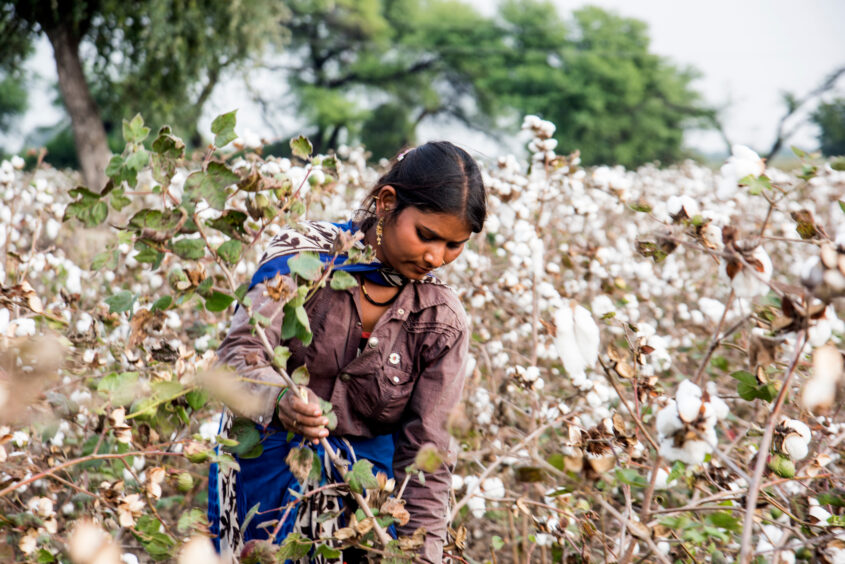 International sustainability network Solidaridad has partnered with the Centre for Responsible Business to launch the regenagri Cotton Alliance, bringing cotton stakeholders together to promote the adoption of regenerative farming across India. 
The alliance will involve projects expected to avoid at least one million tonnes of greenhouse gas emissions, while supporting the livelihoods of over 500,000 smallholder farmers.

 

Cotton production currently accounts for 220 million metric tons of carbon emissions each year, but also provides the income of around six million Indian farm workers.

 

Collaboration will drive the alliance's success, providing a model approach that could be scaled across various regions and commodities.

 
The regenagri Cotton Alliance (rCA) will be jointly managed by Solidaridad Asia and the Centre for Responsible Business (RCB), an Indian think tank working to promote sustainable business practices. It will bring multiple stakeholders together under various partnership projects to support the adoption of regenerative cotton farming across India. 
From its scheduled launch on 29 November 2022, the rCA will focus on a number of key areas. These include protecting soil health, supporting farmers in accessing technological solutions and establishing connections between cotton growers, processors, brands and consumers. 
Overall, the rCA's projects are estimated to avoid at least one million tonnes of greenhouse gas emissions while improving the livelihoods of more than 500,000 smallholder farmers. The Alliance is also expected to support global brands and retailers in achieving their net zero targets, as it will help them to engage in sustainable cotton sourcing. 
"Regenerative Agriculture practices are in line with the traditional knowledge of our ancestors. It is particularly pertinent for the cotton sector, known as 'Tula' in Sanskrit which also means balance or equilibrium. Our goal is to bring this equilibrium of economic benefits to the Indian cotton farmers while helping sequester carbon – all the while stabilising the security of international textile and apparel supply chains through fostering resiliency in land and communities", explained Dr. Shatadru Chattopadhyay, managing director of Solidaridad Asia.   
Transforming India's cotton industry
The cotton industry is associated with a range of environmental problems. Indeed, cotton production accounts for around 220 million metric tons of carbon emissions each year while also consuming vast amounts of water, synthetic fertilisers and other resources. In order to accommodate global demand, cotton farms are typically established as monocultural plantations that reduce biodiversity and contribute to soil erosion. 
Changes in the global climate are, in turn, placing the cotton industry under severe pressure. By 2040, estimates suggest that one-third of India's major cotton-growing regions will be highly exposed to rising temperatures, changes in rainfall patterns and extreme weather events.  
These impacts are likely to be accompanied by socio-economic problems such as multidimensional poverty, reduced labour productivity, lower literacy levels and limited access to banking services, technology and information. Ultimately, climate change threatens the incomes of the six million people that currently work on the country's smallest farms. 
Around 86% of India's farmers are categorised as small or marginal, typically owning less than two hectares of land. At present, many of these farmers have limited access to the technology, inputs, credit, capital and market connections that could enable them to build their resilience against climate change. 
By expanding smallholders' adoption of optimal farming practices, however, India's cotton industry could ensure that vulnerable communities are supported in protecting both their local ecosystems and their societal well-being. The adoption of regenerative farming techniques could be key to unlocking these benefits and reversing the negative environmental impacts of cotton farming.  
Through such techniques, soil health can be improved, increasing their carbon sequestration capacity while conserving their biodiversity. With healthier soil, farmers can increase their yields and secure their incomes long into the future. There is a building body of evidence to back this approach, with studies concluding that sustainable cotton farming can reduce water consumption, ecotoxicity, and greenhouse gas emissions, while simultaneously improving farmers' health and enabling them to access higher prices for their produce.  
As such, regenerative agriculture is now being considered a sustainable alternative to conventional agricultural systems, particularly when it comes to balancing the interests of smallholder farmers with the revival of natural systems for sustainable production. 
Maximising the support of the Indian Government
As an agrarian economy with 54% of its land categorised as arable, India is highly dependent on its agricultural industry. The sector represents more than half of the country's labour market, accounting for 18.8% of its gross value added in 2021-22. 
This could be behind the country's recent support of its domestic farmers. The Government has, for example, signed a series of agreements with partners including Cisco (NASDAQ:CSCO), ITC (NSE:ITC) and Microsoft (NASDAQ:MSFT) with the aim of integrating its agricultural sector and helping smallholder farmers to access various support schemes.  
Through its collaborative approach, the rCA will engage with this political support. Solidaridad and CRB plan to engage with government authorities to develop synergies between the Alliance's projects and the Bharatiya Prakritik Krishi Paddhati Programme, an extensive funding scheme launched under the National Mission on Natural Farming. 
Capitalising on private sector demand for sustainable cotton
The rCA also intends to capitalise on the private sector's demand for sustainable cotton. As CRB chief executive Rijit Sengupta explained: "There is increasing interest not just among global buyers/brands but also domestic players in this sector in regenerating natural systems and supporting smallholders. We hope the private sector will respond positively and join this initiative."  
Indeed, improving the sustainability of cotton farming will be critical in addressing several challenges within the retail industry. The continuity of businesses ranging from the fashion industry to home goods is dependent on the resilience of their supply chains, which are currently exposed to significant climate-related risks. 
Even with guaranteed supply chain security, businesses will suffer if they are unable to accommodate the growing consumer demand for more sustainable products. As regulators begin to crack down on unsubstantiated sustainability claims, retailers will have to double down on their efforts to purchase environmentally friendly materials if they are to avoid reputational damage and potential legal penalties. 
A collaborative approach for collaborative success
Solidaridad and the CRB's approach to the expansion of regenerative cotton farming demonstrates a clear understanding of the systemic interconnections between the environment, the economy and society at large. 
Given the broad consensus that sustainable development can only be achieved by adopting a holistic perspective that accommodates these interconnections, it seems likely that the Alliance's success will be determined by its ability to deliver the collaboration it promises. By engaging smallholder farmers, governmental authorities and global businesses alike, the Alliance could provide substantial benefits for each party involved. 
Although the Alliance will initially focus on the Indian cotton sector, Solidaridad and CRB have noted their intention to expand the approach to include other geographies and commodities. If they are able to do so, there is some hope that their model will serve as an example of how collaborative solutions can drive the sustainable transformation of commodity supply chains on a global scale.