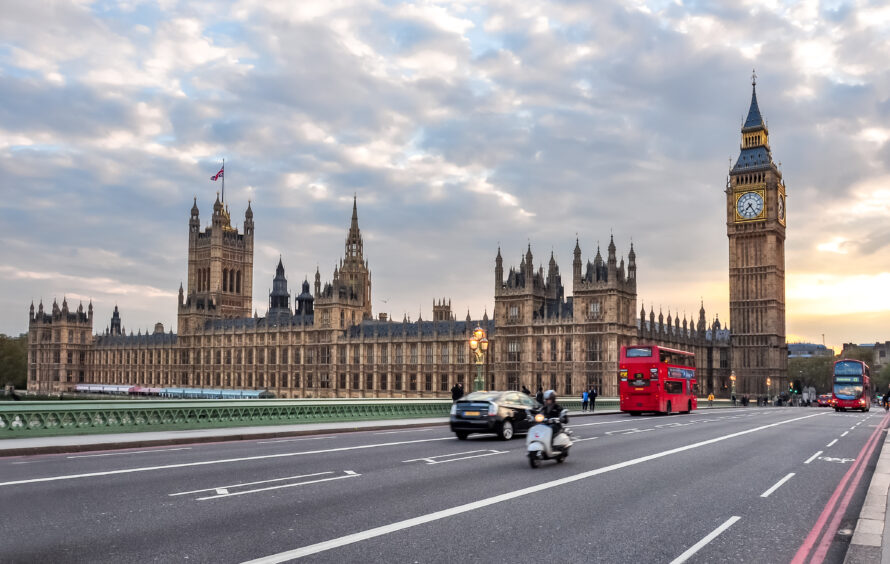 MPs challenged the government over its energy efficiency performance and the continued licensing of new oil and gas fields, while a government minister reiterated a continued need for fossil fuels.
The UK government has been challenged over the continued licensing of new oil and gas fields.
Green MP Caroline Lucas said that it is not legitimate to justify new oil and gas licences by saying that they are needed. 
Even though some say there is a continued need for oil and gas in the energy transition, new fossil fuel developments are inconsistent with the Paris Agreement target.
In a Westminster Hall debate convened by Green MP Caroline Lucas, she and several cross-party MPs linked skyrocketing bills with the rising cost of fossil fuels, and pressed the government to do more to help the most vulnerable.
Yet energy minister Graham Stuart defended the government's record on household efficiency upgrades and told critics to "get real" on the continued need for oil and gas under net zero.
In her opening remarks Ms Lucas congratulated the Scottish government on its newest energy strategy and its "presumption against" new North Sea exploration, and made a case for the direct link between the price of commodities and the pain felt by consumers and businesses over rising living costs.
"We know that getting more new fossil fuels out of the ground is driving both the climate crisis and – ironically at a time when gas is nine times more expensive than renewables – it is also driving the cost of living crisis as well," she told the hall.
While she commended the government's extension of the Energy Profits Levy (EPL) in the Autumn Statement, she said it was "genuinely incomprehensible" it had failed to remove what she termed a "gas giveaway" – tax incentives which enable producers to claim £91.40 in tax relief for every £100 invested, increased to £109 for every £100 spent on upstream decarbonisation.
"In other words, we are paying the oil and gas companies to do that decarbonisation, which they themselves should be paying for," she added. "They are not broke, they are literally saying they've got more money than they know what to do with.
"I suggest that they start actually paying their own way for a start. New oil and gas extracted from the North Sea will neither deliver energy security nor bring down bills, but will inevitably come at huge cost to the taxpayer."
It follows a recent report from the cross-party Environmental Audit Committee, which warned it had "significant reservations" about the extent of financial support provided by the Treasury through EPL investment allowances.
The industry has repeatedly noted that such allowances are only applicable if operators have new projects in which to invest. The current regime means that firms without a major forward spending pipeline – such as Harbour Energy, the UK's largest producer – will be left particularly exposed to the new 75% tax rate.
Rosebank support 'baffling'
Ms Lucas suggested Equinor's Rosebank field would be a prime beneficiary of these incentives, citing figures from pressure group Uplift that imply the operator would be eligible for around £500m of tax rebates if the 300-million-barrel field was developed – a state of affairs she found "baffling."
It comes as her party's Scottish arm urged Westminster to halt the development this year, branding it a 'climate disaster'.
Hitting back at those who advocated for Rosebank's potential contribution to energy security, Ms Lucas added: "This is not about immediately turning off the taps as ministers like to suggest – it is not legitimate for the government to justify new oil and gas licences by saying that they are needed. It does not reflect the reality of the situation."
She also echoed the EAC's recommendation that the government consult on a "clear end date" for oil licensing, and pressed the administration to end its legislative duty for maximising economic recovery (MER) duty.
'Reality' check
Responding to the debate, energy and climate minister Graham Stuart hit back at what he called an "absurd worldview" from opposition parties including the Greens and SNP, and urged them to "get real" about the "reality" of the energy mix and the continued need for oil and gas within a wider energy transition.
"The reality is that this economy, like every developed economy in the world is dependent on fossil fuels today and it will be all the way through to 2050 under net zero.
"Pretending it isn't doesn't serve those people who are suffering."
Mr Stuart also defended the government's record on the build out of renewables and on energy efficiency upgrades, stating that under its time in power the percentage of homes with a minimum EPC 'C' rating had risen from 14% to 46% today.
He contended that North Sea exploration was driven by demand for oil and gas – not the other way around – and pointed to a recent agreement signed by BP, Equinor and Ithaca Energy to co-operate on the electrification of major fields west of Shetland as emblematic of the sector's transition.
"We are a net importer of oil and gas and we will continue to be – new licenses simply help us manage a fast-declining basin," he added.
"It is the demand signal that we need to eradicate, not worry about whether Rosebank or Cambo or anything else goes ahead."