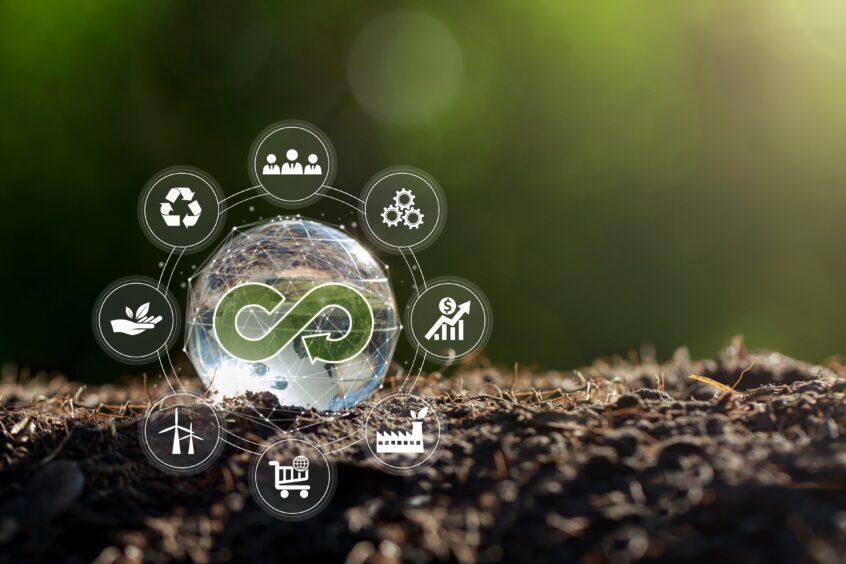 Circular business models offer a wide range of opportunities to improve organisational competitiveness, increase profitability and contribute to the development of a sustainable global economy. In this article, we provide an explanation of what these models may involve and how companies can optimise their implementation. 
Circular business models can incorporate a wide range of approaches, ranging from waste valorisation to the introduction of services that go beyond the provision of physical products. 

 

There is a growing business case for the transition to a circular economy, with companies introducing new revenue streams while strengthening their appeal to consumers and ensuring compliance with emerging regulations.

 

Given the variety of potential strategies, there are several factors that companies should consider when developing successful, circular business models.

 
Today's economic systems are largely based on a linear process of resource extraction, intensive production, excessive consumption and the wastage of products that have yet to fulfil their true value.
This model is simply not sustainable under a 1.5°C scenario, and is beginning to come under intense scrutiny as the world faces crises ranging from climate change and biodiversity loss to pollution and public health. 
The transition towards circularity provides an alternative model, through which the consumption of finite resources is separated from economic activity. Its core principles include the elimination of waste and pollution, the regeneration of nature, and the circulation of products and materials that retain their value throughout their lifecycle. 
Business model innovation will be critical in driving the development of a circular economy, enabling a systemic shift in organisational logic and the alignment of values between various stakeholders. Companies that are committed to addressing major global challenges and remaining competitive in the long term must develop new modes of operation, which will allow them to consume fewer resources while maximising the value of their activities. 
Doing so will require them to rethink their value propositions and develop new value chains that are financially viable, efficient and accommodating of market demand. Such an overhaul of conventional business models offers a vast range of opportunities, which can be unlocked through careful consideration of the most appropriate strategy. 
Circularity comes in a range of forms
The circular economy represents a new way of thinking, through which products, services, processes and systems are designed to function in closed loops that eliminate both the production of waste and the need for ongoing resource extraction.  
For businesses, the challenge is to maintain these loops while continuing to extract their maximum value. This can be done by ensuring that resources are used as many times as possible, by as many people as possible, or transcended altogether by shifting from physical products to offering additional services that address the consumers' needs. 
Each of these approaches represents a range of potential business models that allow companies to thrive while supporting the transition to a more sustainable economic system.  
They may choose to incorporate circularity by extending their product's lifecycle through durable design, or through the provision of repair and replacement services. Alternatively, they could opt for end-of-use strategies such as reuse, refurbishment or recycling. This would likely involve the development of reverse logistics and manufacturing processes, through which value can be captured by gaining access to secondary markets or minimising the costs of acquiring virgin materials.  
A third strategy is a shift towards shared ownership, such as through rental models. This typically requires the intensification of services and relationship management, but can provide a valuable source of recurring revenue. Through such models, businesses can reduce the idle time of each product and allow it to be passed on to additional customers rather than being disposed of by individuals that no longer have use for it. 
Finally, circular business models can dematerialise their operations by replacing the use of physical products with intangible solutions such as services or software. Companies choosing this strategy may wish to develop new pricing mechanisms such as package deals, tailored contracts or subscriptions that can deliver ongoing revenue while providing valuable insights into their customers' needs and desires. 
When developing circular business models, it is important that companies do not feel limited to a singular approach. Many of these strategies can be combined, adapted and refined to offer countless opportunities for the development of a prosperous, sustainable economy. 
How can companies benefit from the introduction of circular business models?
As the urgency of developing a more sustainable economic system has become increasingly apparent, the business case for circular strategies has grown stronger. With a wide range of advantages to be gained, it comes as no surprise that Goldman Sachs (NYSE:GS) has predicted a major uptick in corporate spending on circular initiatives. 
By creating new revenue streams, whether through the sale of waste materials or the introduction of new services, companies can increase their profits, generate higher profit margins and establish a loyal base of repeat customers. Indeed, consumer demand is likely to be one of the key drivers in the transition to circularity, as businesses seek to gain market share by offering sustainable choices that align with the values of upcoming generations. 
Furthermore, the implementation of circular business models can deliver savings on outgoing costs. Through improvements in resource efficiency, for example, companies may be able to reduce or eliminate the expense of waste management. Better resource management could also allow them to tackle age-old challenges, such as the issues associated with inventory management. 
Circular business models may also be useful in reducing companies' exposure to legal and reputational risks. Governments are beginning to adopt new legislation, making it obligatory for businesses to implement more sustainable approaches to product design and circular waste management. Those that fail to comply with these emerging regulations may find themselves named, shamed and penalised, while those that have made a head start stand to receive greater support for their progress. 
Finally, the development of a circular economy presents new opportunities for collaboration. The boundaries between different industries may become blurred, as what one considers waste could serve as a valuable resource for another.  
Examples of this can already be seen through the conversion of brewery waste into alternative proteins or the transformation of wasted coffee grounds into ingredients that provide an alternative to palm oil. These developments highlight the benefits that can be gained when different sectors come together to create a more sustainable future that can be enjoyed by each and every one of us. 
What to consider when developing a circular business model
Given the variety of options available, there are a number of factors that companies should consider when developing the circular business model that is best suited to them. By carefully assessing their capabilities, resources and limitations, they will be able to able to optimise their approach and maximise its opportunities. 
Firstly, new business models require new ways of measuring success. Where many companies would typically assess their performance according to sales volumes, circular businesses must reframe their approach to allow for alternative sources of revenue. For example, they could choose to focus on improving their customer experience, enabling them to build a community that will offset any shrinkage in purchase orders by opting for a lengthier engagement with follow-on services. 
Product design is another key factor in the development of circular business models, as those with too short a lifecycle will be poorly suited for strategies involving shared or repeated ownership. Items that have been designed with durability in mind, on the other hand, lend themselves to an extended cycle of value generation.  
A second consideration in terms of product design is the choice of materials used. By ensuring that each component can be separated or extracted, manufacturers can contribute to the optimisation of recycling processes. 
Supply chains must also be adapted, as the linear system has largely been based on one-way production and distribution. The circular economy, in contrast, will rely on local and global networks that can facilitate a new range of follow-on services and material recovery.  
Ultimately, circular business models can only be truly sustainable if they are able to consistently generate value while refraining from ongoing resource extraction. As such, companies should not forego standard practices such as market research or cost-benefit analysis, as doing so will simply result in their demise.  
Rather, they must add to their business development process and continue to ask questions that will lead to their innovation. Although there are common practices that have come to be recognised under circular frameworks, the sheer joy of the circular economy is its lack of bounded beginnings and ends.  
With this in mind, companies that seek to leverage the opportunities of circularity should move forwards with equally open minds.