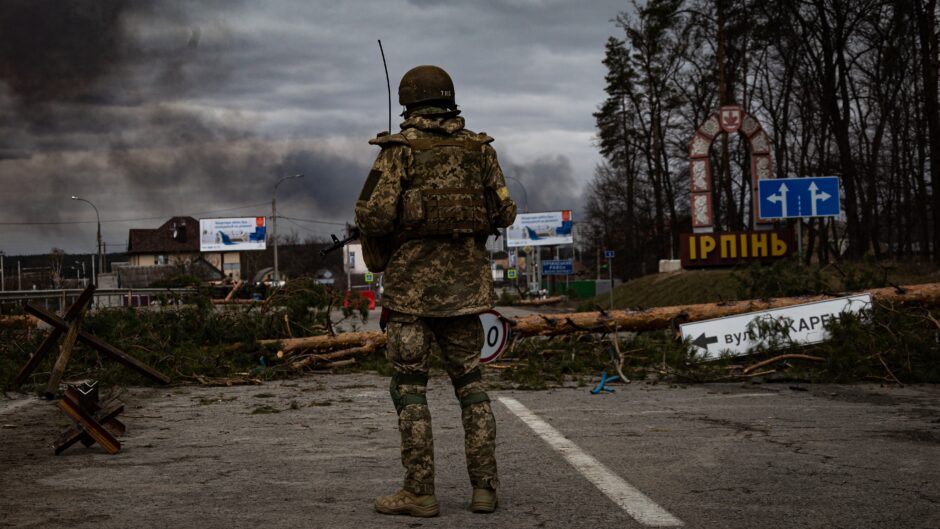 The newly launched Ukraine Nature-based Solutions Hub is intended to support the war-torn country in rebuilding sustainably, as campaigners push for the use of Nature-based Solutions (NbS).
The new hub was created by EU-backed NetworkNature and WWF-Ukraine.
The cost of environmental damage caused by the war is estimated at more than €48 billion and the conflict is hampering Ukraine's efforts to reach its climate goals.
Using NbS can benefit sectors such as forestry, water management and agriculture, as well as address societal challenges.
NetworkNature is a Horizon 2020-funded coordination and support action bringing together EU-funded research and innovation projects on NbS. It is a resource for the NbS community, creating opportunities for local, regional and international cooperation to maximise their impact and spread.
How will the hub help Ukraine?
The Ukraine NbS Hub is intended to lay the groundwork for a post-war reconstruction and recovery that includes NbS. The idea is to make communities, ecosystems, agriculture, and water management nature-positive and resilient to climate change, while providing people with green jobs and new, sustainable economic opportunities in an inclusive and fair way.
The initiative will also facilitate stronger networks between the EU and Ukraine's research and innovation actors and explore cooperation under relevant Horizon Europe calls. 
It follows the launch of a Ukrainian-language NbS platform by WWF-Ukraine in October 2022, providing information, methodologies, and best practice for those responsible for strategic planning and practical implementation of NbS. The NGO also established a youth-oriented leadership programme, an open training course and a small grants programme.
The damage of the war
There are various estimates of the financial damage caused by Russia's invasion. The economy has been hit by $700 billion, replacing the infrastructure will cost $138 billion, while the environmental damage could be over €48 billion.
UNEP said in 2019 that the environment is "the silent victim of armed conflicts worldwide". In fact, its impacts can spread far and wide across ecosystems and society: destroying industrial and commercial infrastructure can contaminate water sources, as well as lead to water shortages, with chances of radiation leakage from nuclear sites.
Shelling and explosions are affecting air and soil quality as well as leading to large-scale deforestation and even wildfires. In the short term, this is impacting agriculture, which has already had ripple effects across the food system, and, in the long term, there are fears of biodiversity loss and species extinction.
Moreover, the conflict is directly hampering efforts to deal with aspects such as climate change, sustainable development goals, conservation and protection of biodiversity, and pollution control at local and global levels. For example, countries looking to wean off Russian oil have looked for supplies elsewhere, driving prices up which in turn have pushed producers to drill for more fossil fuels – although the need for diversification has led to more investment in cleaner energy sources. 
Domestically, Ukraine is under further pressure of meeting its goals of greenhouse gas emission reduction by 65% by 2030 and climate neutrality by 2060.
Rebuilding sustainably
In general, NbS are considered crucial to countering the devastating impacts of pollution, resource extraction and climate change – and the same can be applied to the consequences of the war. The WWF has been already working on this, having presented in November 2022 those NbS that are likely to have the largest positive impact in the sectors of agriculture, forestry and water management, and which reform processes are needed as a prerequisite for success.
Since July 2021, WWF-Ukraine has been facilitating a stakeholder discussion on how climate-related NbS can be applied in Ukraine. This work has been carried out through the INSURE project funded by Sweden and implemented in cooperation with WWF Central and Eastern Europe, WWF-Sweden, and WWF-Poland. 'INSURE' stands for movIng Nature-baSed climate solutions into Ukraine's Reform agenda.
After the onset of the war in Ukraine in February 2022, the project goals were extended to consider the context of post-war reconstruction. Humanitarian and economic recovery has taken the lead, but environmental recovery will be just as important. According to the WWF, addressing it by implementing NbS can help restore the damaged environment, sequester and store carbon, and provide the basis for sustainable economic development.
Although it is a relatively new term, it has already been used in certain practices, such as the restoration of rivers and forests. Campaigners are asking that legislation is amended to include NbS, which is expected to benefit forestry, water management and agriculture sectors, as well as address societal challenges and help the country in achieving its climate goals.
They are asking to restore Ukraine by working together with nature and not against it, which will achieve climate objectives and sustainable development goals as well as reduce the negative environmental impacts of the war. The WWF is calling for financial incentives for nature-friendly practices and support the development of human capital, Ukrainian science and education, with the view of building up a fair and inclusive society.
Considering that the nature markets have been valued at $7 trillion, it could be a compelling opportunity for both Ukrainian and foreign businesses and investors.