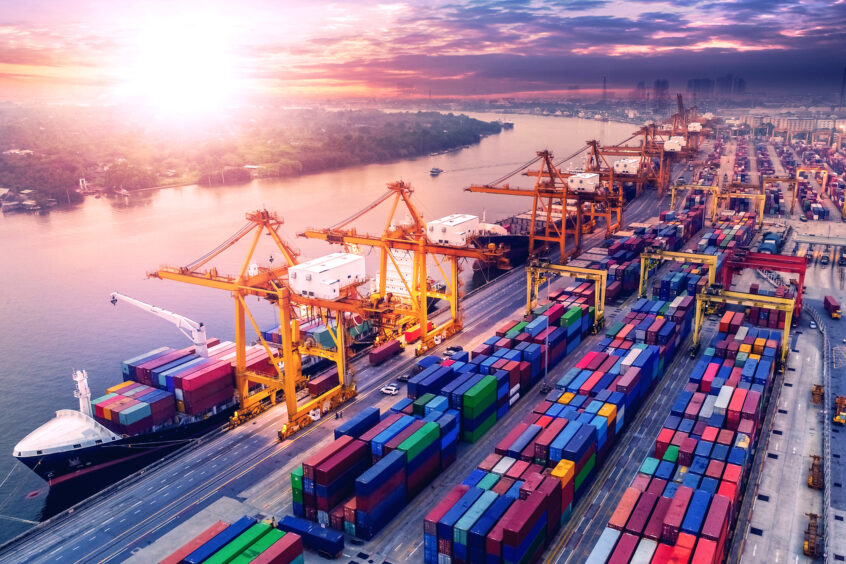 Supply chains are already under significant pressure, but there's more to come. Tony Player, domain principal, supply chain at Anaplan, explores how companies need to prepare for climate change.
Supply chains, already bruised and battered from years of pandemic-driven disruption, are facing further pressure from climate change.
The effects of a rapidly altering and highly unpredictable climate pose a serious threat to supply chains globally, but especially in the UK.
To ensure a sustainable future, business leaders should identify vulnerabilities, collaborate with partners and suppliers and ask the right questions to address their company's requirements.
While the latest GDP data reveals that the UK narrowly avoided a recession in 2022, business leaders are actively preparing for a likely downturn in 2023. That means putting a greater emphasis on effective and efficient operations as businesses push to remain resilient in the face of continued economic uncertainty.
For supply chain leaders, the emphasis on resilience drives a unique sense of pressure. Supply chains, already bruised and battered from years of pandemic-driven disruption, are being tested once again – this time, by a fragile economic landscape, ongoing strikes across industries and post-Brexit regulatory and trade issues.
But there is another force threatening supply chain resilience in the UK: climate change.
The effects of a rapidly altering and highly unpredictable climate pose a serious threat to supply chains globally. In the summer of 2022, for instance, record low river levels in China, the US, and Europe meant that ships had to reduce the amount of freight they could carry, factories had to decrease production, and many people around the world saw unexpected power cuts.
The UK is particularly vulnerable to the impact of extreme weather given our reliance on international supply chains for everything from food and machinery to semiconductor chips. And, according to the latest Climate Change Risk Assessment carried out by the Climate Change Committee, there is a clear lack of resilience across the UK's domestic and international supply chains, a finding that has been echoed by the government's own risk assessment.
With climate risk rising, ESG regulations tightening, and the Net Zero transition well underway, it's not surprising to see supply chain leaders tasked with more responsibility when it comes to identifying and reducing potential vulnerabilities. But driving sustainable change in an increasingly complex market landscape is no easy feat and supply chain leaders must find a way to balance ESG-related operational changes with mounting economic pressures.
Following are three key steps supply chain leaders can take today to begin enacting meaningful change.
Identify vulnerabilities
Unplanned climate events can have a catastrophic impact on supply chain operations, from factories to transportation routes. We saw this last year when an unprecedented drought caused water levels along the Rhine – a major trade route – to plummet, forcing vessels to limit their capacity or risk being grounded.
While supply chain leaders can't predict individual environmental disasters, they can do a better job of preparing for increased volatility and the resultant climate-driven events. Digital twin technologies, for instance, provide a virtual visualisation of a company's physical supply chain.
Supply chain leaders can use the tool to combine data from suppliers, manufacturers, warehouses, and logistics partners, with real-time signals from external data sources, like weather data, then plan against a number of different variables and identify potential points of failure across their supply chain ecosystem.
With this insight in hand, a grocery retailer in the UK can see how a sudden cold front in Spain might impact the harvesting of certain vegetables from a producer in the region, then develop a contingency plan to ensure that a hypothetical weather event wouldn't derail revenues if it did occur.
Ultimately this end-to-end supply chain visibility helps business leaders make more informed, data-driven decisions about their operations – and allows them to pivot more effectively when climate-driven change occurs.
Collaborate with partners and suppliers
As extreme climate events become more frequent, it's likely that shifts in international and trade policy, as well as corporate regulations, will have an impact on both domestic and international supply chains. At the same time, economic conditions will see fuel prices, inflation, and currency rates on the move in 2023.
As a result, supply chain leaders will need to work closely with their ecosystem partners to keep goods flowing in a sustainable way – without breaking the bank for the business, or its consumers.
This means more real-time communication between suppliers and partners – from transparency around pricing and costs to ongoing discussions around production timelines and the availability of materials.
This is important when it comes to navigating unplanned weather events, but this level of transparency is also critical when it comes to meeting sustainability requirements and the government's net zero commitment.
Ask the right questions
Finally, when it comes to re-imagining more resilient and sustainable supply chain operations, new variables must be taken into consideration on a systematic and regular basis. It's not a complete shift in processes, but an ongoing evolution, where end-to-end planning is regularly tested to ensure agility and partnerships are evaluated against their ability to contribute to organisations' ESG priorities.
To get this right, supply chain leaders need to add new questions to the planning mix. Questions like:
Do our sourcing plans support our companies' ESG and Net Zero priorities?
How can we source materials without problematic ties (e.g., conflict diamonds) or prioritise materials in line with our sustainability goals?
What happens if a critical factory closes suddenly due to a weather event?
How are we measuring manufacturing or logistics emissions against Net Zero requirements?
How are our partners communicating downtime during a storm?
Does the data we have from our suppliers and partners inform us that we are driving towards our commitments?
As extreme weather continues to disrupt our global supply chains, this shift in questioning will help supply chain leaders remain flexible in their operations, while also proactively planning against ESG and Net Zero criteria.
A more sustainable future
Building supply chains that are more adaptable to change – whether that change is the result of extreme weather or shifting ESG principles – should be a top priority for UK businesses in 2023. But this is not a simple undertaking. Supply chain leaders will need more data and insight, more flexibility in their processes, and more consistent stress testing to build healthy and resilient supply chain operations.
However, if supply chain leaders can open the lines of communication across the supply chain ecosystem, leverage technology to identify and remedy vulnerabilities, and ask more proactive, ESG-driven questions, they can help set their organisations up to respond to change with agility, resilience, and precision.
The opinions of guest authors are their own and do not necessarily represent those of SG Voice.