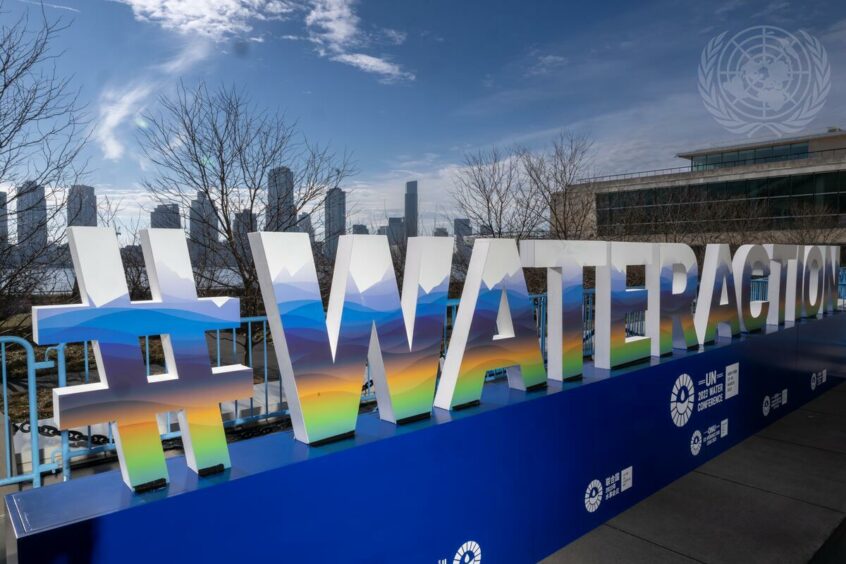 The UN 2023 Water Conference is expected to see the adoption of the Water Action Agenda, representing voluntary commitments of nations and stakeholders to achieve the Sustainable Development Goals (SDGs) and their targets related to water.
World leaders are gathering in New York for the first summit of its kind in nearly 50 years. 
Water is crucial for human health and the global economy, but billions of people still lack safe access to it.
With 153 states worldwide sharing rivers, lakes and groundwater reserves with their neighbours, cooperating on the management of water is crucial to progress the sustainable development agenda.
Running in New York between 22 and 24 March 2023, the UN 2023 Water Conference is the first summit of its kind in nearly 50 years, finally bringing attention to this vital resource. 
Why do we need to take action on water?
While there are warnings that the global water supply will no longer meet global demand by 2030, there is still a staggering lack of access for all. A quarter of the global population, or two billion people, uses unsafe drinking water sources, while half of humanity lives without safely managed sanitation and one in three people lack basic handwashing facilities at home. Of all water withdrawals, 72% are used by agriculture, 16% by municipalities for households and services and 12% by industries. 
Universal access to drinking water, sanitation and hygiene is critical to global health. On average, a four-fold increase in current rates of progress would be required to achieve universal coverage by 2030. Achieving these targets would help save 829,000 lives annually, which is equal to the number of deaths from diseases directly related to unsafe water, inadequate sanitation and poor hygiene practices.
With 153 states worldwide sharing rivers, lakes and groundwater reserves with their neighbours, yet only 24 having all their transboundary basins covered by operational arrangements, water cooperation is a key issue for the entire sustainable development agenda. This includes peace, health (through access to clean water and sanitation), climate change adaptation, ecosystems, energy (hydroelectricity, nuclear power plant cooling), food production and disaster risk reduction, among others. Considering that several countries depend on shared waters, increasing such cooperation is a precondition for transformative water action at the global level. 
What is the plan for the Conference?
The event comes days after the IPCC's sixth assessment report, which outlined the serious impacts of climate change on freshwater ecosystems, highlighting the need to protect and restore them to enhance adaptation and build resilient societies, economies and ecosystems.
The vision statement defines three principles – inclusive, action-oriented and cross-sectoral. It is focused on five themes:
Water for Health: access to safe drinking water, hygiene and sanitation. 

Water for Development: valuing water, water-energy-food nexus and sustainable economic and urban development.

Water for Climate, Resilience and Environment: source to sea, biodiversity, climate, resilience and disaster risk reduction. 

Water for Cooperation: transboundary and international water cooperation, cross-sectoral cooperation and water across the 2030 agenda. 

Water Action Decade: Accelerating the implementation of the objectives of the decade, including through the UN Secretary-General's action plan.
The Water Action Agenda, a main outcome of the summit, is the collection of all water-related voluntary commitments to accelerate progress in the second half of the Water Action Decade 2018-2028 and the second half of the 2030 Agenda for Sustainable Development, as the parties push for progress on SDG 6 – which is about clean water and sanitation.
What has been announced so far?
The Conference has seen a series of announcements over the course of its first few days. Notably, a coalition of governments launched the Freshwater Challenge, deemed the largest-ever initiative to restore degraded rivers, lakes and wetlands. Building on the Global Biodiversity Framework agreed in Montreal in December 2022, the plan is to restore over 300,000 kilometres of rivers – equivalent to more than 7 times around the Earth – and 350 million hectares of wetlands – an area larger than India – by 2030.
Meanwhile, the World Resources Institute (WRI) unveiled two major commitments. The research organisation established the Water, Peace, and Security Partnership to build governments' and communities' capacity to assess potential risks and improve water management, turning the vicious cycle of water conflict into opportunities for cooperation. It also set up the Urban Water Resilience Initiative to support African cities in developing plans to build water resilience and implement high-priority water resilience projects using a blended public-private finance approach.
On the corporate side of things,  over 50 of the world's largest corporations, operating in over 130 countries and employing 2 million people worldwide, launched the Business Leaders' Open Call for Accelerating Water Action. The signatories include AstraZeneca (LSE:AZN), Danone (EPA:BN), Inditex (BME:ITX), Starbucks (NYSE:SBUX) and The Coca-Cola Company (NYSE:KO).
It is an appeal for private sector action to help solve the global water crisis and advance progress on SDG 6. By joining, companies commit to working to build water resilience across their own global operations and supply chains. They also pledge to work collaboratively across sectors to achieve collective positive water impact in at least 100 prioritised water-stressed basins by 2030. The strategy intends to contribute to water security for three billion people and help enable safe drinking water and sanitation for more than 300 million people.
Remaining in the corporate world, Amazon Web Services (AWS), part of Amazon (NASDAQ:AMZN), and charity Water.org unveiled a partnership to build a learning management system on AWS and increase loans disbursed. The charity expects it will reduce the cost per person reached by an estimated 10% or more, resulting in Water.org's ability to bring water and sanitation services to a projected five million or more people over the next 10 years.
"This is more than a conference on water. It is a conference on today's world seen from the perspective of its most important resource," said United Nations Secretary-General António Guterres in his opening remarks. "This conference must represent a quantum leap in the capacity of Member States and the international community to recognize and act upon the vital importance of water to our world's sustainability and as a tool to foster peace and international co-operation."