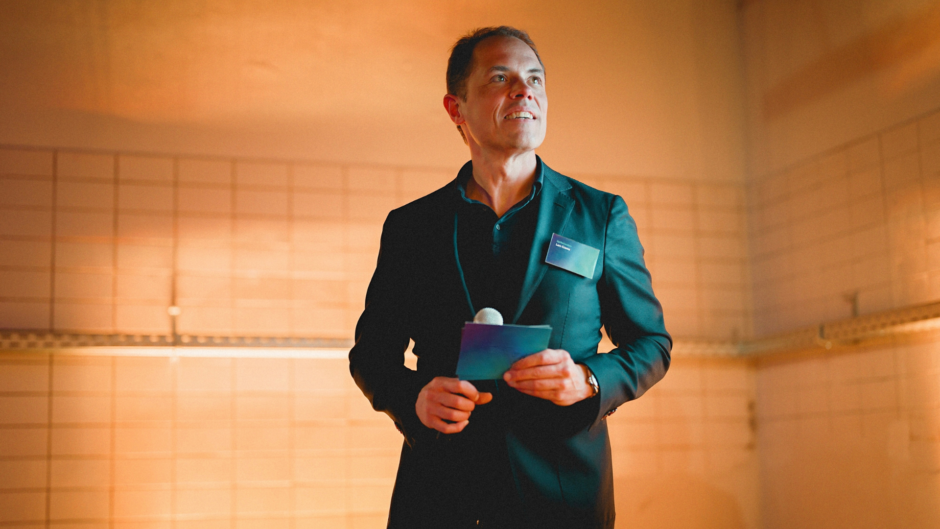 Lars Crama, one of the initiators of Upstream Festival, reflects on the importance of a different mindset to achieve impactful innovation and progress.
Our traditional problem-solving is no longer adequate for the systemic challenges we face

–

we need bold leaders who embrace chaos and organize for serendipity.
Diversity of perspectives is crucial to innovation ecosystems so we need to create an environment where everyone feels empowered to speak up.
To prosper from collaboration, it is key to invite the unknown, remove barriers and create a continuous flow of new connections.
Our linear model is broken. With a war on resources on the European continent, economies recovering from a pandemic and social unrest in the streets, I wonder: how many more indicators do we need to understand that our linear economy is failing us?
Time to take a systemic approach
In 2009, at the University of Cape Town, I was first introduced to the concept of systems thinking. A holistic analytical approach that makes sense of the complexity of the world by looking at it in terms of wholes and relationships rather than by splitting it into its parts. To me, if we are to solve the challenges in energy, resources and wellbeing of our society at large, we need to focus more on their connectedness and embrace a systemic approach for problem solving.
Why chaos and serendipity can lead to breakthrough innovations
I believe that being successful at solving systemic challenges requires us to shift the
paradigms of predictability and control that held us hostage for the past decades.
Bold leaders are comfortable with chaos and will organize for serendipity. From chaos theory we learn that complex systems can produce unexpected outcomes. And it is only by allowing a degree of disorder that we can uncover innovative solutions.
Serendipity, on the other hand, is the ability to make desirable discoveries by chance. By embracing chaos and serendipity, we can create an environment where unexpected connections and collaborations can happen, leading to breakthrough innovations.
Embracing a mindset of abundance and collaboration
At the end of the 90s, like many economists, I was trained in the standard old economic theories of scarcity and competition. Those models have dominated our thinking for a long time, and they have led to a focus on short-term gains and a winner-takes-all mentality. I always felt uncomfortable with the idea of endless growth, but found it difficult to articulate why.
Until I learned about the work of the Club Of Rome, and the more recent works by new economists such as Kate Raworth and Mariana Mazzucato. They show why we need to respect the boundaries of our planet and let go of our old mental models of scarcity and competition. Instead, we need to embrace  abundance and collaboration, recognizing that there is enough for everyone if we work together.
Thriving innovation ecosystems rely on diversity .One of the keys to creating sustainable growth is by inviting diversity and natural ecosystems provide an excellent blueprint for that.
Change is constant
In nature, everything is connected, and the only constant is change. Still it often appears that some people and institutions are insisting upon keeping the outdated ideas of society and biased structures within companies, leading to keeping the old solutions for very new problems.
By insisting on outdated ways of doing business, we are missing valuable input from people with different experiences, and expertise. We need to allow a diverse group of stakeholders at the table from the earliest stage of the products and service development.
The importance of diversity of perspectives
Diversity of perspectives is crucial to innovation. It can come from cultural, gender, cognitive and many other aspects of diversity. By bringing together people from different backgrounds and with different experiences, we can unlock new ideas and approaches.
This holds true in teams in general, but particularly in management teams and in startup founder teams. I've seen great initiatives ranging from a public company who added two extra seats in the boardroom (one for the customer and one for nature) to a national plea for more female representation in investment teams.
But they are hardly enough given the gap we need to close. Here, I'd like to make the point to move beyond surface-level diversity (i.e. race, ethnicity, gender) to deep-level diversity (i.e. experiences, preferences, and values). Once we recognize that everyone has something valuable to contribute, we can start to create an environment where everyone feels empowered to speak up.
Embracing the unknown — where to begin?
In order to prosper through collaboration, we need to organize ourselves to embrace the unknown, both inside and outside our organizations. This is true for corporates, universities, innovative startups and scale-ups, investors and government agencies.
Immersing ourselves in new fresh perspectives
There are several ways of gaining new perspectives. This could be as simple as listening to stories from other industries, disciplines or cultures. Or by engaging in multi-stakeholder communities like with an unconference.
This type of event brings together diverse stakeholders from different industries, backgrounds and experiences. I often find that removing traditional hierarchical structures leads to more inclusive  discussions and new insights, which can ultimately lead to more impactful collaborations.
Removing barriers for collaboration
I had the pleasure of working with several executive boards of large multinational companies on their journeys to embrace open innovation. One of the barriers that would often come up was how to break out of our company/industry/technology silos and engage in collaborations with players outside their own network. Their teams would work on breaking down the cultural and structural barriers that stifle innovation.
Successful tactics range from challenges and incubators to collaborative campuses and strategic partnerships that foster collaboration between corporates, startups and research institutions.
Creating a continuous flow of new connections
To keep up with new developments and solutions, it is key to embed solution discovery in our daily work. This can be done through joining corporate startup matchmaking events or by setting up an ongoing collaboration process with corporations and ecosystem partners to discover, assess and deploy tech partnerships.
I think many of us do recognize that our current approach to problem solving is no longer adequate for the complex societal and natural challenges, we face as a human race. Using tradition as an excuse for keeping bias doesn't work. It is time to embrace the unknown.
Society is created for all by all, by bringing together a range of different stakeholders and by creating an environment where diversity can thrive, and collaborations can flourish. By doing so, we can create sustainable growth that benefits everyone, not just a select few.
I warmly invite you to join the fourth edition of Upstream Festival, home to more than 60 events that connect founders, investors and bold corporates who shape a sustainable and inclusive economy. Use code: CHANGEMAKER at checkout for a 15% discount.
The opinions of guest authors are their own and do not necessarily represent those of SG Voice.