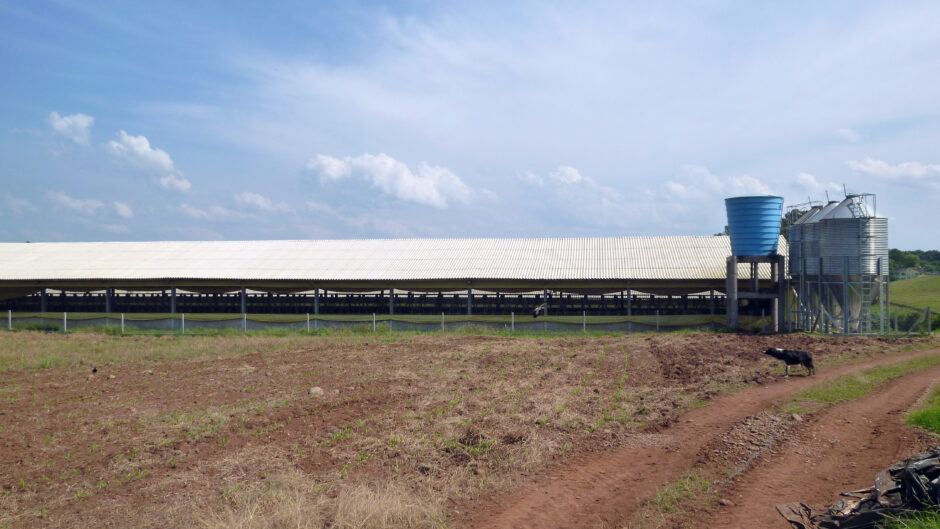 Brazil's JBS (BVMF:JBSS3), the world's largest meat processing company, has announced that it is to install a biodigester at its Friboi beef processing plants, reducing direct greenhouse gas emissions by 65%.
The investment of R$54 million ($11 million) will see biogas units installed by mid-2023

–

in context, JBS' global 2021 revenues were $65 billion.
While the project only covers its Friboi brand, it will reduce JBS' Scope 1 emissions in Brazil by over 24%.
This is reported, for better or worse, to be the largest investment in Brazil's protein industry to date.
Much of the focus for decarbonisation and sustainability is on the management of carbon emissions, which has meant that energy use and transport have been seen as central levers for action. The FAIRR network has argued for many years that the food sector is a blind spot in terms of risk and opportunities, with 14.5% of greenhouse gas (GHG) emissions coming from livestock production.
At the same time, according to the Food and Agriculture Organisation (FAO), livestock accounts for around 34% of global protein supplies, meaning that the sector's disruption would be a significant driver of food insecurity. Livestock also supports the incomes of at least 1.3 billion people around the world, each of whom could be plunged into poverty by the industry's demise. So addressing the challenges of the meat growth and processing sector is a critical step in the journey towards a nature positive net zero.
Climate impact and the food system
The FAO has estimated that meat production is responsible for 14.5% of global emissions when considering the full supply chain and many argue it is even higher. One of the issues around addressing emissions in the sector is the complexity of the measurement and understanding needed. The sector's intensive industrial expansion is also contributing to the growth in GHG emissions, biodiversity loss, pollution, wastage and land-use conversion that continue to worsen these issues. 
For example, the waste generated by animal protein giant JBS alone has been estimated by FAIRR to be equivalent to the human waste generated by the whole of India, yet manure used as fertiliser is often unregulated. Instead, it is simply left on the land where it is rarely fully absorbed. This then results in contaminating runoff that damages aquatic ecosystems.
Not only does the sector have a significant climate impact, but animal agriculture is also extremely vulnerable to rising temperatures, severe weather conditions and changing patterns of pestilence and disease. FAIRR's latest analysis suggests that the top 20 global food giants could see profit margins fall an average of 7% by 2030 from 2020 levels.
There are a number of well established approaches to addressing emissions that the sector could use. By improving efficiency and productivity, for example, the livestock industry could reduce its GHG emissions by around 30% while boosting yields and increasing farmers' incomes. Similarly, creating incentives for the adoption of more sustainable land management practices and grazing techniques could vastly increase the global capacity for carbon sequestration while improving the health of ruminant animals. This is the backdrop for JBS's investment.
The implications of the Friboi investment
One of the first things that a company like JBS can address is the emissions from its processing plants. To that end it has announced a R$54 million investment, the largest project of its kind in Brazil's protein industry to date, to reduce the environmental footprint of its production process.
JBS is installing biodigesters to provide a new outlet for the methane gas emitted in its industrial operations. The biodigesters will capture the methane gas emitted by the company's operations and convert it to biogas, which is understood to have a triple impact in a circular economy model:
steam production in the boilers at the units, replacing biomass;
as a source of electricity generation;
and as a fuel for the fleet of JBS Transportadora, replacing diesel, or in a hybrid system.
These applications will enable a reduction in Scope 1 (direct) and Scope 2 (electricity use) emissions. In fact JBS says that the unit will cut Friboi's emissions by 65% and JBS' Scope 1 emissions in Brazil by 24.6%.
To begin with, the project is expected to be up and running by mid-June 2023 at nine Friboi plants in the states of São Paulo, Mato Grosso do Sul, Mato Grosso, Goiás, Minas Gerais and Rondônia. The construction work at the units at Andradina (SP), which has had a biodigester system since 2021, Campo Grande I (MS), Lins (SP), Mozartlândia (GO) and Ituiutaba (MG) has been concluded. The others are in the final installation phase.
Methane gas capture at the nine Friboi units will enable the production of approximately 80,000 cubic metres per day (m³/d) of biogas . This volume is sufficient to provide natural gas to more than 190,000 families with an average monthly consumption of 11,7 m³, based on 2021 data on domestic gas consumption in the state of de São Paulo.
According to Maurício Bauer, corporate sustainability officer of JBS Brazil, it could also fuel 31,000 vehicular natural gas (GNV)-powered cars that clock up around a thousand kilometres a month, or 300 GNV trucks that cover the daily equivalent of 100,000 kilometres.
Besides its use in the operations of JBS, Bauer said that the biogas can also be sold to third parties, such as state distributers of piped gas or to industries looking to manufacture products from natural gas in a more sustainable manner. Another possibility is the conversion of the energy into biomethane for use as fuel in GNV-powered vehicles. A third alternative under evaluation is to use biogas as a source for distributed electricity generation projects to supply the group's facilities.
Converting methane to biogas
Bauer underlined the fact that the investment in biogas projects in Brazil reflects the company's commitment to become net zero by 2040 or, in other words, to zero the net balance of the GHG emissions across the entire value chain, reducing direct and indirect emissions and offsetting residual emissions. At the global level, the company says it has been engaging in methane capture in its operations for decades.
At present, 14 plants in the US and Canada already have biodigester systems producing 190,000 m³/d of biogas. This clean energy fuels boilers and is used to produce electricity at the company's units, in addition to being sold to gas companies.
The projects in operation in the US and Canada have reduced the external demand for natural gas, a fossil fuel, by 20% and have meant that JBS has ceased emitting 650,000 tons of GHGs annually.
Other JBS sustainability initiatives
JBS owns a broad portfolio of brands around the world, including Seara, Swift, Pilgrim's Pride, Moy Park, Primo, Just Bare (among many others)  which get to consumers' tables every day in 190 countries.
The company also invests in related businesses, such as leather, biodiesel, collagen, personal care and cleaning, natural casings, solid waste management solutions, recycling, and transportation, with a focus on the circular economy.
In 2022 the company launched two new circular economy businesses, Genu-in, which produces collagen peptides and gelatin from bovine skin, and Campo Forte Fertilizantes, which uses organic waste to produce organomineral fertilizers. In addition, JBS Biodiesel opened its third biodiesel plant, located in the city of Mafra (SC).
On the clean and renewable energy sources front, Swift has advanced its plan to have 100% of its stores supplied by solar energy. Another relevant initiative in 2022 was the creation of No Carbon, a company specialising in renting 100% electric trucks.  The new company's vehicles are already being used in the logistical fleets of Seara and Friboi to deliver their products in urban centres.
JBS, credibility and greenwash
The impact of the investment on Friboi's emissions profile, and the related impact on JBS's Scope 1 emission in Brazil, shows how a relatively small investment can have an outsized impact on an emissions profile. It's worth noting that JBS recently upped its score in CDP's Climate Change 2022 analysis – from a B to an A – which is well above the average score of a C for food and beverage companies.
In the 2022 edition, JBS was evaluated on 11 criteria, standing out in themes such as "Energy", "Business Strategy, Financial Planning and Scenario Analysis" and "Disclosure of Opportunities". According to CDP's criteria, the A score means that the company is implementing the best market practices in the area assessed.
Bauer said: "JBS' good performance in the 2022 Climate Change Report can be attributed to our Net Zero 2040 journey, which has contributed to a better understanding of our indicators and environmental management. We have also expanded the projects linked to the circular economy in our production processes and increased the use of renewable energy sources in our operations."
Yet JBS continues to come under fire for its performance. In the US in 2023, advocacy group Mighty Earth complained to the US Securities and Exchange Commission about a 2021 issuance of green bonds by JBS. The complaint accused the company of greenwash, and basically misleading investors, after it issued four SLBs, because the key performance indicators tied to its emissions reduction did not include its Scope 3 emissions, which include cattle enteric fermentation and deforestation and account for 97% of its footprint.
JBS has committed to eliminating illegal deforestation from its supply chain by 2025, but this itself was the repackaging of an unfulfilled commitment to ensuring environmental compliance its suppliers. In 2022 the company also admitted to buying cattle from Amazonian farms responsible for severe deforestation, following an investigation by Reporter Brasil, Greenpeace Brazil and Unearthed.
Many little steps
The investment at Friboi is one of the largest in Brazil, even though it reflects a tiny part of the meat giant's profits. The company is showcasing how effective the implementation of new processes can be in terms of cutting emissions, and for that it should be lauded.
It's also clearly good business, because cutting the long term procurement requirement for fossil fuels in a volatile global economy is likely to build resilience for the business overall.  What remains for the company now is to get a better grip on its overall storytelling and maintain internal consistency and long term credibility in its journey to net zero.