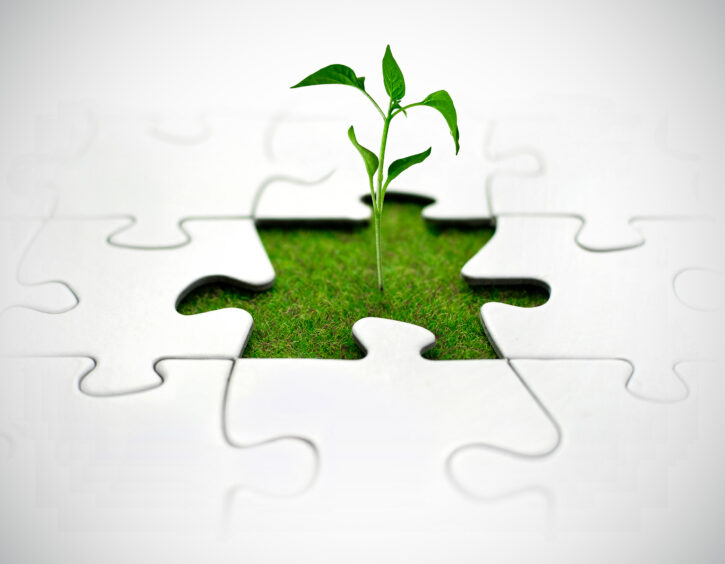 With the vast majority of companies yet to understand or address their relationship with nature, biodiversity has emerged as something of a corporate blindspot. In this article, we explore how such blindness can heighten a business' exposure to serious material risks.
Most companies do not understand their dependence or impact on the natural world.
Failing to consider biodiversity can result in operational disruption and increased exposure to legal, financial and reputational risks.
By getting ahead on biodiversity, businesses stand to gain significant advantage.
In its first analysis of the issue, the World Benchmarking Alliance (WBA) reached the alarming conclusion that nature is being ignored by the vast majority of major companies. Its Nature Benchmark, which assessed 400 firms in 2022, revealed that only 3% were committed to aligning themselves with a nature-positive trajectory by 2030.
This lack of focus on biodiversity is partially due to an overwhelming lack of awareness. Only 5% of the companies reviewed had undertaken a science-based assessment of how their operations may impact the natural world, while less than 1% had formed an understanding of how their very continuity may depend on its protection.
So, what are they overlooking?
Businesses depend on natural services
Biodiversity, the variety of life on earth, is essential for the health and resilience of our planet. In an interconnected world, it plays a critical role in the success and sustainability of global businesses. The enormous range of animals, plants and even microorganisms that underpin the function of ecosystems are a fundamental part of the natural process.
Nature, and natural processes, provide a number of different services (known as ecosystem services), which can largely be separated into four different categories:
Provisioning services deliver goods such as timber, rubber, cotton or food;
Regulatory services include pollination, water purification and nutrient cycling; 
Cultural services refer to nature's creation of attractive and valuable landscapes;
Supporting services are other services within each category that underpin the functional support of nature and ecosystems. Examples include photosynthesis,  the creation of soils, and the water cycle.
When biodiversity and nature are ignored, these services are being taken for granted. When we imagine a world without them, however, it becomes clear that corporate activities would be brutally limited.
Indeed, businesses are dependent on nature for everything from the production of food ingredients, commodity materials and medicinal plants to the safety and resilience of their operating environments. While certain industries may be more explicitly connected to natural assets, there are few that would not be affected by the decline of vital resources or disruption of global supply chains.
Of the 163 different sectors included within a recent study by PwC, not one single industry was found to be completely independent of nature. Overall, the analysis concluded that around $58 trillion – more than half of the world's GDP – was at risk due to nature's decline because its either moderately or highly dependent on nature for effective operations.
"Biodiversity loss is not just an environmental issue, it is also an economic issue," explains Dr Vian Sharif, founder of NatureAlpha, a nature accounting provider. "The loss of pollinators could cost the global food industry $150 billion annually by 2050. The destruction of marine ecosystems could cost the global fishing industry $100 billion annually by 2050. The loss of forests could cost the global timber industry $50 billion annually by 2050."
"These are just a few examples of the economic costs of biodiversity loss," X continues. "Even the most unlikely industries could be impacted by the destruction of nature."
"For example, the fashion industry relies on natural materials, such as cotton and silk, but also generally has high water usage. The tourism industry also relies on nature, and as natural habitats are destroyed, tourism destinations become less attractive. In short, the destruction of nature is a threat to all businesses, regardless of their sector."
Disclosure expectations are raising the stakes
The material risks of biodiversity's decline are rapidly extending beyond physical and  operational risks. Increasing pressure from governments, investors and consumers alike is leaving companies exposed to legal penalties and disastrous reputational damage.
Perhaps most significantly, December 2022 saw the agreement of a Global Biodiversity Framework that establishes four long-term goals and 23 interim targets for aligning capital flows with the preservation and restoration of nature. The Framework is expected to accelerate both state and non-state action, through the development of effective strategies that are backed by robust planning, monitoring and reporting. 
Target 15 of the overall agreement GBF focuses on the role of businesses in managing and disclosing their impact on nature. Greater transparency can lead to greater accountability and, given the risks involved, could drive more dramatic action. It means that there is a target for the 196 signatory countries to encourage and enable businesses to "regularly monitor, assess, and transparently disclose their risks, dependencies and impacts on biodiversity". Its delivery will rely on the development of new legislation, with early examples already being seen.
At the same time, investors are seeking opportunities that align with nature-related goals while deliberately avoiding those that do not. Companies are being asked to report on their progress, with little sympathy for those that have yet to act.
As yet, the disclosure and monitoring of biodiversity remains a significant challenge. Despite the emergence of new techniques, the impacts of specific assets and operations can rarely be traced right back to their cause.
New frameworks to support corporate disclosure
Soon, however, the Taskforce for Nature-Related Financial Disclosure is to release a finalised version of a voluntary framework that will enable businesses to report on their material relationship with the natural world. Progress in this area is already underway, with the Science Based Targets Network (SBTN) having recently launched a standardised approach to the setting of realistic and quantifiable goals.
These frameworks, and others like them, are expected to have an enormous impact on businesses across the globe. Although they will initially be adopted on a voluntary basis, they will create a more transparent environment in which investors and consumers are able to compare between different companies and express their disapproval of those that fail to keep up.
Risk can be offset by new opportunities
Evidently, the risks of biodiversity and nature loss can no longer be ignored. From operational disruption to dissatisfied stakeholders, a blind eye is likely to result in insurmountable consequences.
It is worth noting, however, that risk is always balanced by opportunity. Although companies may struggle with new considerations, the potential rewards could be immense.
By protecting and promoting biodiversity, businesses can ensure a stable supply of natural resources. Their value chains will become more flexible and resilient, enabling their survival in a rapidly changing environment.
Nature may also act as a source of inspiration and innovation. The study of diverse ecosystems could lead to the discovery of new bioactive compounds, novel materials, and sustainable production methods. Bioprospecting, the search for valuable resources from living organisms, has the potential to unlock new markets and business opportunities, promoting economic growth while preserving the world's most critical ecosystems.
At the same time, companies could enhance their reputation by demonstrating their commitment to environmental responsibility. With transparent data recording their support for conservation initiatives or implementation of sustainable practices, they could increase their market share while improving their relationships with shareholders, suppliers and local communities.
Ultimately, businesses are faced with a simple choice. With a focus on biodiversity, they can establish a mutually beneficial scenario that allows them to thrive economically while contributing to the preservation and conservation of the natural world. Alternatively, they can choose to ignore the issue or deem it irrelevant to their operations, exposing themselves to major losses, disruptions and disrepute.