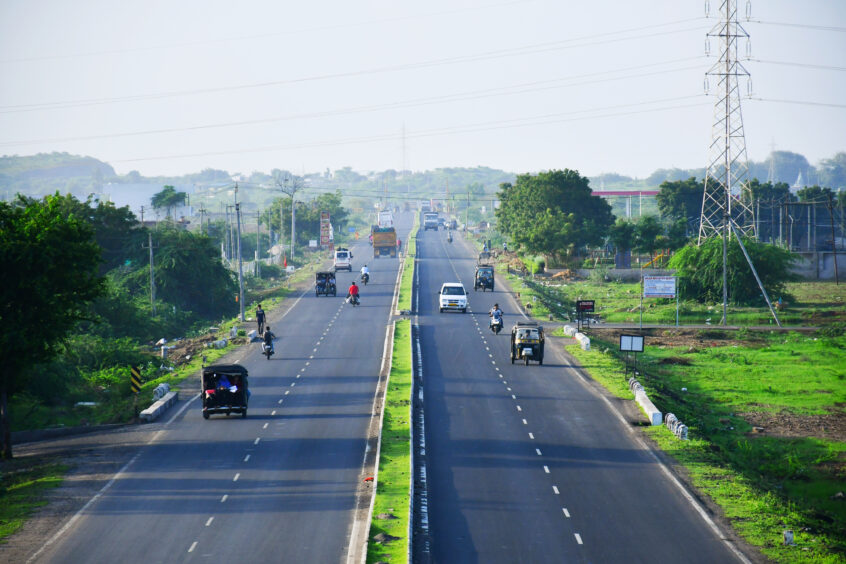 The World Economic Forum announced the launch of India's first green road freight cluster initiative in an effort to reduce its greenhouse gas emissions as the third largest emitter in the world.
The World Economic Forum's Moving India initiative is intended to help the country toward its goal to reach net zero by 2070.
The Government and private businesses will deploy over 550 green trucks along the west coast states of Gujarat and Maharashtra.
This initiative will have a rippling effect on the supply chain, encouraging companies to adopt a greener approach to road freight. 
India, the third largest greenhouse gas emitter in the world after the US and China, is committed to reaching net zero by 2070. The World Economic Forum, through its Moving India initiative, is aiming to help the country reach its goal with its first zero-emission road freight cluster initiative.

The Moving India initiative 
India's road freight demand is set to become the second largest in the world by 2030, and a transition to zero-emission trucks could lead to 2.8-3.8 gigatons of cumulative CO2 savings through 2050. The Moving India initiative is expected to bring together government and private businesses to deploy over 550 green trucks in select road corridors along the west coast states of Gujarat and Maharashtra. 
Roberto Bocca, head of the centre for energy and materials at the World Economic Forum, said: "Development of the zero-emission road freight cluster represents a significant step in kickstarting India's energy transition in road freight."
"A cluster-based approach involving multiple stakeholders and sectors can help create scale, support deployment of shared assets and infrastructure, encourage creation of vehicle supply and servicing ecosystem and inform policy through consensus."
India's crucial part in the supply chain
Freight transportation is crucial for global trade, where India plays a key role. It is the largest producer of milk, pulses and jute, and the second largest producer of rice, wheat, sugarcane, groundnut, vegetables, fruit and cotton. Gujarat and Maharashtra are key areas, accounting for a combined GDP of $700 billion, while their ports handle approximately half of the country's total cargo volume.
The Adani Ports and Special Economic Zone (APSEZ) already provided 263 battery-operated trucks at the company's ports in Gujarat, and another 75 trucks are expected to be deployed at its ports in Tamil Nadu. APSEZ is "aspiring" for carbon-neutral status in 2025 with a net zero goal by 2040.
A rippling effect on Scope 3
While transportation and distribution in vehicles and facilities owned or controlled by the reporting company count as Scope 1 for fuel use or Scope 2 for electricity use, Scope 3 emissions include the Scope 1 and Scope 2 emissions of third-party transportation companies. This means that electrifying road transport positively impacts all companies across the value chain, even those that do not use vehicles as part of their operations.
Satish Sharma, the APMEA president for Apollo Tyres, said: "While we continue to work on improving our Scope 1 and Scope 2 emission intensity, this initiative will support our objectives in reducing Scope 3 or value chain emissions."
"We need to improve efficiency of the supply chain, enabled by digitalization, to make adoption of zero-emission vehicles more viable," Sharma added.
To achieve a successful scale-up, certain challenges must be addressed. Shippers must carefully select viable use cases for early deployment, while vehicle manufacturers need to ensure the availability of appropriately sized and priced zero-emission medium and heavy duty trucks, according to the World Economic Forum. Close collaboration between shippers, vehicle manufacturers and logistics service providers is essential to ensure financeable cashflows and technology guarantees. The international organisation added that a clear policy roadmap and support for green road freight vehicles and infrastructure are crucial for progress.
SGV Take
Green road freight is essential in reducing countries' greenhouse gas emissions, and India's first steps in doing so will have a snowball effect on the supply chains, as it will push companies to electrify their fleets and accurately measure their transport emissions.
While there will be challenges ahead, electrifying roads in India will be an important step in cutting the country's footprint and its impact on the planet.