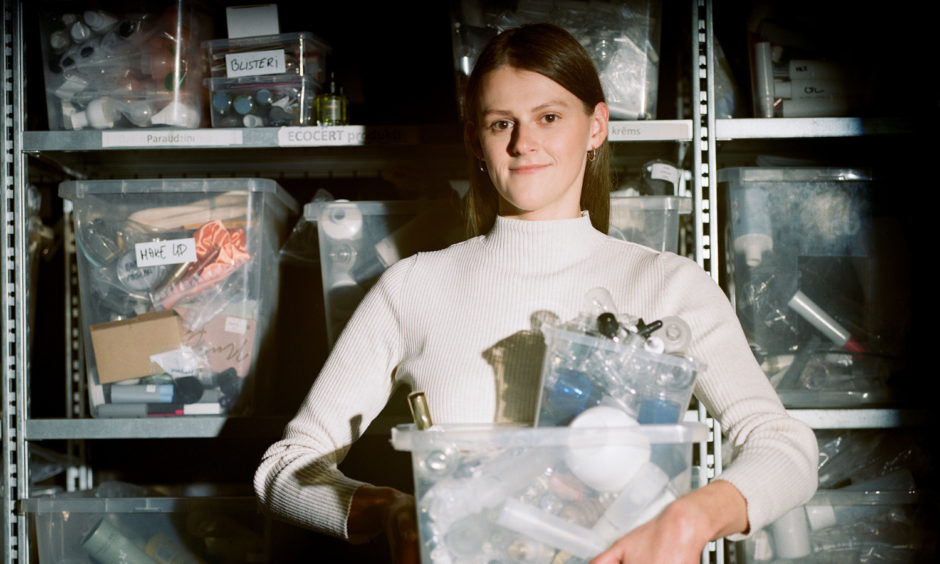 Anete Vabule, co-founder at Selfnamed and sustainability officer at MADARA Cosmetics, argues that print-on-demand, white-label skincare is a viable and sustainable solution to the overproduction problem plaguing the cosmetics industry.
The beauty industry is facing environmental challenges, with small businesses and bespoke skincare initiatives developing sustainable innovations. 
As the beauty sector expands, its environmental toll will continue to rise, prompting a consumer shift towards more ethical and sustainable products and choices. 
Small enterprises are at the forefront of an eco-conscious shift, embracing sustainability and customization, transforming the beauty industry for the good. 
As co-founder at Selfnamed and sustainability officer at MADARA Cosmetics, I am deeply immersed in the beauty industry's dynamics and the urgent need for sustainable solutions. The beauty industry is a behemoth, generating over $100 billion in revenue worldwide, with total revenues from the global cosmetics market set to hit $103.8 billion in 2023, representing a significant 11.6% year-over-year increase. However, this growth comes with a cost, and it's our planet that's paying the price. 
These statistics speak to potential; the potential for growth but also the potential to cause more unnecessary environmental harm. Unless you've been living under a rock, or have chosen a path of self-deception, you know that unmitigated growth in any sector can cause untold environmental and social harm. And the beauty industry is no different. It's an industry rife with false promises, false advertisements, claiming everything from 'instant change' and 'all-natural' ingredients, to unlimited supply and never-ending refills. It's also an industry with a few big players controlling much of the market.  
But is supply meeting the kaleidoscopic demand of a diverse marketplace? 
In reaction to these factors, a new approach to beauty, one that empowers consumers and small businesses, promotes sustainability and meets the growing demand for personalisation, is called for.  
Enter the next evolution in skincare, one tailormade for small businesses and beauty professionals looking to wrestle back control of the industry for good; a trend that is not only reshaping the beauty landscape, empowering individuals, but also providing a sustainable solution to the industry's overproduction problem. 
Tackling overproduction through small business
Despite the natural cosmetics market growing at a rate of 15% annually, it remains a small fraction of the total business. The industry produces over 151 billion units of packaging annually, most of which are non-recyclable. This overproduction is a significant contributor to environmental degradation. 
Consumers today are savvy, they've been exposed to enough information to generally know when they are being taken for a ride. The problem, however, one that many of us face, is how can we shop for the cosmetics we want when those are not available. Instead, we encounter what the industry rushes off the assembly line, driven by the forces of Mammon, to increase the bottom line.  
One innovative solution to this problem is to empower beauty professionals and businesses to create their own skincare brands, white-labelling ethical products in smaller quantities for a more discerning and ethical audience. This approach directly tackles overproduction and reduces waste by allowing brands to scale according to demand. In this way, nothing is wasted from demand through production to supply. 
Driving sustainability
The concept of 'circular beauty' is another key aspect of transforming the industry. This involves a commitment to sustainability and digitalisation to optimise resources and reduce CO2 levels. For instance, print-on-demand drop-shipping has the potential to save around 215 kWh per square metre, equating to a CO2 reduction of 1.4 tonnes for a 30-square metre warehouse. 
By integrating digitalisation into the production process, we can optimise resources, reduce waste, and lower our carbon footprint. It even passes the common sense test, producing only what is needed. Small businesses do not have the bandwidth to produce products at scale for the sake of it, only what is ordered on-demand and then supplied as those orders come in. This print-on-demand approach is not only beneficial for the environment but also for businesses looking to align themselves with the growing consumer demand for sustainable products.  
Meeting consumer demand
The beauty industry is trending towards 'unbridled self-expression', and the growing consumer desire for personalisation is now a prerequisite. Allowing these intrepid cosmetics entrepreneurs to select from a range of certified natural and organic products and design their own packaging can help small businesses take the next steps for growth.  
Who knows their audience better than the beauty professionals who work with their clients regularly, with an intimate understanding of their specific needs? These 'beauty bubbles' exist worldwide, from small villages to sprawling metropolises. And it also addresses an often overlooked element of sustainability: minimising waste, and maximising effectiveness. 
Yes, using natural ingredients and recyclable materials is absolutely essential, but having these products 'work' so effectively and to each client's satisfaction, ensures that they will be used till the last drop.  
White-labelling products with specific brands, knowing that these are produced ethically and sustainably, offers a unique opportunity for beauty professionals and entrepreneurs to express their individuality while also contributing to a more sustainable future. Individuals want to choose products that align with their values and needs, and to play an active role in reshaping the beauty landscape. For far too long, suits tucked away in the elevated boardrooms of nondescript towers have made decisions for individuals and their desires. Skincare should be as diverse as the population using it and, finally, it's possible. 
The future of beauty is here. Print-on-demand, white-label skincare is a viable and sustainable solution to the overproduction problem plaguing the cosmetics industry. By empowering consumers and small businesses, promoting sustainability, and meeting consumer demand for personalisation, we can create a beauty industry that is not only profitable but also responsible and sustainable. 
The opinions of guest authors are their own and do not necessarily represent those of SG Voice.