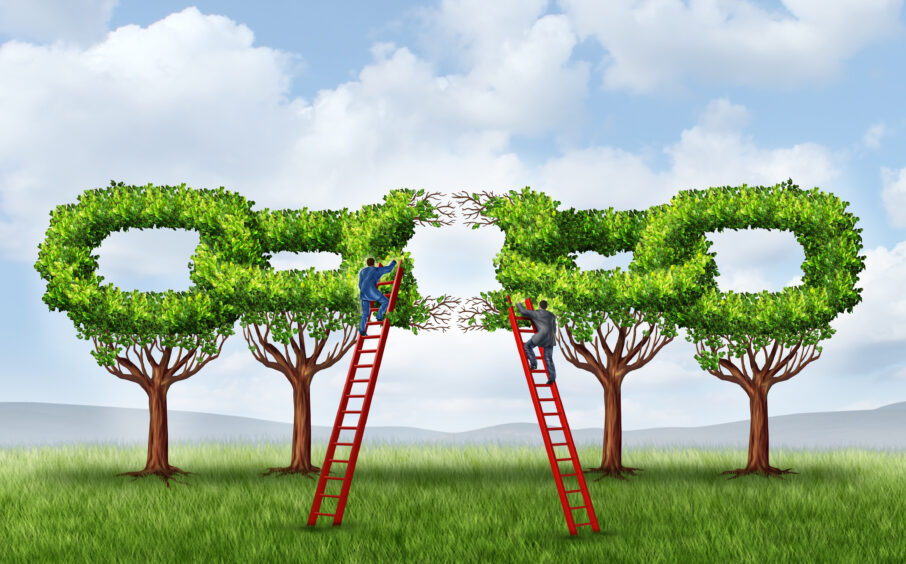 The We Mean Business Coalition has launched a practical new approach designed to support companies of any size or sector in addressing their upstream emissions. 
The We Mean Business Coalition has launched the 'Supplier Cascade', a practical approach to the decarbonisation of corporate supply chains.
Supply chains account for around 75% of the average company's carbon emissions, but they are often difficult to assess and address.
A formalised approach could prove to be immeasurably valuable in translating lofty promises into practical action.
Founded in 2014, the We Mean Business Coalition is a global non-profit group that works to encourage corporate action on climate change. Recognising the challenge that companies face in reducing their upstream emissions, the Coalition has developed a practical approach that can be applied by firms of any size in any industrial sector. 
Introducing the Supplier Cascade
The 'Supplier Cascade' has been developed in partnership with CDP, BSR, Ceres, the Environmental Defense Fund and the SME Climate Hub. Further support was provided by the Science-Based Targets initiative. 
Based on best practice examples, the Supplier Cascade provides guidance on how businesses can overcome the challenges of decarbonisation through their supplier engagement. Essentially, the idea is that companies will approach the suppliers with which they are in direct contact and request that they set a credible net zero commitment.  
These suppliers would be encouraged to implement their own climate strategy, which would require them to liaise with their upstream partners. They would approach the next Tier of suppliers and repeat the same request, thereby creating a cascade of positive action. 
When requesting net zero commitments, companies are advised to demand a clear set of targets that are based on current scientific consensus. By asking their suppliers to continuously report on their progress, they can establish a chain of accountability built on transparently publicised data. 
"By joining the Supplier Cascade and encouraging their Tier 1 suppliers to do the same, businesses can send a clear message to incentivize action," explained the Coalition's chief executive, Maria Mendiluce.  
"It is measurable, it does not require the visibility of the entire supply chain, it does not require deep technical knowledge so is more straightforward for buyers and procurement teams to implement, and it provides flexibility to business in how they want to engage," she continued. "Once this approach has been taken to scale, it generates climate action far beyond a company's own supply chain." 
Following the launch of the Supplier Cascade, The We Mean Business Coalition has called for early adopters to monitor its success. Those who take part will be provided with extra support, credited for their proactive response and invited to share their experience for the creation of additional guidance materials. 
Supporting the reduction of Scope 3 emissions
The Coalition's approach is intended to overcome the challenges businesses face when grappling with the Scope 3 emissions of their supply chains. These emissions account for around 75% of the average organisational footprint, but they are typically the hardest to calculate and reduce. 
As companies come under increasing pressure to disclose and address their carbon emissions, it is becoming far less acceptable to focus solely on their own operations. In today's demanding environment, firms are expected to report on the risks and opportunities of their upstream relationships while taking responsibility for impacts that are not directly within their control. 
For those who wish to comply with new legislation and maintain their appeal to relevant stakeholders, there is a strong incentive to involve their suppliers in delivering their climate commitments. Unfortunately, this tends to be easier said than done, particularly for sprawling supply chains featuring several Tiers of smaller businesses that may have been onboarded indirectly without the active oversight of the downstream organisation in question. 
The Cascade approach could help solve this complex dilemma by facilitating the flow of communications. Rather than expecting a single large company to send out a message to every tiny enterprise involved in its network, requests will trickle through from each involved party to the next one.  
If every firm is asked to report on its progress, then a reverse cascade will create a body of documented evidence that can be used to satisfy regulatory requirements and the expectations of investors and consumers alike. 
Success will depend on suppliers' capacity
Of course, the Cascade's success will depend on each supplier's capacity to engage in decarbonisation. There is little point in asking each organisation to establish a net zero target if they will not be able to meet it. 
All too often, smaller businesses do not have the necessary resources. Even if they are keen to play their role, and further incentivised by the requests of the clients downstream, they are more likely to be limited by financial constraints or a lack of relevant know-how. 
With this in mind, larger companies ought to use the Cascade approach not only as a driver of action but also as a way to identify those that may need their help. The more information they gather, the easier it will be to roll out support. 
In doing so, they would be able to further their own commitments by decarbonising a greater portion of their supply chain while also ensuring that no small business is sent to its demise as new expectations come to the fore. By creating a channel of communication between major corporations and their smallest suppliers, we can ensure that everyone is included in the transition to a fair and sustainable future. 
SGV TAKE
Though it may seem somewhat obvious that businesses will have to join forces for decarbonisation, the adoption of a formalised approach could help to translate lofty promises into practical action. With the launch of the Supplier Cascade, the We Mean Business Coalition has presented a straightforward mechanism for engaging in meaningful collaboration.