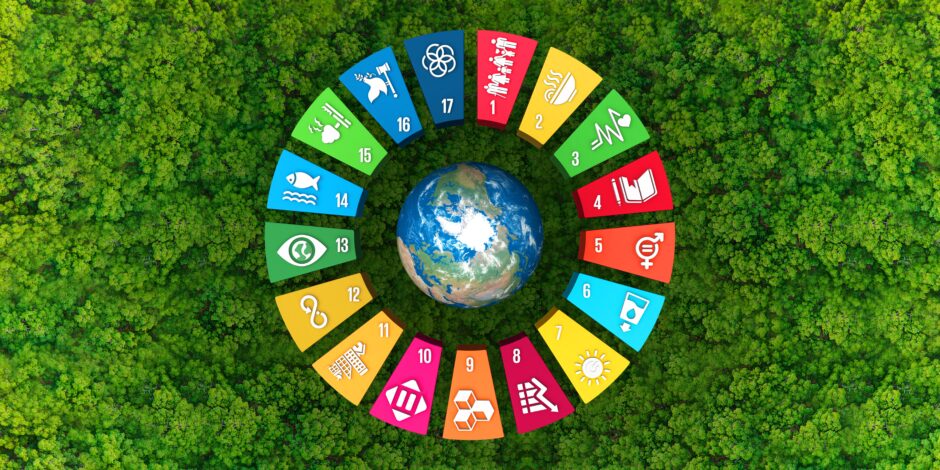 With just seven years remaining until the UN's Sustainable Development Goals (SDGs) are supposed to be met, global progress is stalling and even regressing in several areas. Although the Goals are designed to be delivered by national governments, the private sector has a key role to play.
Two new reports have been released, exploring the role of private companies in achieving the UN SDGs.

 

Global progress has come to a halt in several areas, even regressing in many. As the world is hit by more and more crises events, the challenge is only exacerbated.
Companies ought to focus on maximising their positive impact and collaborating with policymakers where possible.
In 2015, the UN established it's 17 SDGs for a fair and sustainable future. With 169 targets in total, the Goals were supposed to be achieved by 2030 at latest.  
Despite a relatively positive start, not one single Goal is currently expected to be met on time. Only 18% of the targets are achieved or on track, while 67% have utterly stalled. More worryingly still, global progress toward 15% of the targets has been reversing in recent years. 
According to recent analysis, these trends equate to a shortfall in funding of between $103 and $137 trillion. Although the Goals are designed to be delivered by national governments, the private sector has its own role to play in filling the gap. 
"Private sector investment and innovation are essential to achieving the Sustainable Development Goals," said Sanda Ojiambo, chief executive and executive director of the UN Global Compact. "While not a one-size-fits-all approach, businesses should focus their actions where they can have an outsized impact on people and the planet." 
"This will enable them to effectively communicate performance, set targets and actions, engage with stakeholders, including investors, and gain access to new market opportunities." 
Every day poses new set of challenges
The challenge of achieving the SDGs cannot be overstated. Many of them are absolutist in nature, calling for 'Zero Hunger', 'No Poverty' and a world of sustainable abundance for all. Each Goal is inherently interconnected with several others, which can sometimes be helpful as multiple areas can progress in unison but can also result in complex contradictions. 
Of course, the Goals do not exist within their own vacuum. The world cannot simply be paused as we work to improve it. In the past few years alone, this unfortunate truth has been all too apparent.  
From COVID-19 to the ongoing war in Ukraine, each global shockwave has captured attention and diverted resources that may otherwise have been put towards solving existing problems. As the climate continues to change, extreme weather events and unprecedented temperatures are impacting food supplies, threatening human health, driving mass migration and biting into the global economy. 
The damage caused by each of these crises is exacerbating the very same issues that the UN SDGs set out to address. Rising costs are plunging more people into poverty, limiting their access to basic goods and services while widening the gap between different societal groups. Natural ecosystems are becoming more and more fragile, with every disruption having further consequences elsewhere. 
"The 2030 goals are looking increasingly elusive," wrote Ketan Patel, chair of Force for Good's Advisory Council. "This stark reality underscores the global community's responsibility to intensify its efforts to deliver a sustainable, secure, and superior future for all." 
Who is responsible for achieving the Goals?
Patel's warning introduces Force for Good's most recent yearly report. Although it begins with a stark reality check, the report maintains that the Goals can still be met through collaborative action and concerted effort on the part of multiple stakeholder groups.  
According to the report, policy interventions such as regulations and incentives could deliver approximately 27% of the SDG targets, with public sector spending accounting for slightly less than a third. Despite the sheer volume of capital that will undoubtedly be needed to ensure the Goals' achievement, financial services are only expected to contribute 2-4% of eventual solutions. 
This leaves a critical role for the private sector to play. Sustainable business practices, strategic investment and public private partnerships could help to meet up to 18% of the SDG targets, while technological advances could account for just under a fifth.  
Force for Good places significant value on the private sector's ability to scale up the adoption of novel solutions that could go on to support other activities such as the substitution of physical infrastructure for digital versions. Nonetheless, it warns that certain technologies such as artificial intelligence may be tarnished by unforeseen trade-offs. 
Corporate contribution to the UN SDGs
Narrowing in on the role to be taken by businesses, the UN Global Compact has released a report in partnership with Accenture (NYSE:ACN). According to the report, there are ten key pathways that businesses should follow in order to maximise their positive impact. 
First, they ought to recommit to three core principles of integrity, transparency and accountability. They should provide a living wage, promote gender equality and conduct their innovation with responsible production and consumption in mind. By focusing on each of these areas, they can leverage the influence of economic activity in support of an equitable and inclusive society. 
The next four pathways are expected to transform the very basis of business to ensure its environmental sustainability. Companies are advised to accelerate their climate action, improve their management of water and support the protection and restoration of nature. They should also invest in the development of circular systems, whether it be the introduction of alternative business models or the construction of suitable recycling infrastructure. 
Finally, the report identifies two priority pathways that could help in bringing new incentive systems to scale. By committing to sustainable corporate finance and strengthening their sustainability leadership, the private sector could redefine its success in terms of risk, return and SDG impact. 
For each of these pathways, the report includes specific action steps, case study examples and guidance on relevant resources. Having surveyed more than 2,800 business leaders from all over the world, it goes on to explore the support that should be provided by policymakers and other relevant stakeholders. 
The survey found that, although 94% of participants still believed in the SDG vision, only half of them believe that the Goals will be delivered on time. Just over 80% felt that their business was sufficiently contributing, but only 62% felt that their industry as a whole was doing its bit. Slightly over half thought that the private sector should be doing more, but 44% were of the belief that companies need further support from their governments. 
SGV TAKE
There can be little doubt that businesses have a vital role to play in achieving the UN SDGs, but they alone cannot be expected to deliver 169 ambitious targets that were designed to be fulfilled by national governments.  
As the challenge grows more complex, companies ought to focus on maximising their positive impact and cooperating with policymakers where possible. Though it remains unlikely that any single corporation could align with every single one of the targets, willing engagement could be a valuable lever for change.