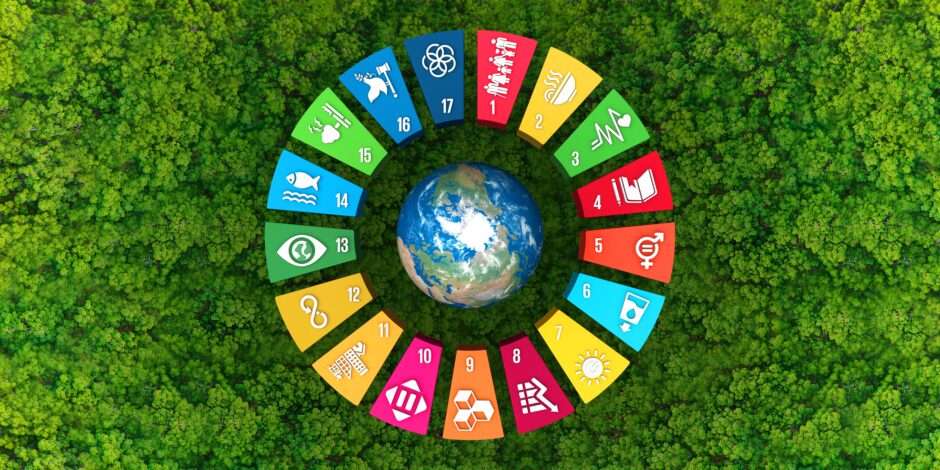 The UN Global Compact Network UK has launched the SDG Playbook for SMEs, a guide for smaller companies to help them unlock the competitive advantages of embracing the UN Sustainable Development Goals (SDGs).
SDG Playbook for SMEs to provide a framework and guide for SMEs to integrates the SDGs into their operations.
Of the nearly six million SMEs in the UK, which make up 99% of all businesses, 4.5 million have not yet set net zero targets.
Research showed that SMEs are ready to do their part to decarbonise but lack the resources and support, which suggests the UK needs to do more on the policy front to meet its net zero goals
The Sustainable Development Goals remain the greatest catalyst for global action. Companies – no matter how big or small – need to raise their sustainability ambitions to the standards laid out by the SDGs.
While larger companies may have teams to develop strategies based on the SDGs, this can be a struggle for many SMEs, which is what the UN Global Compact Network UK is trying to address with the publication of the playbook.
What are the Sustainable Development Goals (SDGs)?
In 2015, the UK Government joined every other country worldwide and committed to Transforming our world: the 2030 Agenda for Sustainable Development, and through it the 17 Sustainable Development Goals (SDGs).
The Goals provide a holistic framework that defines our global priorities and aspirations for 2030. They represent a crucial opportunity to end extreme poverty, fight inequality and injustice, and protect our planet. Achieving the Goals requires an unprecedented effort across all aspects of society – and business sits at the heart of it.
The SDGs are not just another sustainability framework, but the only universally agreed blueprint to turn meaningful ambition into transformational change. Despite the fact that its critical to the sustainability transition to get SMEs on board, they consistently report difficulties with embedding the SDGs at the core of their business models. Given that SMEs represent roughly 90% of all businesses, it is critical to get them onboard in the transition to a sustainable future.
For many economies, SMEs make up a huge proportion of the economy – up to 90% – and are often responsible for the majority of employment. According to the International Labour Organisation, SMEs also employ 70% of the world's workforce and contribute over 50% of global GDP – yet many struggle with the transition.
In the UK alone, SMEs account for 99.9% of UK enterprises and are responsible for between 43% and 53% of UK business emissions (around one third of total UK emissions). There are 5.5 million SMEs in the UK, most of which are small businesses with up to 49 employees. Yet 4.5 million have not yet set net zero targets.
Challenges facing SMEs
February 2023 saw the publication of the SME Climate Hub's second annual Small Business Climate Action: Barriers and Bridges study looking at the drivers and barriers for SME climate action. It found that while 80% of respondents said that they are taking action on climate as it's the right thing to do, 70% say they require additional funds to take action or speed up progress to reduce emissions.
More problematic is the fact that nearly 3 in 5 say lack of climate skills and knowledge is preventing them from taking more ambitious action on climate. They also struggle with the time needed to implement action and accessing the resources they need to deliver effective change.
Interestingly only 23% of respondents had been asked to reduce their emissions, but as regulation across jurisdictions continues to be deployed, this is likely to change rapidly. As demand changes, so will client requirements – large companies that are required to report on emissions footprint and reductions often have many thousands of smaller suppliers but they can only get their own numbers if they can access that data from the supplier in question. Action on climate change is rapidly shifting from a nice to have marketing advantage to a cost of doing business overall.
Integrating SME focus into COP28
This year's Conference of the Parties to the UN Framework Convention on Climate Change, taking place in Dubai, is expected to be pivotal in how tackling climate change is addressed. Whether this is finalisation of the terms of regulated carbon offset markets, action on loss and damage, accelerating climate finance or agreeing the phase out of fossil fuels, the decisions made here will have implications for economic operations around the world. No economy can afford to leave SMEs out of the conversation.
Benefits of using the SDGs as a strategic framework
There is a multifaceted business case for smaller companies to embrace sustainability. Stakeholders – from regulators to investors to customers to employees – expect all companies to be improving their sustainability performance and they are ready to reward companies that embrace this agenda and punish those that do not.
The SDG Playbook for SMEs – produced in partnership with Irwin Mitchell – provides the building blocks for small and medium-sized enterprises to integrate the SDGs into core business functions. Doing so can lower operational costs and risk, strengthen customer loyalty, unlock new revenue streams, and improve relations with employees, suppliers, and other stakeholders.
SGV Take
Engaging with the SDGs isn't just about doing the right thing for society and the planet, its about understanding the strategic opportunity of reassessing operational behaviour. Given the volatility we face with the energy transition and the growing impact of climate change, the firms that will be successful tomorrow are likely to be the one that are currently placing sustainability at the core of their business model.
Whether a small business at the start of its sustainability journey, or a large multinational engaging smaller companies in the supply chain, taking action to future-proof your business seems like common sense.