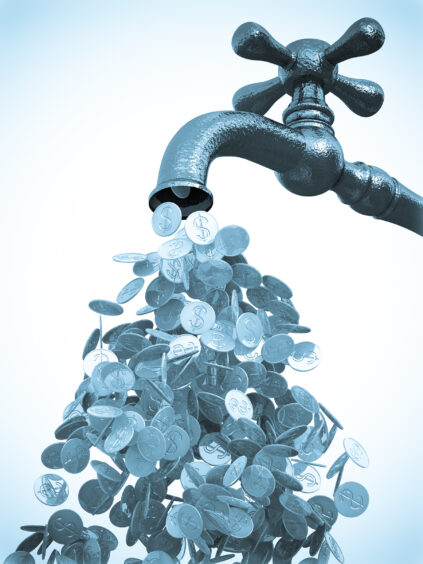 While the management of greenhouse gas (GHG) emissions may be dominating the headlines, there is increasing concern about the operational risks around water. Part of the problem, however, is that water is often undervalued around the world, even taken for granted, and that makes it a material risk.
It's not just food and drinks manufacturers that need to wake up to the problem. Water is a risk for industry today because it's a vital part of the supply chain of just about every industry imaginable, be it for cooling, cleaning, diluting, processing, creating and even transporting the products and services that the industry commercialises.
Water risks explained
Without water, many companies would not be able to operate. Colin Herron, global co-ordinator, Water Solutions at the intergovernmental water management network Global Water Partnership (GWP), says: "There is no need for a company to debate whether or not water is a material issue for its business sustainability – it invariably is. It's just a question of how much, and that depends on what the company produces."
The water risks that industries face will differ dependent on location, but can be sorted into three basic categories.
Herron explains: "they can largely be classified as too much, too little, or too dirty. On the too much, large parts of Central and Eastern Europe and Eastern Australia are just two parts of the world that have faced significant flooding in recent years.
"On the too little, the Western US and Eastern Africa are two areas facing major long-standing droughts right now, and cities from Cape Town to Mexico City and Sao Paulo have been and continue to be perilously close to "day zero", when the city runs out of water.
"And on the too dirty, some of the world's most polluted rivers, such as the Ganges, the Yellow River, the Yangtze River, the Nile and so on, are the main source of water for hundreds of millions of people around the world."
In ways similar to those accustomed to debates about energy transition, analysis from emissions analyst CDP suggests that the cost of water risk to business – at around $301 billion –  is five times higher than the cost of taking action, estimated to be around $55 billion.
Without action, or delayed action, this is likely to increase operational costs – especially if pricing is introduced to encourage improved water management.
While pricing will differ depending on location, accessibility, transportation, etc, the cost of water, combined with increasing societal concern about water management and access, makes this an economic, operational, reputational and regulatory risk.
Putting water stewardship at the forefront
Water stewardship, or its lack, can have a major impact on public acceptance. In Brandenburg in Germany, Tesla's new plant was delayed over concerns that excess water use (it's predicted the factory would double local water use) would exacerbate climate-related drought and its impact on groundwater, sparking legal action.
Technology companies such as Facebook and Google have been accused multiple times of overuse of community groundwater supply for data centre operations.
On the other hand, companies like L'Oreal and Marks & Spencer have put water stewardship at the heart of their environmental programmes.
L'Oreal, for example, is using the WaterScan tool to understand its water use and, with that knowledge in place, is setting targets to minimise water footprint in its products and formulas, focusing on local water management issues, requiring supplier action on water use, developing new water use standards and introducing 'waterloop factories', where 100% of the water used for industrial processes is cleaned and recycled in a loop on-site for re-use.
Meanwhile, M&S used the WWF Water Risk Filter to identify water risk hotspots, given that 90% of its water use is supply chain related.
The company has over 600 first-tier suppliers with approximately 10,000 farms and hundreds of thousands of smallholder farms around the world, all of which are sited within their own unique ecological system.
M&S followed this with an update of its Plan A environmental strategy, Plan A 2025 to include water stewardship for the most material and at-risk watersheds in its food, clothing and home supply chains. Through its food sustainability scorecard encouraging supplier action, it has cut more than 8.5 million cubic metres of water each year.
Revenues at risk without reliable water access
Water risk is also a significant investment concern. Thomas Schumann, founder of Thomas Schumann Capital and the TSC Water Security Index, argues that 100% of companies' revenues are at risk without reliable access to water; hence investors benefit from mitigating water risk in portfolios by investing in companies who have water policies, water stewardship and water governance in place.
He warns that unaddressed water risk can lead to underperformance, loss of capital, and stranded assets.
As it affects every industry, water risk affects all asset classes. Schumann says: "Water usage and stewardship are a source of major financial risk that is largely absent from equity valuations today.
This risk directly translates to earnings risk, which can negatively affect stock prices and investment performance in the future. If water risk remains unaccounted for in benchmarks, investors have little or no reliable means to reduce exposure to companies with high water risk."
While water data is not as readily available as CO2 emissions and the distribution of water usage across industries is large, Schumann argues that by applying certain statistical techniques, water risk can now be quantified, which enables a company-level ranking system across the broader capital markets.
Understanding water management is crucial for ESG
To be effective in addressing water risk, and implementing effective ESG practice, there are two areas where companies need to understand their water profile and management. These are water use and water stewardship.
Schuman suggests a series of metrics which companies should track in terms of water: water can be measured by total water withdrawal; freshwater withdrawal; water discharged; water pollution; and water recycled. Taken together, these will provide a useful picture of a company's water footprint and where they are in terms of water use.
The second area is that of water stewardship, which is both an awareness of responsibility around water consumption and a question of how far the company is doing anything to address water risk.
It's a means of providing what Schumann calls a 'forward-looking measure of water risk." He suggests that boards should ask three core questions: is there a water policy? does the company target water conservation? and does the company use technology to mitigate water risk?
These measure a company's water footprint and reflect where they are in terms of water use.
Herron adds: "Water is essential to the environmental, social and governance parts of ESG – in fact, any ESG investment that is not factoring in present and future water challenges is by definition not a sustainable one."
The difficulty is that effective action around water management is going to involve pricing in one way or another as demand continues to grow and the available resource doesn't change.
Alex Godfrey, head of Ecosystem Services & Investor Relations at regenerative agriculture start-up New Foundation Forms, says: "As natural capital/ecosystem services financialisaton becomes more developed we will see a high expansion in the water trading markets, which for the positive will help maintain health water systems and put a high value on clean water; for the negative, it will be heavily commoditised and this will create some winners and losers. Pricing will only go one way…up!"