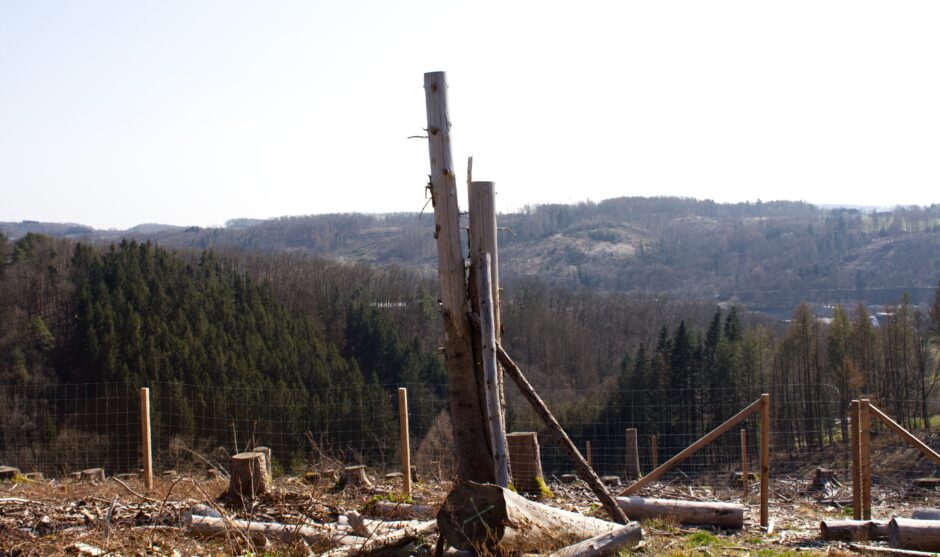 The paper, cattle and timber industries face up to $80 billion in supply chain risk from changes in forest-related ecosystems. Deforestation is driving destruction in the key areas from which globally traded goods and raw materials are sourced.
The latest data shows that only 19 out of 675 major companies in paper, cattle, timber and other forest-related commodities have set targets to tackle deforestation.
For some time, forestry-related risk has been seen as the concern of activists driving deeper understanding of the significant implications of forest loss to climate and biodiversity needs. This is now becoming a quantifiable market concern, as the potential financial impact on operations is calculated.
Business at risk with few targets to address deforestation
According to the Global Forests Report, in 2021 211 disclosing companies identified over $79.2 billion of forest-related risks. This means risks around how they produce, source and use four key forest risk commodities: timber, cattle products, soy, and palm oil. The questionnaire additionally allows disclosure by companies producing, sourcing or using cocoa, coffee, and rubber.
This latest data brings home that forestry-related risk should be of significant concern to ESG investors. Supply chain risk is becoming an increasingly important focal point as a financially material operational risk.
As global make-up giant Revlon went into Chapter 11 bankruptcy protection in the US in June, chief executive Debra Perelman explicitly stated that supply chain issues had played an important role in the company's position.
Given that in 2021, primary rainforests lost the equivalent of 10 football pitches every minute, this is becoming a critical issue in addressing both climate change and sustainable growth as well as operational risk management.
Forest risk aligned with accountability and climate frameworks
Thomas Maddox, global director, forests at global environmental disclosure NGO CDP, says that "The importance of forests cannot be underestimated. Billions of people rely on forests and they play a crucial role in climate mitigation and adaptation. Yet deforestation continues almost unchecked.
"Last year, a further 11 million hectares of tropical forest were lost.  Large-scale production of agricultural commodities is the primary driver. But societal acceptance is shifting, generating significant business risks for all involved."
The research in the Global Forests Report was published by CDP in association with the Accountability Framework initiative (Afi), a collaborative effort to build and scale up ethical supply chains for agricultural and forestry products.
It assessed company disclosures to understand how they are working to mitigate risks within their supply chain, using data from CDP's 2021 forests questionnaire, which is aligned with the AFi's core principles and the Task Force on Climate-related Financial Disclosures (TCFD). What it highlights is that it's way past time for companies to move beyond commitments to action and that failure to do so carries considerable risk.
Most corporates fail to identify and address the risk
According to the report, only one in three (36%) companies across seven forestry-related sectors (timber, palm oil, cattle, soy, rubber, cocoa and coffee) have public company-wide no-deforestation or no-ecosystem conversion policies.
Even more concerning, only a third of companies surveyed have disclosed their forest-related financial risk to investors – which has been calculated to equate to almost $80 billion in potential losses related to supply chain disruption and the loss of their licence to operate.
So far, only 19 companies out of 675 have set a target of 100% no-deforestation commodities, (i.e., no forest areas are cleared or converted). Achieving such targets will require certification to track, monitor and report on sustainable sourcing and production in the supply chain.
While there are costs involved in meeting such targets, they are far outstripped by the more than $79 billion of forest-related risks – the predicted cost of responding to identified risks of $6.7 billion.
Business continues to overestimate cost of action on deforestation
It's also worth remembering that most industries have overestimated the cost of monitoring, reporting and verification (MRV) in sectors where compliance standards have been introduced. And it's a concern that CDP suggests that only 13% of those companies that have set targets have done them in such a way as to align with best practice.
In turn, that means that most companies do not have sufficient traceability (77%) or monitoring systems (74%) throughout their supply chains to implement commitments made or assess progress against them.
Basically, the report found that companies lack the clear targets and milestones, as well as the implementation processes, that are vital in driving corporate systems towards long-term sustainable sourcing of commodities.
Forestry risk management critical for climate change
The failure to act on climate change, and the gap between industry rhetoric and the potential to contribute to achieving climate related greenhouse gas (GHG) reductions is enormous. This is incredibly important as the supply-demand of key forest risk commodities also accounts for 10-15% of GHG emissions.
It's been estimated that the land sector overall could provide up to 30% of the emissions reductions necessary to minimise the worst impacts of climate change. Yet this won't happen until actions match announced goals.
According to the media, the primary focus is the need to cut GHG emissions to minimise climate risk. Most focus on energy-related risk, as it's one of the easiest to manage, concentrating on point source emissions and with technology readily available to address the challenge.
Even so, the question is often limited to the financially material risks that may arise, from energy cost, carbon pricing, customer concern, etc. The problem is the impact that day-to-day business operations have on the wider environment.
As Maddox puts it, "The unsustainable production and supply chains of these commodities present both significant business risks and negative environmental impacts on land, water, biodiversity and climate change."
Global economic output at risk from destruction of nature
Deforestation has a knock-on effect on ecosystems and biodiversity, and a recent report by the United Nations Convention to Combat Desertification (UNCCD), which was formed at the same time as the UNFCCC, has warned that around half of the world's economic output – estimated to be around $44 trillion – could be at risk from the reduction in available natural resources.
The Intergovernmental Platform on Biodiversity and Ecosystem Services (IPBES) has warned specifically that the increasing loss of pollinating species already puts at risk global crops worth around $577 billion. Part of the challenge here is identifying the boundaries of risk. It's important to be clear that deforestation can be assessed specifically in terms of supply chain risk for specific industries – but the impacts will be felt far more widely.
There was some positive news. Of the reporting companies, 76% (512) reported having a traceability system for at least one commodity, so the process has begun. Two-thirds of companies (444) report that they are engaging with direct suppliers to manage and mitigate deforestation risks.
This is perhaps the strongest lever that companies have to affect change, because suppliers will take action if it affects their ability to make a sale. Finally, half of all traders, manufacturers or retailers (194/390) disclose that they are working with their indirect suppliers to manage and mitigate deforestation risks.
Action from business on deforestation should begin ASAP
The reality is that the forest commodity market, like many others, is under increasing pressure from investors, governments and even customers that recognise that failure to address the long-term impact of their operations on the wider environment will result in financially material risks over time.
That pressure is only likely to intensify. Maddox, however, warns that current company action is not going far enough, as companies must increase scale (actions must be expanded across the whole company), scope (companies must act across all commodities, regions and ecosystems) and rigor (implementation must be driving measurable impact) to halt deforestation. By doing so he believes that a deforestation-free future is possible.