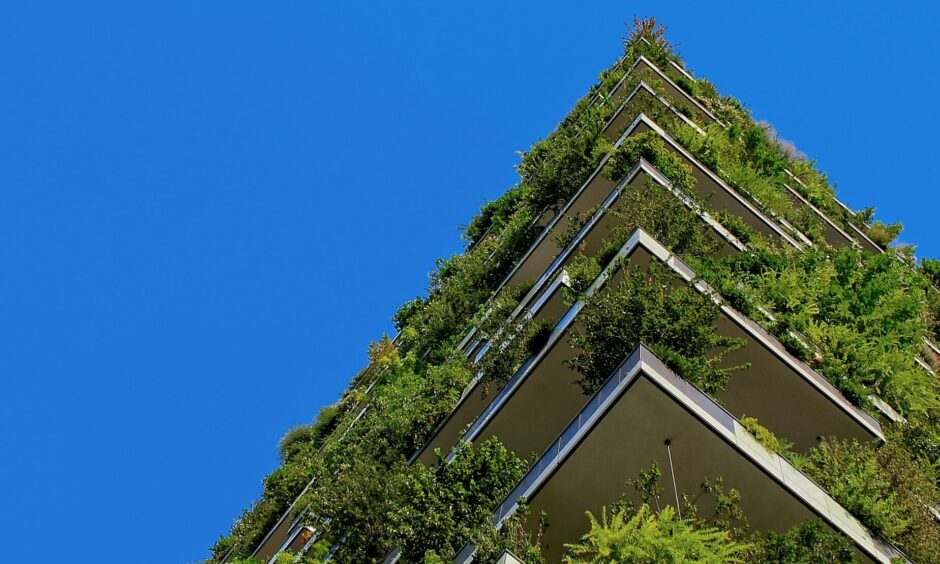 In this six-part series, we break down the UN Environment Programme's (UNEP) recommendations on how to reach the Paris Agreement goals, sector by sector.
UNEP found that the current pledges will lead to a temperature rise of 2.4-2.6°C by the end of this century.
While construction emissions have remained relatively stable, emissions generated from buildings' electricity and heat consumption have almost doubled since 1990.
Researchers identified four major shifts necessary to decarbonise the sector.
Direct emissions through construction are relatively small compared to other sectors, at 5% of global greenhouse gas emissions, but this number increases to 17% when accounting for indirect emissions from electricity and heat consumption of buildings. While direct emissions have remained mostly stable at 3 gigatons of CO2 per year, indirect emissions have almost doubled since 1990. 
According to UNEP, the sector needs to undertake four major shifts to decarbonise: minimising excess floor area, reducing energy intensity, bringing down the emissions intensity of energy use, and lowering embodied emissions from construction.
Minimising the amount of floor area which is well above the area necessary to meet basic needs, can have a large effect on emissions in the sector. This is because energy use and emissions from space and water heating and cooling are directly linked to the total amount of floor area that undergoes active thermal control. The more floor area is constructed, the more materials are required, and the higher the embodied emissions. The amount of floor area used per person vastly differs across countries, but also within countries.
The energy that is used for heating, cooling and appliances per square metre of floor area needs to drop globally by 10-30% in commercial buildings and 20-30% in residential buildings by 2030, compared to 2015 levels. Global average energy intensity in buildings fell by 19% between 2000 and 2015 but slowed down thereafter, dropping by an extra 2% between 2015 and 2019.
Buildings should switch from fossil fuels to electric power (sourced from renewable energy) to bring down emissions intensity, or the amount of CO2 emitted per floor area. This is related to energy intensity but adds the decarbonisation factor. In buildings, this entails installing and replacing cooking and heating devices with cleaner technologies, such as heat pumps instead of oil or gas heating, or district heating in dense urban areas. Emission intensity in buildings needs to be reduced by 45-65% for residential buildings and 65-75% for commercial buildings by 2030, and 95-100% by 2050. It has decreased steadily so far but the pace needs to be accelerated.
The construction of buildings needs to be less emission-intensive. While this can be done by producing materials such as steel and cement in a more sustainable way, further reductions can be achieved by using these materials more efficiently. For example, companies can reconstruct existing buildings instead of demolishing them and building from scratch, or minimise the volume of materials. Integrated planning and design can be used to minimise energy demand throughout the construction phase, including transport and on-site energy use. Furnishing interiors can also be energy intensive, so circular economy principles can provide opportunities for lifecycle emission reductions.
UNEP said that the most important auctions are optimising building shells to minimise the need for heating and cooling, scaling up zero-emissions heating and cooling technologies, ensuring that all new buildings are zero-carbon in operation, and minimising embodied emissions. The sector should avoid inefficient buildings and new fossil gas connections, while countries should stop subsidising fossil fuel use in buildings.
To achieve this, governments should require that all new buildings are zero-carbon in operation, increase retrofit rates by introducing new standards, incentivise and facilitate zero-carbon building stock by modifying cost structures through new taxes and subsidies and ensure the workforce is appropriately skilled.
At an international level, they should provide access and favourable conditions to finance as well as support skills and knowledge growth. Subnational governments need to implement zero-emissions building stock plans, such as imposing that new construction is fossil fuel free. They also need to integrate low emissions requirements in urban planning and add local requirements on top of national requirements.
Construction and building material companies need to review their business models, while owners should make their building stock zero carbon without overburdening tenants. This recommendation applies to companies that own or rent buildings for their operation, such as offices, shops, warehouses and factories.
Investors and banks need to review strategy and investment criteria for zero-carbon building stock, which includes the high need for long-term, low-interest loans for zero-carbon buildings with their higher upfront investment and lower operating costs. They also need to support building retrofits.
Finally, private homeowners should retrofit their buildings to become zero-carbon, while tenants should ask their landlords for zero-carbon buildings and necessary retrofits. Citizens should try to save energy by being mindful when using appliances and using heating or cooling systems.
Our series: